If the bridg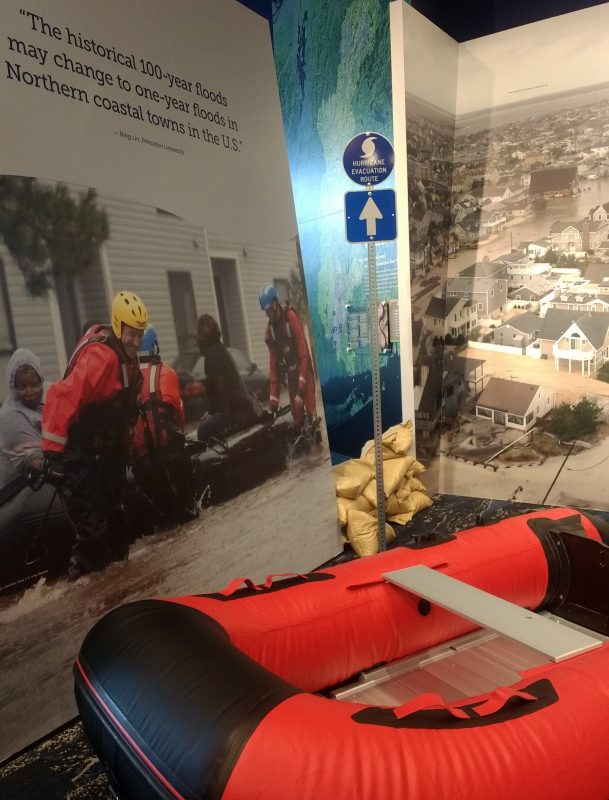 e by Our Changing Earth's entry looks familiar, there's a reason. According to recent freeway counts by FHI and Connecticut's Department of Transportation, 51 million vehicles cross the Bulkeley Bridge every year. Chances are, you have been in one of them.
This scale version of the Bulkeley Bridge actually bridges several themes from historic floods in the Connecticut region to careers in STEM. Civil engineers are responsible for designing everything from bridges to flood walls, and those in Hartford had to grapple with complicated challenges when the Bulkeley Bridge was being built over a century ago. From offering ideas about career paths to asking individuals what they can do to make a difference, this exhibit invites visitors to consider how we can be helpful during a time of global climate change — whether that means working to prevent or mitigate problems by constructing safe infrastructure, predicting weather so people can plan to evacuate, or assisting with rescues in the aftermath of hurricanes.
This exhibit itself is a change from what had previously occupied part of the sixth floor. Richard Thomas, Director of Exhibits Design, explained how developing exhibits requires input and assistance from a team. Ideas are brainstormed internally, then narrowed down and refined. "It went out to bid for design firms," Richard said, and then there was a multi-day charette. That produced more ideas. Before adopting any, Richard says to "test them out" and figure out what is feasible. After years of planning, the exhibition opened in October.
The geodesic dome is now a "journey to the center of the earth." Projections, the vibrating core, and what Richard calls a "virtual reality sandbox" make for an immersive experience. Crackling and rumbling soundscapes make it easy for the visitor to imagine volcanoes and earthquakes, another consequence of Earth's crust in constant motion.
Connectic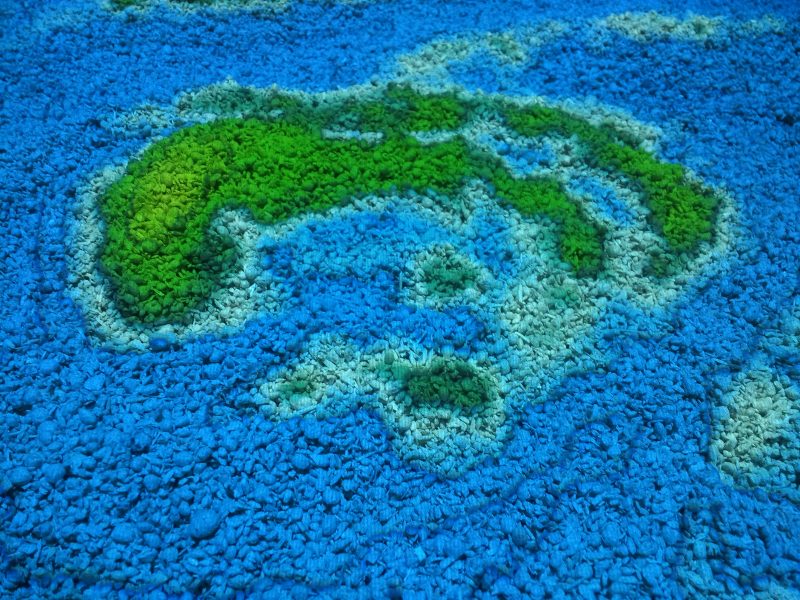 ut has been sculpted by numerous powerful forces. Despite this being the "land of steady habits,"  our environment continues to change, with an increase of natural hazards. If entering the exhibit inspires a sense of awe, the feeling on the way out is more complex and bittersweet, as it should be when confronted with how our natural world is in flux.
You can visit Our Changing Earth any time that the Connecticut Science Center is open, including during the upcoming Winter Vacation, December 26, 2019 through January 3, 2020.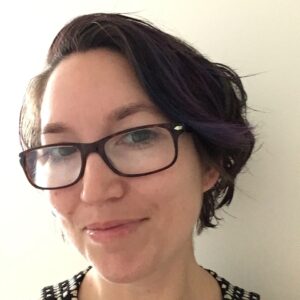 Kerri Provost is a Communications Research Associate at the Connecticut Science Center who is outdoors whenever possible and is currently attempting to walk every block of Hartford. She is the co-producer of Going/Steady, a podcast about exploring Connecticut — which includes funny animal stories and tales of winter camping.