On any given night between April and September in our capital city, you will hear adults and children alike singing Take Me Out to the Ball Game at the top of their lungs. Going to Dunkin' Donuts Stadium and watching the Hartford Yard Goats play has become a staple summertime experience for many throughout the state of Connecticut. It has been 150 years since the very first baseball game was played, and today we are enjoying this iconic American game just as much as we did then. Lee Stevens spent his career playing in the MLB for teams such as the California Angels and Cleveland Indians and spent the 2019 season as the Hitting Coach for the Hartford Yard Goats. We sat down with Lee to learn all about the way that technology and data fit into America's favorite pastime. 
What is your background?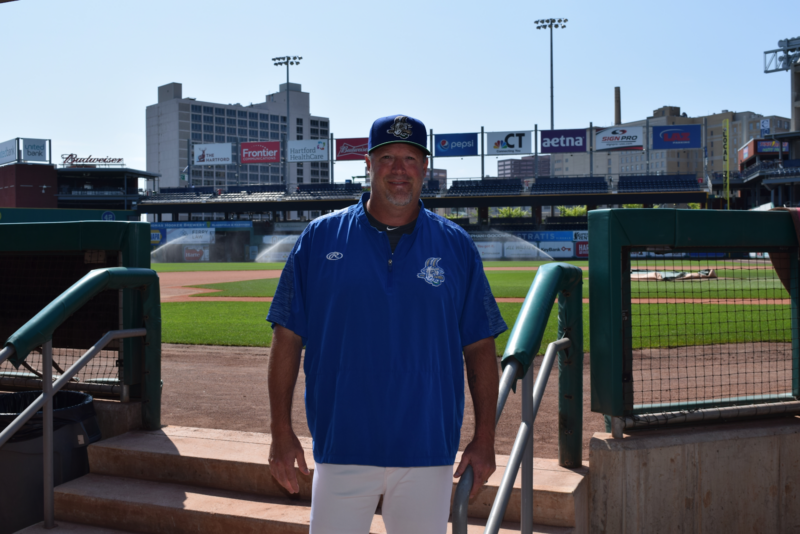 I was drafted out of high school in Lawrence, Kansas. I signed when I was 18 years old and then I retired when I was 35. Back then, it was a lot more primitive than now. I basically jumped on a plane, went to the minor leagues and just played. To put it simply, they put me out there to play. I had some coaches along the way, but it was not as good as it is now. That has progressed too over the past 150 years of the sport. But, basically it was repetition; I went out there and worked and worked and worked and then as I got older, I got a little wiser and kind of figured things out and I hung around long enough where I eventually made it to the big leagues. I got to play there until I retired and then took up coaching after that. 
What are the physics/scientific principles that go into a baseball swing?
The main physics principle is how you move your body. You have an upper half and a lower half. The big key in baseball is for that to be in sync. We want everything to be connected together―the legs, the hands, the torso. Everything has to work together to be efficient. If you are out of sync, you will get off balance. Terminology we use a lot is being in sync, being on time, and being connected.
What are your philosophies/techniques you use to train your players?
It's really based on the individual. Each player has different parts of the body that need to be worked on so it's different every day for each player. Some guys have to work on the upper part of their body, some guys need more balance on the lower part of their body. So, it's kind of a day-to-day thing―a continual battle for some guys to battle something physically that throws them off. 
We do drills: early work, drills in the cage, and drills on the field so they can really see the results. They can see the ball flying to get some data immediately on if it was correct or if it was wrong. 
Let's use a player who needs to work on the upper body as an example. We would do a short toss in the cage. Sometimes we do drills where they hit with one hand on the bat―their top hand―then they will do another drill where they hit with only their bottom hand on the bat. Then they will put them both together. There are different drills for different guys and they pick the ones that they like, the one that makes them feel comfortable. 
Do you use any technology, and if so, what is the sort of technology that you use?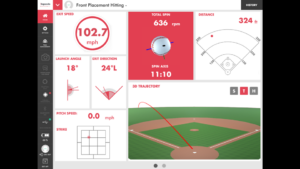 Oh yeah, it's called Rapsodo. It's a camera that goes fourteen feet in front of home plate. When a player hits a ball it will give me data on the screen: how the ball is spinning―backward, sideways, topspin. It will give me trajectory, launch angle, distance, speed, exit velocity off the bat. We are still learning exactly what to use the data for because it's the first year we have Rapsodo so we are still collecting data and trying to figure out what we can use. The players like it because it shows how hard they hit the ball; it turns into a little bit of a competition to see who can hit it the hardest. 
There is another thing called Blast. It's a device that goes on the knob of the bat and it shows all kinds of data in terms of bat speed, angles of their bats at impact, core rotation―which has a lot of different kinds of data that really shows if they are connected or not. Once again, it is a learning process for us because it is the first year we have it as an organization. We are just kind of collecting and trying to correlate guys' swings with all of these numbers. At the end of the year, there will be something where we will say this guy's numbers are these, he needs to work on this and we can show that. So that will obviously help and that's what the data is for, so it's just more information. 
So would you say you use data more to compare the start point and the endpoint instead of the actual raw numbers to see improvement?
Yeah, we compare it to the major league numbers, kinda see where they are compared to a major leaguer. We try and find a player with similar status physically or maybe similar swings and compare to see. Sometimes it helps us if their numbers are pretty good; we are more apt to give them those numbers. Say for example the major league average is 15 on something and the player currently holds a 13; we tell them, "You're right there." So, we can use it as a confidence builder as well, but it's still in the early stages for us as a first-year. But it gives us a starting point as the guys in the big league are the best. Do you necessarily need those numbers to get in the big league? No. So that is what we are a little careful about. 
Do you see this technology as altering the way you coach, or do you see it as just another tool you can use?
Both. Because I didn't have any of these when I played, I consider myself old school. I'm kinda getting into it, but it's almost like smart cars. If you drive for somebody and park for somebody they're not learning. And I don't want these guys to forget to compete in the batter's box and just be an athlete. Hitting is about feel. You have to feel your swing and learn your swing. If you get caught up in too many numbers I think it's a distraction and you forget about competing. You forget about what the pitcher is doing to you. I'm balancing it. I'm using the numbers with what I think is important and I help to try and make them better that way. I am also staying with the philosophy that, you have to go out and practice, you have to go out and learn what your body is doing, feel what your body is doing. What this data is showing is not something you can solely rely on. You have to feel what you're feeling. If you go out and swing just to look at the numbers, you may say "Oh, that's perfect," but if you don't feel that then there's no purpose to that. So, I'm getting into it. I think it's interesting to see players and what their numbers are and what that means. It's educational for me, that's for sure.
Beyond technology, are there any other major differences between how you were trained and how you train your players? 
We had video, kinda towards the middle of my career, but it was VHS. It wasn't like what we have now with phones, iPads, etc. It wasn't portable, so we didn't have it easily accessible. I couldn't see the opposing team's pitchers. Our pitchers couldn't see their team's hitters. So it was basically you there and you just practiced. My coaching has continued to evolve from day one. It changes every year because you have to evolve. I never stopped learning when I was a player from day one to when I retired, so I take the same approach as a coach. I'm going to learn something every year―you don't know it all, you are never going to know it all, you are never going to have it all figured out. 
What are some common misconceptions people have that need to be addressed?
There is one thing I hate to hear, and I take this back to the little kids now, the little leaguers, even younger. The launch angle that they talk about I think is hurting a lot of kids. I think it's even hurting some big leaguers. So I don't like using that phrase, launch angle. I think there are a lot of other ways to do it. A lot of kids are swinging up at a young age, hitting at the launch angle they hear about on TV because they show the trajectory. I think it's gotten some kids in trouble with their swings. I think that's why strikeouts are up because guys are kinda swinging up to try and get the ball up in the air because that's apparently what everyone is supposed to do. So they are getting pitched accordingly, pitchers are throwing the ball up higher because it's harder to hit when swinging up. So, I stay away from that terminology; I wish kids would not worry about that. It's more about the contact point. Kids should read this book by Ted Williams, The Art of Hitting 300. What people don't realize is that he was talking about launch angle back then, except he was working to match the plane of the baseball. The pitching mound is up about 10 inches high, so the ball's always going to have an angle. Your goal is to try to match that angle to be on-plane with that ball to be in the strike zone longer. This allows you to have a bigger window to hit the ball. For example, a curveball always has a bigger arch so I have to try and match that. A fastball is going to be straighter but, in theory, it's going to be at a downward angle just because the pitcher 10 inches higher. If they hit the ball out front with a swing, then you are going to be on the way up opposed to farther back, then your swing is on the way down. To me, that's where the angle comes in. Any baseball swing is going to arch. Very rarely are there any that are completely flat. You have to learn what your arch is and when/where you need to hit the ball. The farther out front I hit it, the more the arch affects it―the more I create my launch angle. Everyone's hands are above the strike zone (everyone's hands are higher than where the ball is), so they have to go down. If the ball is way back and the player is still going down then I'm going to hit that ball with a descending blow. But, if the ball is more out in front and I hit it as I'm going up, then I have created my launch angle with my contact point without saying launch angle, which causes kids to just start swinging up. So, that's the one thing I would like to get out of young kids' minds because I have even heard big leaguers say it.
What's your favorite part of coaching?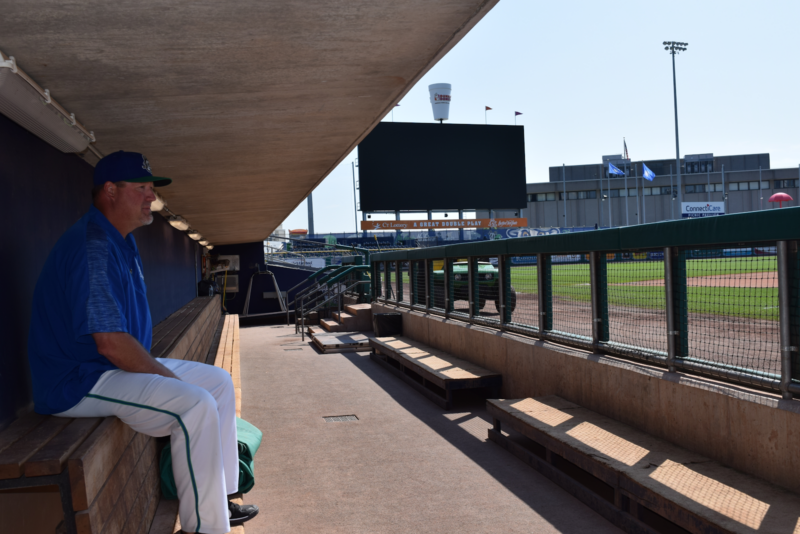 Similar to when I was a player, it's the competition. It's being with the guys in the locker room; just the comradery. But, it's also the competition. There isn't anything better than ten minutes before game time. That's what I played for. I hated practice as a player because I wanted to play. I wanted to compete. That was the fun part. I also enjoy just trying to pass on what I learned, the dos and don'ts. I made a lot of mistakes and these guys make a lot of mistakes. I'm trying to catch them at an earlier point to not make mistakes. The game has taught me a lot and the game owes me nothing, so I'm just trying to pass it on so to speak―to pay it forward. 
Stay connected! Be sure to subscribe to Down to a Science— The Official Blog of the Connecticut Science Center and follow us on social media.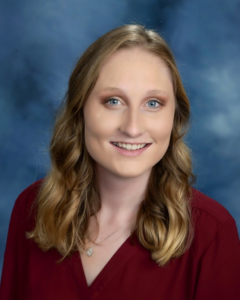 Katelyn Rutty is the Communications Coordinator at the Connecticut Science Center. She has her Masters in Business Administration from Western New England University. In her role, Katelyn manages a variety of communications for the Science Center including social media and the Down to a Science blog.