More than ever, we need a robust pipeline of qualified future employees. Jobs in Science, Technology, Engineering, and Mathematics (STEM) fields — statistics, advanced manufacturing, health sciences, information technology, and more — are on the rise in Connecticut. The state is returning to its roots as a hotspot for innovation, ranking fourth nationally on the 2019 Bloomberg Innovation Index. Our team at the Connecticut Science understands our responsibility to inspire visitors to take advantage of the abundance of opportunities available to them, strengthening this pipeline.
The Connecticut Science Center publicly unveiled STEM Career Connections back in August 2019. This initiative — in partnership with Stanley Black & Decker, The Hartford, Cognizant U.S. Foundation, and the Mandell-Braunstein Family — aligns programmatic efforts  to illuminate career possibilities and cultivate interest in STEM at a young age. By igniting an early passion for STEM and connecting youth with local opportunities, we can guide them toward fulfilling careers that enhance Connecticut's future economic success. Our process for making this happen is multi-dimensional. We work with students, families, educators, and external partners, building bridges and establishing meaningful, impactful connections within the community.
What are the various layers of this initiative?
STEM learning starts in our galleries and Discovery Center, every day. Scattered throughout the Science Center are career spotlights. They detail the work of real STEM professionals who have relevant areas of expertise. Visitors draw connections while exploring. After recording a weather forecast, for instance, they can read a statement from WFSB's Mark Dixon about careers in meteorology. Exposure to and understanding of scientific concepts helps students build confidence in their ability to pursue STEM jobs down the road.
By creating interactive, exciting visitor experiences, our staff shed light on a range of possible careers. Live Science team members lead hands-on activities tied to fields like zoology and computer programming. In 2019, they connected with 50,000 visitors. Our STEM educators regularly teach impactful lab classes to field trip groups and promote learning in the community, bringing programs to schools statewide. Last year alone, the Mandell Academy for Teachers trained 1000 educators to create student learning experiences that instill a passion for STEM.
Through the STEM Career Connections initiative, we work with external partners to help youth build relationships with professionals to better understand their work in practice. Our Teen Science Café invites volunteer scientists and engineers to facilitate discussions and demonstrations that educate local high school students about topical science current events. On Women in Science Saturdays, professional women and graduate students in STEM fields host drop-in activities in our exhibit galleries.
STEM Career Showcase is the newest component of our STEM Career Connections initiative. This field trip event served 1,475 students from Connecticut and Massachusetts last year. Each Showcase features volunteer exhibitors from local STEM companies and colleges. Through informal conversations and hands-on activities, presenters share the significance behind what they do and inspire students to pursue STEM careers.  In 2019, students who had attended the STEM Career Showcase overwhelmingly reported that they now felt more interested in pursuing STEM careers.
While there is much work to be done, we are thrilled by the measurable impact we have already made. With an entire new year ahead of us, it is an exciting time to be part of our community of visitors, educators, and partners, as we continue to connect the youth of Connecticut with rewarding opportunities in STEM fields. We welcome participation from our community partners. If you are interested in becoming involved with the STEM Career Connections initiative, please reach out to Kelsey Ballard, STEM Career Coordinator, at KBallard@CTScienceCenter.org. There are so many programs taking place at the Connecticut Science Center that contribute to the success of the STEM Career Connections initiative, and we look forward to sharing more details about various facets of this project over the next few months.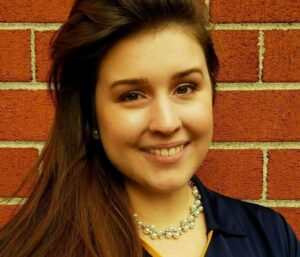 Kelsey Ballard the STEM Career Coordinator at the Connecticut Science Center. In her role, she helps build interactive learning experiences with STEM professionals and educators to inspire local youth to pursue STEM careers in their home state. She studied Biological Sciences and Psychology at the University of Connecticut and received her master's in Healthcare Administration at the University of New Haven. In her free time, she loves baking and crafting.