We all know how tops spin equally well whether they're spinning clockwise or counterclockwise. But is there something that will only spin in one direction? How would that work? Today we are talking about rattlebacks and the interesting physics phenomenon behind them. Watch the full Science At Play segment below to learn more.
Materials to Collect
CD

Marble

Plastic bottle cap

Hot glue gun

Rattleback toy
Try it!
Start by making and testing your CD spinner:
Center the plastic bottle cap directly over the hole in the CD.  Use the hot glue gun to glue the cap in place
After the glue has dried, flip the CD over.  Place the marble so that it sits in the hole of the CD.  Use the hot glue gun to secure the marble in place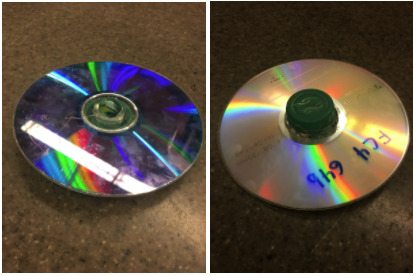 Your CD spinner is ready!  Firmly twist the bottle cap to set the CD spinning.  Try spinning it counterclockwise and clockwise
Compare how a CD spinner spins to how a rattleback spins.  Rattlebacks are simple toys that can be purchased for about $1 each from various science supply stores:
Spin the rattleback counterclockwise
Spin the rattleback clockwise and note the difference
What is the Science? 
When you apply a force to the CD spinner, like twisting the bottle cap, the CD will begin spinning and will continue spinning for a long time because an object in motion tends to stay in motion.  The only force acting on it to slow it down is the friction of the surface it's spinning on.  Spinning it clockwise or counterclockwise won't affect how long it spins because the marble is perfectly symmetrical.
However, you might have noticed that if you spin the rattleback counterclockwise it will continue rotating in the same direction, but if you spin it clockwise it will start rocking back and forth and rattling, which causes it to slow down and even start rotating the other direction!  This curious effect happens because the bottom of the rattleback is NOT symmetrical — its center of mass is slightly offset.  In other words, the rotational energy of the rattleback is changing into vibrational energy.  These vibrations lead to instability that builds up, causing the rattleback to slow down and then reverse direction.
Ask Your Young Scientists
What do you notice about the shape underneath the CD spinner?  How is it different from the shape underneath the rattleback?

What happens when you spin the rattleback in different directions?

What happens if you spin it slow? Fast?
More to Explore
Rattlebacks are also called "wobblestones" — the rattleback effect was actually first observed centuries ago when people spun oddly shaped stones on the ground.  Try going out in your backyard and finding stones with a smooth bottom and see what happens when you spin them

Try offsetting the weight of your CD spinner by attaching small objects to the rim, like a paper clip or a tiny bit of clay.  How does it affect its spin?

Even a telephone acts like a rattleback!  Check it out
Learn how to make your own rattlebacks with a disposable spoon or even an egg!
If you try any of these experiments, we want to see them. Share your pictures and videos with us by using the #ScienceAtPlay and tagging @CTScienceCenter. 
This content was made possible in part by the Institute of Museum and Library Services.

Nick Villagra is a STEM Educator at the Connecticut Science Center, responsible for developing and delivering science experiences, including classroom lab programs, stage shows, and vacation camps. Nick holds a Bachelor of Science in Engineering from Swarthmore College. and has been a speaker at the New England Museum Association conference. Always looking to put a unique stamp on the Science Center's offerings, Nick enjoys incorporating custom-designed 3D printed materials for students to interact with.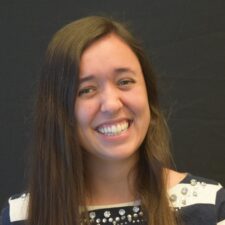 Jessie Scott is a STEM Educator who enjoys encouraging students' enthusiasm for science. She teaches classes to students visiting the Science Center and brings STEM lessons to schools across Connecticut. Jessie completed her Master of Science degree in Microbiology at Dartmouth College and worked as a science educator at the Montshire Museum of Science before coming to the Connecticut Science Center. Her scientific interests are biology – how living things have adapted different strategies to survive in their environments, insects, and plants. In her free time, Jessie likes to go rock climbing, hiking, and skiing.