Materials to Collect
Clear containers

Water

Oil

Other safe liquids around your house to test

Build it!
Oil and Water
Fill your container about halfway with water.

Fill the rest of the container with oil.

Now fill a new container, but this time start with oil and then add water.
Density Column
Find a tall, clear container and begin by pouring your most dense liquid in first.

Tilt your container 45° and VERY SLOWLY drip your next liquid down the side of the container.

Keep adding your liquids layer by layer, very slowly. Avoid disturbing the existing layers as much as possible.

Our density column was created by carefully pouring honey, corn syrup, dish soap, water, cooking oil, and isopropyl alcohol into a container in that order.
What is the Science? 
There are two main things at work here. The first is density. Density is a measure of how much mass is in a set volume. You can think of it like this: 1 cup of a liquid with a high density will weigh more than 1 cup of a liquid with a low density. The denser, or heavier, liquids tend to sink below less dense, lighter, liquids. This is why no matter what order you pour them in, oil will end up floating on top of water. Oil is less dense.
The other thing that is important to keep in mind is that some liquids do not like to mix. Think of your oil and vinegar salad dressings. If you leave it still for more than 30 seconds, the layers separate completely. Even when you mix this salad dressing, the liquids don't truly mix. They just break into smaller droplets as you shake the bottle. Some liquids, like honey, are just so thick and viscous that they resist mixing easily. In a density column, many of the liquids border a liquid that they do not mix well with. This, and their different densities, help keep the layers separate.
Ask Your Young Scientists
What do you notice when we add water first then oil? What about oil first then water? What do you think is going on?

Why do you think we have to add the liquids slowly to our density column?

Can you think of any liquids you want to experiment with?
More to Explore
Test out other, (food safe), liquids around your house! Can you develop a test to rank your kitchen liquids based on their density? Can you find other liquids like oil and water that do not like to mix? You can find the densities of common household liquids online if you need help figuring out which order to add them into a density column.
We want to see what you try at home. Share your creation with us on social media by using the #ScienceAtPlay and tagging @CTScienceCenter.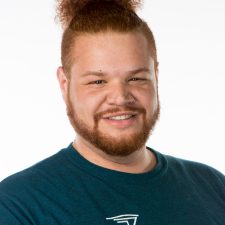 Justin Riley is the Teen Programs Coordinator and STEM Educator at the Connecticut Science Center, where he works closely with high school students giving them access to STEM and leadership programming. Justin graduated from the University of Hartford with his Bachelors in Electrical Engineering Technology and a Masters degree in Counselor Education and Student Development. Justin has worked several years with a wide range of students from pre-k to college. His love of engineering and mentoring led him to the Connecticut Science Center where he gets to use his many talents to work and connect with the students in the Greater Hartford area. When he is not helping to run the teen program, he spends his time traveling and spending close time with family and friends.