Materials to Collect

Plastic container

Sand

Water

Materials to put in the sand that both float and sink (Blocks, rocks, Lego structures, ping pong balls, etc.)



Build it!
Fill the container with sand. Add water to the sand until it is very wet, but the water does not pool up. Place your objects on top of the sand, and even bury a few too! When you are ready, simulate your earthquake by banging on the container and shaking it rapidly. 
What is happening?
Soil can behave like a fluid when it is completely soaked with water and shaken. This process is called liquefaction, and it reduces the strength and stiffness of the soil during earthquakes. Liquefaction is one of the main sources of structural damage caused by earthquakes worldwide. 
Liquefaction occurs when water fills the spaces between individual soil particles and repeated shaking like an earthquake occurs. The water exerts pressure on the soil particles and changes how tightly the soil particles are able to pack together. Normally, this water pressure is low, but during an earthquake the water pressure increases due to the shaking motion. As this water pressure increases, it will become strong enough to separate the soil particles from one another and cause the soil to "liquefy," or move like a fluid. Liquified or fluid soil does not have enough strength or integrity to hold up building foundations or bridges, causing buildings to sink below the surface or underground structures like a septic tank to float to the surface.  
Ask Your Young Scientists:
How does the sand look before we shake the container? What about afterwards?

What do you notice happening to the sand  when we shake the container? What about the objects we added?

Which materials

stayed where we put them, which ones sank, and which ones floated to the surface during the earthquake?
More to Explore
Try different materials both on top of and under the sand. Which ones go up and which go down?

Try shaking the container softer or harder, what happens to the materials we put in our bin?

Change the amount of water in the sand. How does that affect the location of our materials during our earthquake?
We want to see what you try at home. Share your creation with us on social media by using the #ScienceAtPlay and tagging @CTScienceCenter.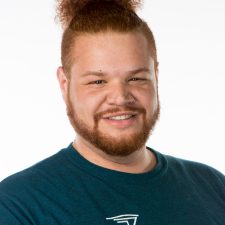 Justin Riley is the Teen Programs Coordinator and STEM Educator at the Connecticut Science Center, where he works closely with high school students giving them access to STEM and leadership programming. Justin graduated from the University of Hartford with his Bachelors in Electrical Engineering Technology and a Masters degree in Counselor Education and Student Development. Justin has worked several years with a wide range of students from pre-k to college. His love of engineering and mentoring led him to the Connecticut Science Center where he gets to use his many talents to work and connect with the students in the Greater Hartford area. When he is not helping to run the teen program, he spends his time traveling and spending close time with family and friends.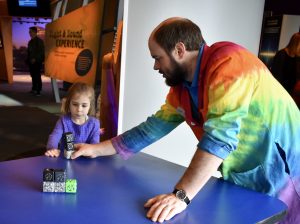 Nate Gagnon is a Public Programs Educator at the Connecticut Science Center. In his role he creates exciting educational programs and demonstrations that highlight science and STEM careers. You can find him in our galleries with fun activities that you and your family can enjoy.