Four of our Connecticut Science Center campers looking for critters in their bowl of pond water.
Materials to Gather:
-A Net
-A Bucket
-Boots or shoes that can get wet!
-Shallow trays/white bowls for observing in
-Spoons for scooping
-Magnifying glass for observing (optional)
-Paper and pencil for drawing the critters you find (optional)
-Printed Aquatic Macroinvertebrates Identification Guide (at the end of this post)
Directions:
Take your net and bucket out to a body of water (please make sure it isn't a protected wildlife area or part of the public water supply) – the best places to check are the marshy edges of ponds, especially if they have reeds growing and dragonflies flying about.

Put some pond water in the bucket to add critters to once you catch them.

Using the net, scoop through the water, and gently dump your catch into the bucket – don't be afraid to get some mucky, reedy mess into the bucket! A lot of small critters love to hide in them.

Use the net to swipe from the bottom to the top of the water level of the reeds – gently scrape the sides of the reeds if you want to see some dragonfly and damselfly larvae!

Once you have a bucket full of muck and critters, bring it to a grassy area/outdoor table/shaded area and, using a cup, gently scoop out some water and muck into the bowl/tray.

Look through the muck using the spoon and magnifying glass to see who you can find! Answer the questions on the identification key to figure out who your critter is, starting with does your critter have a shell or not? Let us know what you find!

This is the most important step! Make sure you return all the critters to the body of water that you got them from when you are done observing them!
Safety Note: PLEASE keep your eye out for leeches, backswimmers, and giant water bugs (who might not be giant yet) – they may try to bite if they are cornered/imminently about to be squished. That's why it is a great idea to keep little fingers using a spoon to check out the critters.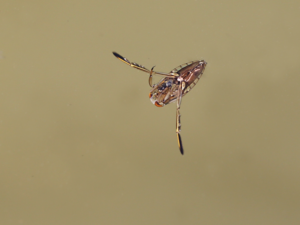 Backswimmer – Naturally Curious with Mary Holland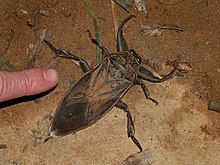 Giant Water Bug – Wikipedia
What are Pond Water Critters?
The pond water critters that you are seeing are aquatic macroinvertebrates – let's break that down: aquatic – lives in the water, macro – big enough to be seen with your eyes, invertebrates – animals without a backbone! So they're young insects, worms, and beetles that live in the water. (National Parks Service). 
Many of the pond water critters that you will find are probably a younger version of an adult bug we all know. Much like butterflies start their lives as caterpillars, some insects and flies start their lives looking very different and living underwater – these are called larvae or nymphs. As they grow and molt, they eventually develop all of their adult traits like functional wings and often leave their watery home. You might find some fairly big critters that look like this: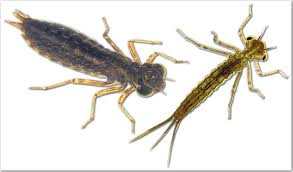 (Science North)
The critter on the left is a dragonfly nymph. The critter on the right is a damselfly nymph. You might recognize the adult forms of these critters shown below: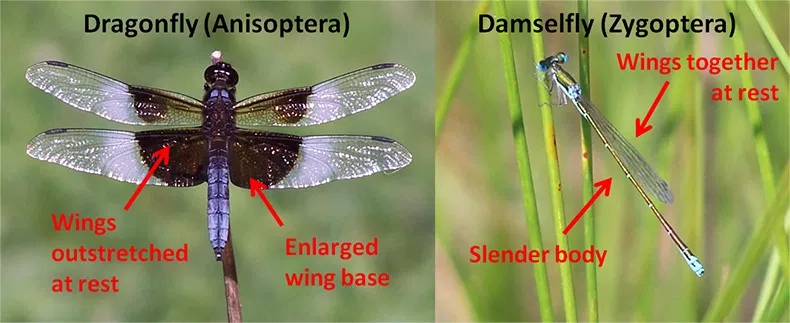 (Ojai Valley Land Conservancy)
The nymphs live in the water eating critters that are smaller than them – things like baby mosquitoes, or larvae, until they eventually molt and change into their adult form. If you look at the damselfly nymph in the right image, you'll see three little tails coming off of it – those are actually gills to help it breathe underwater! See if you can find outside gills on any other critters that you find! 
You might be wondering what is so important about these tiny pond water critters that you're seeing, and why do scientists care about them so much? These tiny creatures are incredibly sensitive to pollution in our water systems and they tell us how healthy a body of water is.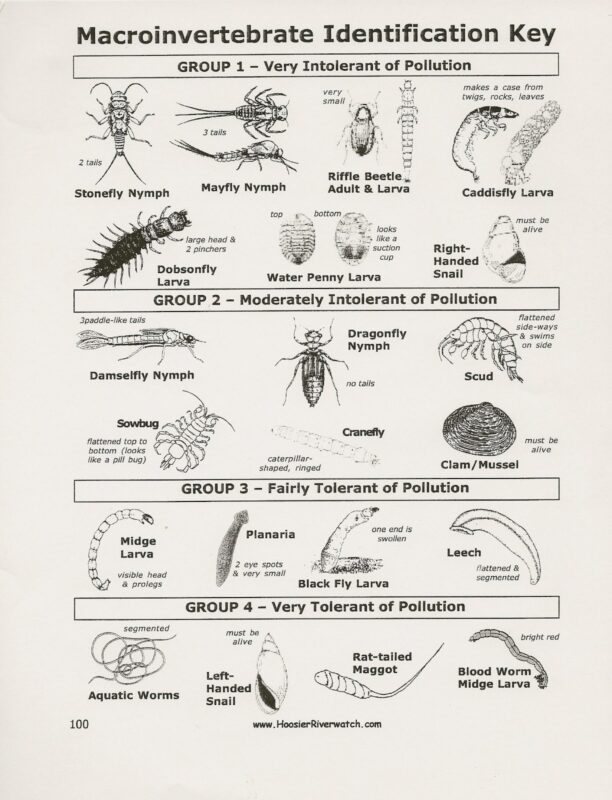 Download Aquatic Macroinvertebrates Identification Guide Here
Download Pond Water Critters Key Here
This chart shows you which of the critters can handle a lot of pollution in the water, and which ones are more likely to die off if the water is too polluted. If you find a tiny caddisfly larva in its rocky or twiggy home (top right of image), you'll know that the water you got it from is very clean because caddisfly larvae are very sensitive to pollution! By gathering aquatic macroinvertebrates, scientists are able to understand how polluted a body of water might be and to take steps to clean it up or protect it. I personally care about pond water critters because the little dragonfly and damselfly nymphs are eating as many mosquito larvae as they can catch, and then as adults they zip around the marsh near my house gobbling up mosquitoes! This means there will be less mosquitoes to bite me!
Ask Your Young Scientists:
-What do you notice about the critters?
-Do you see a bug part that might help them hold on to their favorite spot in the stream/pond/body of water?
-Do you see any bug parts that might be gills?
-Do you see any antennae or eyes that the critters can use to sense their environment?
-Do you notice anything the critters might use to protect themselves against animals that might try to eat them?
More to Explore:
Click if you're ok with some cool close-up videos of bugs!
PBS Deep Look filmed how dragonfly nymphs catch their prey
PBS Deep Look filmed caddisfly larvae building their rocky home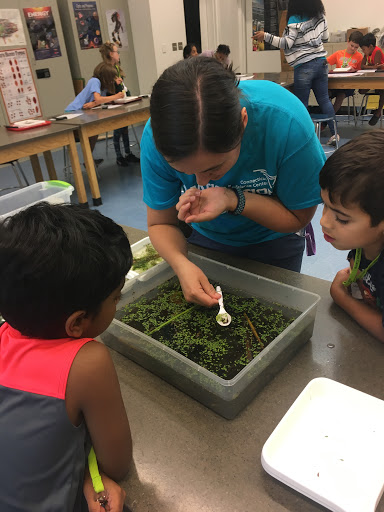 I love checking out pond water critters with our Science Center Campers! Here's a photo of me showing them something while also holding my left arm in an inexplicably bizarre position.
Please share the critters you find with us, we would love to see them! Tag us @CTScienceCenter and #ScienceAtPlay !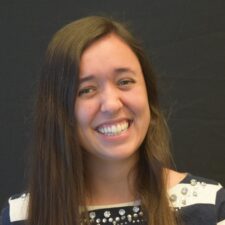 Jessie Scott is a STEM Educator who enjoys encouraging students' enthusiasm for science. She teaches classes to students visiting the Science Center and brings STEM lessons to schools across Connecticut. Jessie completed her Master of Science degree in Microbiology at Dartmouth College and worked as a science educator at the Montshire Museum of Science before coming to the Connecticut Science Center. Her scientific interests are: biology – how living things have adapted different strategies to survive in their environments, insects, and plants. In her free time, Jessie likes to go rock climbing, hiking, and skiing.