Welcome back to Science Behind Science Fiction! With Spider-Man: Now Way Home quickly approaching it's December 17 release date and promising to truly kick off the MCU's multiversal madness that was hinted at with Mysterio's menacing plot in Spider-Man: Far From Home, we've decided to dive into the Master of Illusion's tech to see how his devious deception worked. 
Readers will surely remember Jake Gyllenhol's role as Quentin Beck AKA Mysterio in Spider Man: Far From Home. He introduced himself to Peter Parker, on Midtown High school's trip to Europe, as a transdimensional hero. He lied to Peter, explaining that both he and the Elemental monsters currently rampaging across Europe came from another world, Earth 833, after it was destroyed by the Elementals. Beck doubles down on this as Peter begins falling down a rabbit hole, going over the quantum implications of the multiverse and alternate earths. As S.H.I.E.L.D. Agents Nick Fury and Maria Hill stare at Peter blankly, Beck encourages Peter to indulge himself, telling him never to apologize for being the smartest person in the room. Peter is told to follow his brain and not second guess himself, and this is where the trap is laid. Peter is too excited about the potential new science that he is not questioning what he is seeing right in front of him. From here on Peter is operating based on a series of lies, his reality has been twisted, and Quentin Beck will use every piece of technology at his disposal to make his lies real.
Now that Spider-Man is best friends with Mysterio and we're caught up with both of them and know everything we need to know about the alleged Avengers Level Threat posed by the Elementals we can start analyzing Mysterio's arsenal of tech. If the monsters aren't elementals from another dimension then what are they? Mysterio begins a villainous monologue to explain everything. He sarcastically toasts his former boss Tony Stark and goes on to explain how the merging of his own hologram technology with weaponized drones developed by another disgruntled former Stark employee makes all of this possible.
Drones or unmanned aerial vehicles (UAVs) have become a part of everyday life. We see them flying in the park or at sporting events and for sale in big box stores. In 2022 the Chinese government set a world record for the world's largest synchronized drone display, using 3,051 UAVs to create images in the sky. The synchronized flying displays the same type of organized flight technology used by Mysterio, although they are significantly less lethal. 
The military uses drones to carry out precision based strike attacks. Drones can be equipped with a range of features ranging from cameras to lightweight machine guns like Duke Robotics' TIKAD Combat Drone. The TIKAD isn't the snazzy Stark-Tech we see in the MCU, but it is capable of many of the same jobs. In Spider-Man: Far From Home Mysterio's drones utilize machine guns, flamethrowers, explosives, and more to add depth and destruction to the Elemental's attacks. 
The TIKAD, however, is not capable of projecting Kaiju onto a destroyed cityscape. This kind of technology is not quite yet available. Most modern holograms are light projections, and need a surface to be projected onto. Some of the most impressive holograms seen today are based on an illusion technique first described by Giambattista della Porta in 1584! The "Pepper's Ghost" illusion is created by reflecting an object or image off a transparent surface at a 45° angle. Don't discount Pepper's Ghost just because the technology is old, the illusion has been used to resurrect deceased musicians like Tupac, Easy E, Buddy Holly, and Whitney Houston for concert goers and has even allowed for the virtual band Gorillaz to walk on stage with their more traditional corporeal collaborators. As impressive as Pepper's Ghost is, it's still limited to stage shows by the nature of the transparent surface needed for projection. Surely Spider-Man would've noticed if he had swung into a Water Elemental only to smash into a sheet of plexiglass. There must be a better way.
How to make your own Pepper's Ghost Illusion
Scientist Daniel Smalley at Brigham Young University knew there had to be something better. If traditional holograms are limited to 2 dimensions he would focus on creating something more. Much like the villain of this story, Daniel Smalley took his inspiration from the success of Tony Stark, and sought to create interactive three dimensional holograms in the physical space. Something the user can touch or interact with the way Tony interacts with his holographic user interface in the Iron Man movies. This idea gave birth to Volumetric Holograms, images created using tiny dust-like particles suspended in a laser light. The difference in air pressure within and outside the laser allows for particles to remain hovering while they are rapidly moving about the space to create an image. Professor Smalley is still a step or two away from projecting his creations across a city, as Volumetric Holograms are very small, but we can imagine how his technology might evolve into something which could be projected from a moving drone. 
As the film's conclusion approaches Spider-Man can see clearly through Mysterio's web of lies. He sees how his new friend manipulated him with misdirection and a couple of thousand drones flying in synchronized form. He understands the holograms are not real, and he swings into action using only his Spidey-Sense to see past the fiction and guide him toward world-saving victory!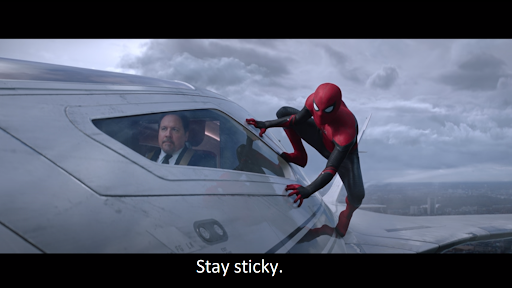 Spider-Man: No Way Home is out December 17 so until next time, stay sticky.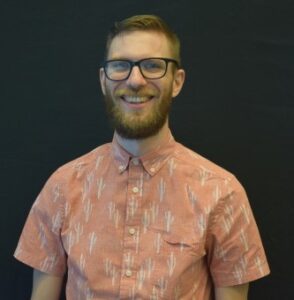 Zac Zemantic is a Group Sales Representative at the Connecticut Science Center. He has a B.A. in Visual Design with a specialty in Illustration from UMass Dartmouth and he wants to talk to you about comic books.