Spring in New England is one of the most magical times anywhere.  From gray bitter cold, through wet slush, Spring emerges right when we need it to.  Often we get a surprise beautiful day here and there when everyone just has to get outside for a walk.  That walk can become so much more than sunshine and fresh air for you and your family. The journey of looking deeper at the natural world around us feeds our curiosity, helps us forget about all the pressures we face in life or at work, and helps us enjoy this beautiful place we call home.
Take it outside with this Spring Is Here Scavenger Hunt (Download your own copy below). See how many items you can find in your very own back yard.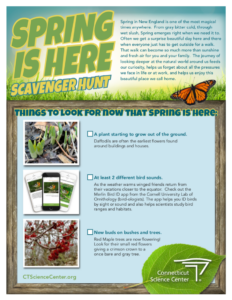 Download Here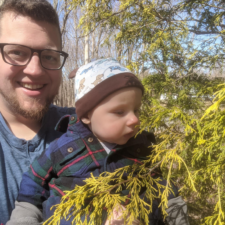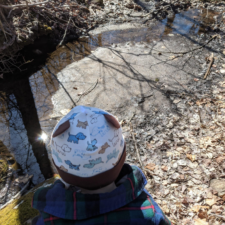 All fun has been tested and approved by my son Gus. Here I am with Gus checking out a cedar tree and looking for animal tracks during our very own backyard scavenger hunt.
Change is all around this season.  Get outside, enjoy the fresh clean air and experience the thaw.  Share your pictures with us #ScienceAtPlay #CTScienceCenter.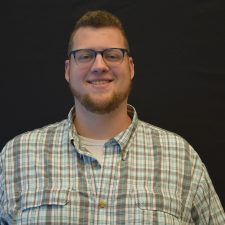 Bryan Avery has been working as a STEM Educator at the Connecticut Science Center for 3 years. He develops and facilitates student programming in our labs as well as traveling programs. He holds degrees in Geology and Parks and Natural Resource Management from Hartwick College and Slippery Rock University. Creating exciting new ways for students to interact and engage with STEM is his professional passion. He has a flare for delivering shows to crowds as well as working one-on-one where he pushes students to think deeper and make connections between STEM, their lives, and their community. On his time off, he enjoys playing disc golf, guitar, and being outdoors.