The Connecticut Science Center celebrates the achievements of professionals, groups, advocates, businesses, and leaders who share our mission to inspire lifelong learning through interactive and innovative experiences that explore our changing world through science. We honor these individuals and organizations in the STEM (science, technology, engineering, and math) fields at our annual STEM Awards Breakfast, presented by Stanley Black & Decker, each spring.  
This year, we're pleased to highlight some of the nominees for the 2020 STEM Achievement Awards and Petit Family Foundation Women in Science Award in a series of personal and inspiring recorded conversations. We hope that you enjoy getting to know the 2020 class of nominees who embody the spirit of the Connecticut Science Center and our passion to inspire the next generation of STEM professionals.
Today, we'll hear from Maranda Wong, Materials & Processes Engineering Commercial Engines CIPT Deputy of Pratt & Whitney. 
MARANDA WONG
Maranda Wong has been actively involved as president and other key roles in the Asian American Leadership Forum (AALF). One of her key accomplishments since joining the group included the creation of a Pratt & Whitney group called Project STEM, which hosts educational STEM-related activities for students in Connecticut.
She recently coordinated an activity called STEM Field Day to encourage elementary/middle school students to gain interest in STEM with more than 60 volunteers from UTC, 125 participating students, and 12 different hands-on activities at the UCONN Storrs campus. She also set up five outreach events in the greater Hartford/Middletown area. Under Maranda's leadership, the AALF also instituted a college mentoring program in 2018 that resulted in 37 students from UCONN (Storrs, Hartford, and Stamford) being paired up with mentors at Pratt & Whitney.
INTERVIEW WITH MARANDA WONG
Amy Sailor: What inspired you to pursue a STEM Career?
Maranda Wong: I would say a combination of several things inspired me- my parents, my love of math, science, and art, years of competitive swimming, and a few high school teachers.  It does not seem like all of these mesh well together, but my parents have always pushed me to learn and explore.  I had always done better in math, science and art than I did in English, history and languages.  My years of swimming was my gateway into engineering from a materials perspective with fast racing suits.  A few high school teachers I had pushed me to think about what else was out there and what I could do in the future.
Amy Sailor: What do you feel is the most important aspect when working as a team? 
Maranda Wong: When working as a team, there is not one single aspect that outweighs another.   Communication, listening and trust are all extremely important.  Everyone communicates differently and everyone likes to be communicated to in a certain way.  Some people are more direct and some people need more time to digest the information.  If you are not listening and watching, you will not be able to understand these different forms of communication.  The same goes with trust, you must show that you trust your team and listen to their needs.  In return, they will show you the same trust.  In all of the roles I have had, I'm always working on some sort of team, whether it is a two person team to a fifteen person team.  In my current role, I work on a lot of small teams with different technical leads.  Each technical lead communicates and works in a different way and I need to be able to communicate with them differently to get the same type of information from each of them (How are they doing on delivery? What are the technical risks they see?).  When you get to even larger teams, understanding communication and making sure you're listening and that each of one your teammates trusts you is invaluable.
Amy Sailor: What drives you to focus on youth entrepreneurship programs and mini inventors? Any reason in particular?
Maranda Wong: Last year was the first time I had gone to the National Invention Convention.  It was amazing and heartwarming to see so many young inventors engaged and so passionate about their inventions.  Their way of thinking and their ideas are so different from adults.  Their worries and concerns have so much empathy in them, that it is truly amazing. 
It is important for us to think about the youth because they are going to eventually be the future.  If we do not provide support now, what will happen later? 
I also never had these opportunities when I was younger.  So if I couldn't experience it before, I would like to be part of it now to help as much as I can.
Amy Sailor: How has your career shaped your outlook in regards to inspiring not only young women but all in the science and engineering fields?
Maranda Wong: I had a lot of indirect support from United Technologies (now Raytheon Technologies) throughout my academic career.  I was part of different scholarship programs, including our company's Engineering Ambassadors, and had internships at Sikorsky.  I have seen and experienced the time that I have been invested in.  I want to return that to the next generation of students that are interested in these fields.
Amy Sailor: Tell me a little bit about other projects you are working on? 
Maranda Wong: One other active part of my life is the employee resource group, the Asian American Leadership Forum (AALF).  In the past I was the Social-Cultural Chair for 2 years, a Vice President, a President and I am currently an advisor.  As the Social-Cultural Chair, I put on different gatherings to teach and engage about different cultural holidays.  These often included the story behind the holiday, the games and activities engaged in and of course the food often eaten during those times.  I was also in charge of putting together our signature event of the year (Asian Heritage Month) which typically occurs in the month of May.  Then, as I moved onto the Vice President and President roles, I worked more on developing the other leaders on the board and working with the Diversity & Inclusion team at Pratt as well as our Executive Champions to help propel the board and group forward.  I spent a lot of time in those two years implementing a leadership development among the board based on the Society of Asian Scientists and Engineers '6S Model.'  I encouraged board members to choose one or two of the leadership styles to work on to help with their careers.  Currently as an Advisor, I try to help and support wherever I am needed.  I'm most often used as a sounding board to help guide the President and Vice President as well as ideas on how to execute different types of events.
Amy Sailor: How has the current situation impacted your work? If impacted, how do you plan on adapting to this new lifestyle? 
Maranda Wong: The current situation has impacted my work in that it has shown me how much I really value the face to face meetings.  At first, working remotely really took some getting used to, but Pratt has been supportive making sure we can take our ergonomic equipment home and also being flexible.  My manager especially has been working with our team to check in on us and help provide answers to questions we may have.   I feel like I've already started adapting and using the call capabilities we have to ensure we are still progressing.
Amy Sailor: Do you have anything else you would like the audience to know?
Maranda Wong: I'm honored to be nominated for this recognition.  I hope that the contributions I have made encourage others to support the next generation of those in STEM.
Stay connected! Be sure to subscribe to Down to a Science— The Official Blog of the Connecticut Science Center and follow us on social media.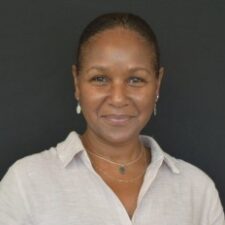 Amy Sailor serves as the Advancement Program Manager for the Connecticut Science Center. In this role, she stewards the 14 members Steering Committee of the Women in Science Initiative. Amy also implements a suite of programs and events that bring attention to the accomplishments of women in the sciences and introduces girls and young women to STEM fields of study and career paths.