Since the early nineteenth century, highly successful insurance companies have flourished in Hartford, fittingly establishing "Insurance Capital of the World" as the city's unofficial slogan. The Hartford, a Connecticut-grown insurance and investment company, has been a prominent industry player for over 200 years. In fact, back when it was known as The Hartford Fire Insurance Company, the company insured President Abraham Lincoln's Illinois home when he relocated to Washington, D.C., at the start of his presidency. As both sponsors of the STEM Career Connections initiative and our neighbors in the community, The Hartford has partnered with the Connecticut Science Center to inspire future professionals to consider local STEM careers by highlighting the extensive opportunities available. We had the opportunity to connect with Sarah Morin, head of community relations at The Hartford to learn more about their efforts. 
Since its beginnings insurance has evolved vastly in scope and method, and qualified and inquisitive STEM professionals work every day to help navigate these changes. Like so many other industries, insurance is deeply rooted in technology and innovation, and it relies on a wide variety of STEM-related skill sets. Today, The Hartford's STEM team finds innovative solutions in InsurTech to transform the way they serve their clients. Sarah said, "Tech professionals at The Hartford are curious problem solvers who aren't afraid to get creative and take on even the toughest challenges. They work with the latest tools and technology, including AI, robotics, big data, and agile work practices. The tech team at The Hartford works together every day to find faster, smarter ways to meet our customers' ever-changing needs. For example, hundreds of employees and vendors participate in our annual DevOps Day at The Hartford, which gives them an opportunity to focus on customer's needs by learning new and innovative ways to work. Customer service is at the core of what we do, and this type of learning environment creates opportunities for our employees to gain knowledge and share information that will benefit our customers long-term." 
To bolster the STEM workforce not only here in Connecticut, but nationally, The Hartford has committed to increasing accessibility and awareness surrounding STEM careers and creating amazing mentorship opportunities. Sarah shared more about The Hartford's STEM initiatives: "Just like our exciting work with the Connecticut Science Center, The Hartford partners with local communities across the country to make the work of STEM professionals understood and accessible by everyone. These are exciting careers that offer so much personal and professional growth, and we are committed to making sure they are shared with the people in our communities. Our tech professionals offer their expertise through training and mentoring – whether it's demonstrations for the next generation of STEM professionals at the Connecticut Science Center, or counsel from our female leaders in tech to other women looking to develop their careers. Our hope is that the possibilities we share about STEM careers will inspire others to achieve great things in these fields." 
The insurance industry employs approximately 57,710 people in Connecticut, making up nearly 3.5 percent of the state's entire workforce, and nearly 24 percent of those jobs are in STEM fields. Now, more than ever, the insurance industry's future success relies on a highly qualified STEM workforce to drive technological advances and provide better customer care. Sarah elaborated: "Technology continues to transform the insurance industry. The business challenges of today require leaders to recruit talent that is independent, innovative, and driven by curiosity. At The Hartford, we'll continue to need more and more tech professionals with the skills to deliver technology and data-driven solutions and who are excited to explore new ideas and possibilities. We partner with the Connecticut Science Center because we want to help ignite the spark for youth in our community, and set them on a path toward a successful career in technology right here in Connecticut and at The Hartford."
Through the STEM Career Connections initiative, the Connecticut Science Center will continue to work with The Hartford to spread awareness about the breadth of career paths available for local students in exciting industries.
Look out for upcoming STEM Career Showcases and virtual events where you can engage with real professionals to learn more about your future in STEM careers.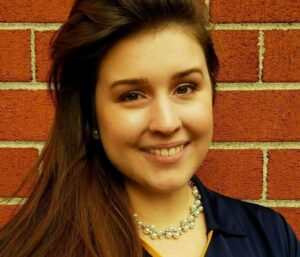 Kelsey Ballard the STEM Career Coordinator at the Connecticut Science Center. In her role, she helps build interactive learning experiences with STEM professionals and educators to inspire local youth to pursue STEM careers in their home state. She studied Biological Sciences and Psychology at the University of Connecticut and received her master's in Healthcare Administration at the University of New Haven. In her free time, she loves baking and crafting.