It's the end of the school year and that usually means Field Day! A fun-filled day of playing, and running around outside with your friends. This year it's a little tricky to imagine having a really fun field day, but I'm here to tell you it's totally possible! We are going to take a closer look at some of our favorite field day games and sports equipment. Along the way we'll check out some seriously fun sports science and at least a few slow-mo videos so you can get yourself ready to host your own Virtual Field Day!
The Fun Run:
Before you take on your next fun run or race, check out this video where an Exercise Physiologist shares some easy ways to run faster by changing simple things like your stride, posture, and how you move your arms. 
Try This: You may want to even set up a simple experiment where you time yourself running a certain distance (maybe up and down your street), then take a break (regain your energy) and try it again using some of the techniques you saw in the video. Were you faster? 
In science, it's always good to make sure you are getting multiple points of data (in this case timed runs) to compare. Make sure you get at least 3 trials for your first runs, then get at least 3 timed runs using the new techniques you picked. The more trials you do the more precise your data will be, but make sure you give yourself lots of time to rest and get rehydrated between runs so your muscles can perform at their best! Once you have all your data go ahead and compare your times side by side, or find the average time for your control runs (the ones you did before making changes) by adding up all of your times for those runs and dividing by the number of trials you completed. Then do the same thing for the runs where you used a new technique. Compare your data and see if you notice any patterns. 
Water Balloons:
If Field Day fell on a hot sunny day, your teachers probably planned a water balloon toss or a water balloon fight to keep you cool. Think back? Did you ever get hit with a water balloon and it didn't break?! Or maybe you were competing in a water balloon toss and your partner threw you the water balloon, you missed it, and it still didn't break?!? What kind of Field Day magic is that?!?  There's a lot of science behind why and how water balloons break, or don't break. Check out some of these links to discover all of the cool science we might not be able to see at normal speed.
Article: When Water Balloons Hit A Bed of Nails and Don't Pop. This one is a really cool article that also includes a slow-mo .gif of a balloon being dropped on a bed of nails!  
Try This: Next time you are getting ready for a water balloon fight, make a few extra water balloons. Find someone who has a phone that can take slow-mo video. Go outside and see what you can discover by recording your own water balloons smashing. Try throwing or dropping balloons on different surfaces to see what happens. See if you can figure out exactly how much water can be added to a balloon to make it pop, or play some tricks on your opponent and fill theirs up just enough so that they never break, but look like they should. There are lots of cool investigations you could try, get creative! Just make sure if you use any electronics to record data that they stay well out of the splash zone. 
Wiffle Ball: 
Invented right here in Connecticut, Wiffle Ball is a staple of many kids' Field Day experiences. The wiffle ball was invented in Fairfield as a way to help prevent kids from breaking windows, having to chase down home runs, and to make it easier to throw curve balls. For more Wiffle Ball history and to see how they are made check out this video and article from Smithsonian Magazine.
When you're ready to start playing, don't forget to check out this video that teaches you all the rules you need to know. 
Frisbees:
Another famous Connecticut invention, the Frisbee seems like just a simple toy, but there is a lot of physics to unpack when you start to think about all the different ways you can throw it, and the body mechanics that are required to make that throw possible. 
The first thing you have to understand is how exactly these flying discs move through the air so well. The answer can be found by thinking about air pressure and angular momentum (check out the first video below for more info on that), but that's not all you need to consider when playing with a Frisbee. Your throwing and catching technique can alter the outcome of your game of frisbee too. If you're interested in upping your  frisbee game, start with the 3 videos below that will show you how they are made, teach you some physics, and give you tips and tricks for perfecting your catching and throwing skills.   
Slip n' Slides:
 If you went to a school that had a hill and some really cool teachers you might have had the chance to take a thrilling ride down a Slip 'N Slide. This fun summer cool-off toy was invented in 1961 when a father observed his son and his friends sliding down a painted concrete patio slab that they hosed down with water (painted concrete can be extremely slippery when it gets wet). Although the kids didn't seem to mind sliding on the concrete, it gave their dad an idea that would lead to the Slip 'N Slide. His design used a piece of slippery material with a channel sewn all the way down the length of the slide to evenly disperse water from a garden hose over the entire surface. The plastic that was used also has a lubricant mixed in that would enhance the slipping and sliding nature of the material for the rider. 
To understand how all of these factors work together to make one wild ride check out this SciShow kids video that explains the basics of friction and the role it plays in our everyday lives.  
It is worth mentioning that Slip 'N Slides can be extremely dangerous if you are not being careful and considering the science behind your own motion. Running up to, jumping on, then sliding down a slippery piece of plastic can cause some not so fun injuries if you don't take into account things like your height, mass, and especially what's underneath that thin plastic slide (let's hope you've removed all of the rocks). If you are going to attempt this at home, make sure you have a responsible adult around who can help you set things up and will keep an eye out for anything that might be unsafe as you are playing. If you're an adult who wants to play too, remember that you are probably bigger than the recommended size of most Slip 'N Slide riders and the laws of physics still apply in the Slip 'N Slide zone. Most slides are designed for children who have the average height and weight of a 10-12 year old. If you are bigger than that, your Slip 'N Slide may need to be quite a bit  longer than usual so you don't run out of runway and risk injury with the added momentum you bring to the table. Adults and older kids usually weigh more, take up more space, and will probably hit the Slip 'N Slide with more speed which will cause you to go faster and farther (momentum = mass x velocity) which sounds pretty cool if you've done your homework.  
Bob from the Youtube channel I Like To Make Stuff built a 100ft Slip 'N Slide. Check it out to see how he took a simple design and scaled it up for maximum fun for all ages! 
Whistles: 
Just about every physical education teacher, coach, and referee you've ever met, or will ever meet in your life probably owns a whistle. It's the ideal way to get the attention of players who are spread out all over the field. It's the signal we all know to start or stop an activity and no Field Day would be complete without making your very own out of things you might already have around your house.  Here's a video that shows you how to make your own whistle out of a soda can and two bottle caps. 
If you prefer using your mouth as a whistle because it's a lot harder to lose than one you might make, here are some whistling tips from a world champion whistler. 
Plan Your Own Field Day:
Now is the time to get outside and start planning your own virtual Field Day! Use some of the resources below and your awesome knowledge of Field Day physics to put together the ultimate event. Challenge your friends and family to try your activities during a day full of outdoor fun backed by science!
Resources:
At-home Field day activities from The Online Physical Education Network: 
https://openphysed.org/nationalfieldday
https://openphysed.org/wp-content/uploads/2020/04/NFD2020-ALL-EventCardsV2.pdf 
How to create a virtual Field Day with Your Friends And Family
https://www.thepespecialist.com/virtual-field-day/
We want to see the Field Day you create at home. Share your pictures and videos with us on social media by using the #ScienceAtPlay and tagging us @CTScienceCenter.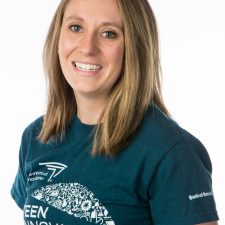 Kate Saulsbery-DeFelice graduated from Russell Sage College with a dual degree in Childhood Education and Life Sciences. She has been a STEM Educator at the Connecticut Science Center since 2014, and especially loves sparking scientific curiosity in early elementary aged students. Kate is also a FIRST Robotics Competition mentor who is passionate about technology and working alongside students to solve problems, generate new ideas, and prototype solutions. Her goal is to help everyone discover and grow their appreciation and excitement for STEM.