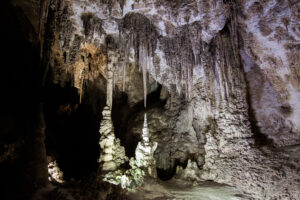 There are so many National Parks on my "to visit" list that sometimes I'm not sure how I will ever manage to see them all! Luckily for all of us, the National Parks Service has put together a virtual tour of Carlsbad Caverns National Park in New Mexico! You will get to explore the caverns with Park Ranger Pam Cox, going up to 750 feet underground through this interactive virtual tour.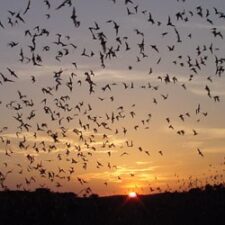 During this virtual field trip you will learn about how Brazilian Free-tailed Bats (Tadarida brasiliensis) use echolocation, explore the largest single cave chamber in North America, and gaze on some of the most beautiful geologic textures in the world.

Why aren't caves everywhere?
Only limestone can be carved to make a cave. Large bodies of limestone are found only in particular places where extremely large coral reefs were once located. 
What causes a cave to form?
When this cave formed, the limestone bedrock was a part of the groundwater system that contains water within rock and soil. When this water combined with hydrogen sulfide (which has a rotten egg smell) from hydrocarbon deposits below, the sulfuric acid that formed began rapidly dissolving the calcium carbonate of the limestone. When the land began to rise during the formation of the Rocky Mountains, the groundwater drained from the hollowed out cavern. The formations you see are due to groundwater draining through the limestone, dissolving limestone away in some places, depositing it in others. If this cave-forming process has made you curious, check out the National Parks Service website for more information!

What makes Carlsbad so special? 
Carlsbad Caverns has a magical mixture of grand size and scale, wonderfully detailed formations, and environmental importance as bat habitat in an arid landscape. Next time you're looking for a unique, beautiful work of nature to explore, consider heading to New Mexico's Carlsbad Caverns National Park!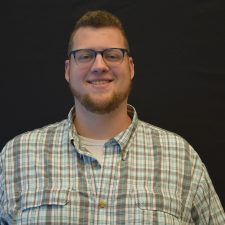 Bryan Avery has been working as a STEM Educator at the Connecticut Science Center for 3 years. He develops and facilitates student programming in our labs as well as traveling programs. He holds degrees in Geology and Parks and Natural Resource Management from Hartwick College and Slippery Rock University. Creating exciting new ways for students to interact and engage with STEM is his professional passion. He has a flare for delivering shows to crowds as well as working one-on-one where he pushes students to think deeper and make connections between STEM, their lives, and their community. On his time off, he enjoys playing disc golf, guitar, and being outdoors.