Dr. Elif Kongar's advocacy for inclusivity and diversity and her passion for education have propelled her to make real impacts by inspiring and empowering students, including diverse populations, while also working tirelessly to create environmental and social sustainability models.
The Petit Family Foundation Women in Science Leadership Award recognizes a woman working in STEM who is a leader in her field, and who makes a significant effort to support other women and encourage girls' interests in STEM. The honoree is selected by the Connecticut Science Center's Women in Science steering committee and is traditionally celebrated at our annual STEM Awards Breakfast, presented by Stanley Black & Decker, each spring.
This year, we're pleased to highlight some of the nominees for the 2020 STEM Achievement Awards and Petit Family Foundation Women in Science Leadership Award in a series of personal and inspiring recorded conversations. We hope that you enjoy getting to know the 2020 class of nominees who embody the spirit of the Connecticut Science Center and our passion to inspire the next generation of STEM professionals.
ELIF KONGAR, Ph.D.
Elif Kongar is a Professor at the University of Bridgeport. During her tenure in the Departments of Technology Management and Mechanical Engineering at the University of Bridgeport, she established research and graduate concentrations and coursework in several areas, including simulation and modeling, service management and engineering, and economic / environmental sustainability. She also serves as the Director of the Technology Management PhD program while leading the development of blended and distance learning curricula at the department.
Kongar's work with students in the classroom, and on projects and involving her students in industrial projects is crucial for the development of engineering and STEM activities at the University of Bridgeport and raising the profile of the University. Furthermore, that work through the years has resulted in eminent placement of her students in co-ops, internships and full time positions.
Her work goes even deeper. In order to provide financial aid to the graduate students and specifically to increase the female fellow engagement, Elif Kongar raised funds via the Society of Women Engineers, Connecticut Section, for highly qualified University of Bridgeport female engineering students for the past several years. In addition, she served as the faculty advisor for the School of Engineering Society of Women Engineers section for the last four years. 
INTERVIEW WITH ELIF KONGAR
Amy Sailor:
What inspired you to pursue a STEM Career?
Elif Kongar: Pretty much like everyone else, my inspiration comes from my parents. My mother holds the title to be the first female General Manager of an Insurance Company in Europe, and my father was a Sociology Professor who, to this day, has published over 50 books. I learned the value of education at an early age and dedicated my whole life to academic pursuits. My K-12 teachers played an important role in my decision to pursue a STEM field. I had extraordinary role models as STEM teachers who always encouraged me to pursue a related discipline. I, however, am also a literature, art, and drama enthusiast who was lucky enough to choose a discipline that allowed me to combine creativity and analytical thinking in my work. Industrial Engineering is a perfect bridge between decision makers and engineers which allows interpersonal and analytical skills to grow concurrently, requiring the utilization of both.
AS:
As Founding Director of the PhD program in Technology Management, one of five in the country, what contributions do you feel you have made to your field and to society?
EK: The Technology Management PhD Program is designed to develop leaders adept at managing technology dependent organizations, technological innovation and change, and establishing and maintaining superior competitive advantage for their respective enterprises.  I take pride in our PhD in Technology Management students who have chosen to continue their life-long learning at the University of Bridgeport. During their journey, our students and alumni not only evolve in the way they pursue problems, but also serve as role models to other students who are planning to pursue higher degrees of education. Given that we are serving primarily seasoned professionals who are mostly in their early or mid-career, the extraordinary individuals also act as a strong bridge between academia and industry. The strong trust we have built in the program provides several other individuals with additional career opportunities.
AS:
What drives you to focus mainly on research involving economical and environmental aspects of waste recovery? Why? 
EK: Creating environmental and social sustainability models for the circular economy constitute a major research area for me. It is, in fact, more than a research area – it is a passion for me. My main goal as a scholar is to add value to the discipline and to the society in general. Working on creating economically feasible, environmentally-benign solutions, I feel like I can contribute to both much more easily than any other topic. I believe it is the responsibility of every scholar to add value to society.
AS:
How has your career shaped your outlook in regards to inspiring not only young women but all in the science and engineering fields?
EK: I would like to think that I am color, gender and race blind, and accent deaf. I always tell my students that broken English is the most commonly spoken language in the world to make sure that they raise their voices and even a whisper is heard when it speaks the truth. This is what I've learned from my mentors and I am proud to continue to support anyone regardless of their background.
The lack of representation of all groups that vary by gender, race, ethnicity, socio-economic status, and other criteria irrefutably hinders the progress of any organization and operation. In my academic and professional life, fostering a culture of compassion and mutual respect has been in the front and center of all my activities and interactions. I consider myself to be an open-minded global citizen and a fair-minded critical thinker with inclusive core values. As a leader, I am committed to providing a safe academic and educational environment and I emphasize promoting an inclusive culture, being fully aware that collaboration among diverse groups is the best way to cultivate innovation and creativity.
AS:
Tell me a little bit about other projects you are working on? For example; giving lectures, leading sessions and discussions, and your role on boards? 
EK: Advocating for increased participation of females in STEM, I have been serving as the faculty advisor for the School of Engineering Society of Women Engineers (SWE) section for the last nine years. I am regularly invited as a speaker at the roundtable discussion, "Equity in the Job Search Tools to Successfully Navigate the Job Search & Promote Gender Equity in STEM" held annually at Yale University.
In order to cultivate student-faculty relations, I started a monthly Technology Management student meeting, a.k.a., Get Smart Thursdays. The meetings aim at providing the students with academic and program related information, which are beyond the scope of the course curriculum. These meetings often host well-known scholars and industry professionals providing students with the opportunity to discuss their research with renowned academicians and industry professionals. These meetings also serve as a networking opportunity for those who are looking for external dissertation advisors or academic jobs. I also recommend various speakers to the engineering colloquium series to provide visibility to the School of Engineering students and to advocate for their activities.
I am also very engaged with the University Industry Advisory Board, which helps provide a multitude of co-op/internship opportunities for our students, in addition to permanent job placement. This engagement also resulted in multiple funding opportunities for academic programming, donations, and in-kind contributions. I have also conducted many company site visits for our students.
I am currently a member of the Sustainability Committee at the University of Bridgeport, supporting institutional efforts in creating an environmentally, socially, and economically-benign campus.  I consider this opportunity to serve as another venue where empowering minorities and ensuring diversity is one of the primary objectives of my contribution. I initiated the efforts directed towards establishing community relations and have successfully collaborated with various non-profit organizations including the Greater Bridgeport Community Enterprises Inc., All Our Kin, Inc. and the Child and Family Guidance Center located in Bridgeport. 
In my roles as the Department Editor of the IEEE Transactions on Engineering Management and the Sustainable Engineering and Science Section Editor of Sustainability, I regularly review interdisciplinary articles, a practice that helps me remain relevant despite the rapid emergence of technology-driven research. Similarly, I have been serving as a Scientific Committee Member at the annual International Logistics and Supply Chain Congress for the past fourteen years. I have also maintained my engagement with several academic organizations by participating in various capacities, including service opportunities on national and international technical committees, advisory boards, program committees, and editorial boards.
AS:
How has the current situation impacted your work? If impacted, how do you plan on adapting to this new lifestyle? 
EK: What is happening to us today is a very clear example of everyone having the same objective, the objective being the survival of communities. I think it is clear to everyone that individual survival alone is not enough to achieve a sustainable solution. The need to support our communities has never been greater. We must make sure that we continue to add value, show compassion, and provide support to others while making sure that we remain mentally and physically healthy.  This is a marathon that requires strong commitment to continuous personal and professional growth. Having a growth mindset, and being able to adapt to rapidly changing conditions are very important. STEM professionals deal with creating solutions for problems while implementing systems that mitigate risk. I feel very fortunate that my training allows me to look at the current situation more like a change in the model environment with its newly added restrictions and objectives than a total chaos which would have a crippling effect. Despite the fact that these skills help me greatly navigate a healthy path in today's reality, I find being kind to oneself and others to be the most important factor required for a dignified survival.
AS:
Do you have anything else you would like the audience to know?
EK: ​I am always available if they need support, advice or simply someone to talk to. Go STEM!
Stay connected! Be sure to subscribe to Down to a Science— The Official Blog of the Connecticut Science Center and follow us on social media.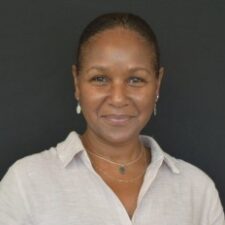 Amy Sailor serves as the Advancement Program Manager for the Connecticut Science Center. In this role, she stewards the 14 members Steering Committee of the Women in Science Initiative. Amy also implements a suite of programs and events that bring attention to the accomplishments of women in the sciences and introduces girls and young women to STEM fields of study and career paths.