The Petit Family Foundation Women in Science Leadership Award recognizes a woman working in STEM who is a leader in her field, and who makes a significant effort to support other women and encourage girls' interests in STEM. The honoree is selected by the Connecticut Science Center's Women in Science steering committee and is traditionally celebrated at our annual STEM Awards Breakfast, presented by Stanley Black & Decker, each spring.
This year, we're pleased to highlight some of the nominees for the 2020 STEM Achievement Awards and the Petit Family Foundation Women in Science Leadership Award in a series of personal and inspiring recorded conversations. We hope that you enjoy getting to know the 2020 class of nominees who embody the spirit of the Connecticut Science Center and our passion to inspire the next generation of STEM professionals.
In this conversation with Stephanie Higgins Bealing, her entrepreneurial spirit is contagious. She'll spill the beans about her newest venture and how she's adapting to the new normal in her business and personal life. 
STEPHANIE HIGGINS BEALING

Nominated for her work in empowering women in STEM, Stephanie Higgins Bealing has addressed students at many institutions including Miss Porter's School, Trinity College, and UConn, and has led Financial Literacy and Entrepreneurship sessions at Miss Porter's School. She guest lectures at community colleges including Tunxis and Manchester Community College.
Stephanie is the Founder & President of Replacement Lens Express (RLE). Since founding the company in 2010, she has grown her award-winning prescription eyeglass lens replacement company extensively on the web, with last year's sales exceeding $425,000 and delivering to customers in 55 countries. She designed RLE's unique supply chain initiatives to allow the business to sell its name-brand products at significantly reduced prices, helping consumers save hundreds of dollars a year. Prior to founding her company, Bealing traveled to Antarctica to conduct a geochronological survey and held positions as a fuel cell engineer, where she presented her scientific results at international events. She holds two U.S. patents and is a regular judge at the Connecticut Invention Convention. 
Interview with Stephanie Higgings Bealing
Amy Sailor: What inspired you to pursue a STEM Career?
Stephanie Higgins Bealing: When I was a student, I just studied what I liked. I never thought about my career. I was in love with physics. It was so mind-blowingly interesting. I fell in love with it in my junior year in high school at Miss Porter's school. During my senior year in college, I started thinking about what I would do for work as a physics major. When I couldn't think of anything fulfilling, I decided to get my Masters and keep studying. This time, I made a slight pivot into materials science and engineering, with a focus on solid oxide fuel cells/ceramics. I was always interested in the environment and this felt like the right direction to go in.
Amy Sailor: What do you think is the most important aspect when working as a team?  Any experiences in particular?
Stephanie Bealing: I'm not the best team player. I like to be in charge! However, my first start-up company was a partnership between my uncle and myself. Looking back on it, I really regret not having a business agreement in place. At the time, it did not feel right because he was family. But after a major falling out, I now realize that it would have been the right thing to do. So to answer the question, the most important aspect when working as a team is to set expectations early. Have clearly defined roles, processes, and procedures.
Amy Sailor: What are the benefits of owning and operating a company composed solely of women? 
Stephanie Bealing: There are many financial benefits, including grant money and loans for women. You can also apply for supplier diversity status, which can help win additional businesses with government agencies and large companies. It also feels great to support and work with other women.
Amy Sailor: What drove you to create Replacement Lens Express and how has it impacted the community?
Stephanie Bealing: I started my company as a project for an entrepreneurship class while getting my MBA from Carnegie Mellon Tepper school of business. My father had a small optometry practice and a lab that was really underutilized. I decided to basically scale his business by opening an e-commerce shop. The idea was to increase sales By opening it up to the entire world. I never imagined the business would outgrow his facility! My company provides high-quality lenses at a very affordable price so it was very helpful to many people during the recession. I started my business during our last recession in 2010.
Amy Sailor: Tell me a little about other projects you are working on.   
Stephanie Bealing: I held a seat on Miss Porter school alumnae board for four years. I was also a member of the board for the Viscoliosi Entrepreneurship Center at Manchester Community College. I have given many free lectures at institutions such as Trinity College, the University of Connecticut, and Tunxis Community College. I also dabble quite a bit in real estate. I have another project that I'm working on – it is too early to talk about it, but it is a new business that I am very very excited about. It's going to be entirely different from Replacement Lens Express.
Amy Sailor: How has the COVID-19 pandemic impacted your industry and your work?
Stephanie Bealing: My business was deemed to be an essential business, which I'm grateful for. The products and services that I provide allow my customers to stay safe at home while still getting what they need. However, if you were talking about the industry as a whole, many local eye doctors have been forced to close their brick and mortar shops for the time being.
Stay connected! Be sure to subscribe to Down to a Science— The Official Blog of the Connecticut Science Center and follow us on social media.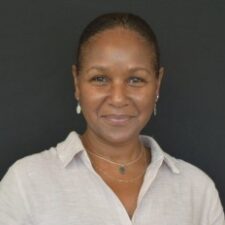 Amy Sailor serves as the Advancement Program Manager for the Connecticut Science Center. In this role, she stewards the 14 members Steering Committee of the Women in Science Initiative. Amy also implements a suite of programs and events that bring attention to the accomplishments of women in the sciences and introduces girls and young women to STEM fields of study and career paths.