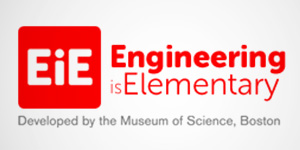 The Connecticut Science Center is the state's official professional development (PD) provider for EiE®, a nationally renowned education project developed by the National Center for Technological Literacy® (NCTL®) at the Museum of Science, Boston.
The Science Center is part of the Extended Network of EiE PD Providers—a national community of collaborators who facilitate EiE PD workshops in locations around the country.
Engineering is Elementary® (EiE®) is an award-winning, classroom-tested curriculum that integrates engineering and technology with science, language arts, social studies, and math via storybooks and hands-on design activities for 1st – 5th graders. The curriculum offers teachers a choice of 20 units with engaging engineering challenges that allow students to apply their earth science, physical science, and life science knowledge. The nation's largest elementary engineering curriculum, EiE has reached more than 61,800 teachers and 4.5 million students and is used in all 50 states. EiE is backed by research that shows enhanced student interest and achievement in science and engineering; studies reveal positive outcomes for all student demographics. The curriculum also integrates with literacy and social studies instruction. For more information please visit www.eie.org or simply click on the workshop title.
Can't come to us? New this year, we also offer 1-day EiE workshops at your school! Please fill out an interest form and we will contact you as soon as possible.
Please note: grade levels are identified based on the CT Science Framework that it supports. However these units are scalable to all elementary grade levels.