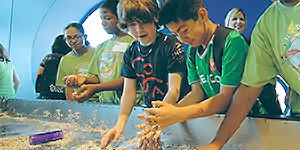 Prior to bringing your class to the Science Center, you are encouraged to spend time at the Science Center by participating in a Field Trip Professional Development Workshop.
In the workshop, you will discover all the exhibits and programs available to you and your students as well as the various resources available for classroom use. These resources complement the exhibit experiences and align with the Connecticut State Science Framework Standards. You will also receive training in a field trip experience that is customized for grade level science content. In addition, you will have an opportunity to explore the galleries using our standards-based
Exhibit Trail Guides
. Each of these guides leads you and your students along a pathway to enjoy the Science Center and maintain focus on your grade level or content standard.