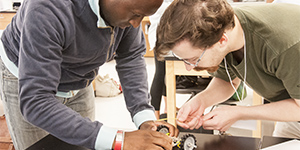 The Mandell Academy offers professional learning in inquiry-based pedagogy through a series of five-day immersion workshops and follow-up support.
---
Inquiry for Teaching and Learning Series
Our longest-running PD, the Inquiry for Teaching and Learning (ITL) Series was launched in the summer of 2005. ITL was overhauled in 2016 to be fully compatible with the latest standards and to provide a common pedagogical framework that can be applied to the design of lessons in all subject areas. We also offer follow-up workshops and embedded lesson coaching to support putting workshop principles into practice.
| | |
| --- | --- |
| Audience: | K-12 Educators in all subject areas |
| Enrollment: | School-wide teams are highly recommended, but individuals may participate |
| Duration: | Five days per year for up to three years (summer sessions occur in one week; school year dates can be scheduled in close proximity), with customizable follow-up support available |
| Location: | Summer: In the Hartford area; School Year: In your district with sufficient enrollment (travel costs apply) |
| Format: | Immersive inquiry activities with pedagogical analyses and structured lesson planning |
| Facilitation: | Connecticut Science Center Professional Development Specialists and Trained Facilitators |
| Cost: | $1,500 per educator per five-day session; follow-up support is competitively priced |
| Note: | In lieu of a follow-up conference in 2019, the Science Center is recommending customized support for your school during the 2018-19 school year. As a promotion for this, for every summer 2018 Inquiry for Teaching and Learning participant that a district pays $1,500 for, the district will receive a credit of $100 per participant that can be (exclusively) applied towards $5,000+ of follow-up workshops and/or coaching during the 2018-19 school year (credits expire 6/21/19; credits may only be applied only for this purpose and is otherwise not refundable; advance booking is recommended so we have the best chance of accommodating your school year schedule). |
Click here to be notified when new sessions are available.
For more information and custom quote, contact us at:
Phone: 860-520-2193
Email:
MandellAcademy@ctsciencecenter.org