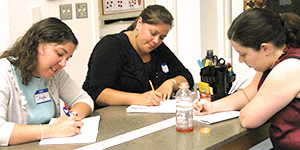 The Integrating Language Arts and Science workshop focuses on integrating language arts strategies for reading, writing, recording, reflecting, and communicating with science content.
Participants learn how to integrate science with other content areas; develop confidence with using specific strategies in the classroom; and create a plan by which they can implement these ideas into their practice.
Interested?
Email us
to request a workshop.