Inspired education starts with inspired teachers, and the Connecticut Science Center is committed to supporting educators with resources that tie closely to the Connecticut Core Science Curriculum Framework and the Next Generation Science Standards.
We understand the importance of informal science education. Learning outside the classroom keeps students excited about learning, helping them relate in-school studies to potential careers in STEM—science, technology, engineering, and math. We consider Connecticut Science Center an essential part of the STEM education environment, supporting classroom learning with hands-on, inquiry-based exploration. We provide engaging, one-of-a-kind experiences that speak to the natural curiosity in young people.
2019-2020 Educator Guide
Programs, exhibits and educator support for the Connecticut Science Framework and Next Generation Science Standards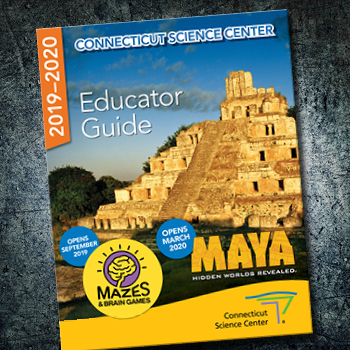 Mandell Academy for Teachers
The Mandell Academy for Teachers offers Student Engagement Strategies, Inquiry Teaching and Learning, STEM Education Units, Science Content Workshops, Engineering Practices, and Science Coaching. Through our accreditation by Charter Oak State College, participants earn graduate college credit (3 credits per year for 3 years) toward a Master's Degree as part of our Inquiry Teaching and Learning programs.