2021 Nominations
Each year, the Connecticut Science Center recognizes men, women, and organizations who share our mission to inspire lifelong learning in STEM fields and go above and beyond expectations to inspire STEM professionals' next generation. Please help us to identify those exceptional individuals and organizations by submitting a nomination.

Nominations for the 2021 STEM Achievement Awards, the new STEM Achievement & Women in Science Youth Awards, and the Petit Family Foundation Women in Science Leadership Award can be submitted starting March 1, 2021 and will close on May 24, 2021. Winners will be announced and celebrated at the Green Gala on Saturday, October 2, 2021.​
STEM Achievement Awards
The Connecticut Science Center celebrates the achievements of professionals, groups, advocates, businesses, and leaders who share our mission to inspire lifelong learning through interactive and innovative experiences that explore our changing world through science.
Individuals and/or organizations can be nominated for these awards.
2021 Nomination Forms
STEM Achievement & Women in Science Youth Awards
This award recognizes and celebrates a student in grades 8 - 12, who has shown curiosity, achievement and/or leadership in one or more STEM fields. This could be through promoting STEM education in the school or community, or through the creation and development of a novel product or technology tool.
2021 Nomination Form
Petit Family Foundation Women in Science Leadership Award
This award recognizes a woman working in STEM who is a leader in her field, and who makes a significant effort to support other women and encourage girls' interests in STEM. The honoree is selected by the Connecticut Science Center's Women in Science steering committee.
2021 Nomination Form
2020 STEM Achievement Individual Award Honoree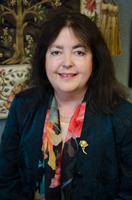 Carmen R. Cid, Ph.D is the 2020 STEM Achievement Award Individual Honoree. She is the Dean, Arts and Sciences, Eastern Connecticut State University. She is the founding chair of the Women and Minorities in Ecology Committee for the Ecological Society of America (ESA), the largest professional organization for ecologists. In this role, Dr. Cid led the development of the first blueprint for establishing the committee infrastructure and strategic planning initiatives to improve recruitment, retention and career development for women and minorities in ecology (the WAMIE I report). Over the last two decades, she worked to set and accomplish many goals to enhance ESA diversity and ecological literacy initiatives. Her most significant achievement includes the establishment of the SEEDS award-winning mentoring programs for minority undergraduates (https://esa.org/seeds/) and the development of many society initiatives to improve career development of early career ecologists, along with establishment of society-endorsed undergraduate ecology education standards (www.esa.org/4dee).
2020 Petit Family Foundation Women in Science Leadership Award Honoree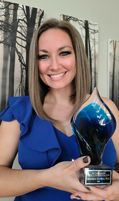 Jacquelynn Garofano, Ph.D is the 2020 Petit Family Foundation Women in Science Leadership Award Honoree. Dr. Garofano knows firsthand the power of mentorship and networking. She is a true STEMinist. She feels incredibly fortunate to have had mentors who encouraged and supported her career and works to give back by creating opportunities for a diverse workforce. As a first-generation college graduate, she knows the challenges that one must overcome. She is an active member of the Society of Women Engineers and was a 2018 Future is NOW awardee by the CT Women's Education and Legal Fund for her work to advance women and girls in STEM fields. Her passion is being the catalyst that will help set others on a STEM path, igniting their love of STEM and education
2020 STEM Achievement Organization Award Honoree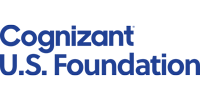 The Hartford and the Cognizant U.S. Foundation are this year's STEM Achievement Award Organization Honoree. Among their philanthropic funding priorities, The Hartford and Cognizant U.S. Foundation have elevated STEM, STEM education, and STEM workforce development as a primary point of focus of their efforts. Both organizations have – on their own – funded initiatives and provided extensive volunteer support for these efforts. In 2019, they came together in an unprecedented partnership to fund the STEM Career Connections initiative at the Connecticut Science Center. STEM Career Connections is a comprehensive initiative designed to inspire students to consider futures in the fields of Science, Technology, Engineering, and Mathematics (STEM). It represents a deepening commitment to the illumination of STEM opportunities and pathways available in Connecticut.
Women In Science Steering Committee
Kenneth Bowes
Katherine Coughlin
Meg Duffy
Holly Ann Quinn
Gladis Kersaint, Ph.D.
Meryl Mallery
Danielle Metcalf
Marie O'Brien
William A. Petit, Jr., MD
Chandra Roychoudhuri, Ph.D.
Ellyn Savard
Chinma Uche, Ph.D.
Presented By