STEM Achievement Awards
The Connecticut Science Center celebrates the achievements of professionals, groups, advocates, businesses, and leaders who share our mission to inspire lifelong learning through interactive and innovative experiences that explore our changing world through science.
Individuals and/or organizations can be nominated for these awards.
STEM Achievement & Women in Science Youth Awards
This award recognizes and celebrates a student in grades 8 - 12, who has shown curiosity, achievement and/or leadership in one or more STEM fields. This could be through promoting STEM education in the school or community, or through the creation and development of a novel product or technology tool.
Petit Family Foundation Women in Science Leadership Award
This award recognizes a woman working in STEM who is a leader in her field, and who makes a significant effort to support other women and encourage girls' interests in STEM. The honoree is selected by the Connecticut Science Center's Women in Science steering committee.
2021 STEM Achievement Individual Award Honoree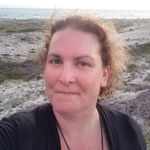 Tara Jo Holmberg, MA, MEd, MS, Professor of Environmental Science and Biology, is entering her 20th year of teaching at Northwestern Connecticut Community College. An award-winning educator, she facilitates a wide variety of courses in the life and Earth sciences and is the Coordinator for the Natural Resources Programs. Tara Jo incorporates service learning, citizen/community science, and high-quality, real-world data into her classes. Her focus is on inquiry-based, active learning opportunities for students to achieve their goals. Her own goal as an educator is to reignite the curiosity and wonder that students have often lost about science and the natural world. A Teacher Ambassador for BioInteractive (of the Howard Hughes Medical Institute), she facilitates professional development opportunities for high school and higher education faculty from local to international scales. Beyond life and environmental science mentoring, Tara Jo also works in the interdisciplinary areas of technology-supported education, inclusive and accessible teaching, and culturally-relevant pedagogy. She is a published scholar of biology education research, regularly presents at conferences, and is heavily engaged in the work of the National Association of Biology Teachers. Finally, she is a Board member for a local conservation organization, volunteers in her community, and is currently pursuing her PhD in Interdisciplinary Environmental Studies.
2021 Petit Family Foundation Women in Science Leadership Award Honoree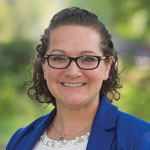 Andrea Kwaczala, Ph.D is a Biomedical Engineering faculty member at Western New England University. She is passionate about building assistive devices to help people with limited mobility. Her work has spanned from the design of golf assistive devices, low-cost prosthetic technology, to her favorite project, building electric cars for kids at Shriners Hospitals for Children. She inspires her students to pursue and persist in STEM careers by promoting technical skills. She uses makerspace activities that use a constructionist approach to recognize the societal impact of our innovations. She is actively involved in Society of Women Engineers and serves as the Outreach Chair of the Hartford Chapter. In outreach, Dr. Kwaczala lives for opportunities to inspire the next generation of scientists, engineers, tinkerers, and builders to think big, come up with novel ideas and to learn through failure.
---
2021 STEM ACHIEVEMENT INDIVIDUAL AWARD FINALIST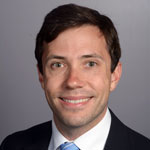 Jordan A. Greco, Ph.D is the Chief Scientific Officer of LambdaVision, Inc. and an Assistant Research Professor in the Department of Chemistry at the University of Connecticut. As a physical chemist, Dr. Greco's research interests include the photophysics of biological chromophores and light-activated proteins, as well as the application of these principles to design biophotonic devices. Alongside his research team at LambdaVision, he is developing a protein-based artificial retina to treat patients blinded by retinal degenerative diseases. His research has recently involved the production of artificial retinas on the International Space Station, thus establishing a new microgravity-based infrastructure to manufacture products with direct clinical benefit. Dr. Greco is passionate about helping young scientists in their career development. Drawing from his experiences as a chemist, educator, and entrepreneur, he continues to mentor students from the high school to graduate level, and he strives to instill the importance of a diverse academic background, strong communication skills, and creative problem solving.
2021 STEM ACHIEVEMENT INDIVIDUAL AWARD FINALIST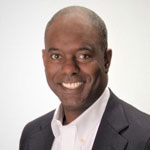 Greg M. Jones is a finance and corporate strategy executive, with over 25 years of assisting public and privately held manufacturing, utilities and healthcare companies grow their businesses through organic, joint ventures and mergers and acquisition activities including capital raising and effective deployment. Currently, he is Vice President, Strategy and Planning for corporate social responsibility and community health and engagement for Hartford Healthcare. He is the founder and chairman of the Legacy Foundation of Hartford, a philanthropy focused on addressing disparities in health and education. He created the Black Men's Health Project, an initiative focused on encouraging Black men to be informed and primarily responsible for their respective health. He is a member of the Eversource Energy Board of Directors. He served on the Hartford Hospital Board of Directors for six years and was the chairman of the quality and credentials committee. He has been a member of the Board of Directors for the Greater Hartford Community Foundation (The Travelers Championship PGA Golf Tournament) for five years and focuses his efforts on corporate and business development and community engagement and outreach for the tournament. He earned an MBA from the Wharton School at the University of Pennsylvania, a Master in Public Management from Carnegie Mellon University, a Bachelor of Science from Morgan State University.
---
2021 STEM ACHIEVEMENT STUDENT HONOREE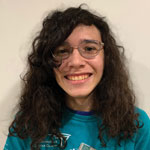 Joel Torres Pathways Academy of Technology and Design East Hartford, CT
2021 PETIT FAMILY FOUNDATION WOMEN IN SCIENCE STUDENT LEADERSHIP AWARD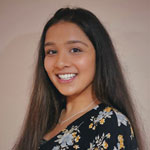 Sivani Arvapalli South Windsor High School South Windsor, CT
2021 STEM Achievement Organization Award Honoree

UConn's Natural Resources Conservation Academy (UNRCA) team has been empowering teens, adult volunteers, undergraduate & graduate students, and teachers statewide by providing professional development & leadership opportunities and supporting participant-led community conservation efforts. The Academy has provided a direct assist to land conservation work statewide and helped foster the next generation of environmental stewards. The NRCA uses an innovative leadership framework that supports the implementation of environmental solutions, and crosses age and ability boundaries to develop a more inclusive and equitable environmental sector. Collectively, 260 community conservation projects have been carried out by NRCA teen-adult partnerships see projects here:
2020 STEM Achievement Organization Award Honoree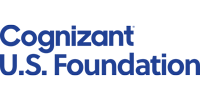 The Hartford and the Cognizant U.S. Foundation are this year's STEM Achievement Award Organization Honoree. Among their philanthropic funding priorities, The Hartford and Cognizant U.S. Foundation have elevated STEM, STEM education, and STEM workforce development as a primary point of focus of their efforts. Both organizations have – on their own – funded initiatives and provided extensive volunteer support for these efforts. In 2019, they came together in an unprecedented partnership to fund the STEM Career Connections initiative at the Connecticut Science Center. STEM Career Connections is a comprehensive initiative designed to inspire students to consider futures in the fields of Science, Technology, Engineering, and Mathematics (STEM). It represents a deepening commitment to the illumination of STEM opportunities and pathways available in Connecticut.
---
Women In Science Steering Committee
Kenneth Bowes
Katherine Coughlin
Meg Duffy
Holly Ann Quinn
Gladis Kersaint, Ph.D.
Meryl Mallery
Danielle Metcalf
Marie O'Brien
William A. Petit, Jr., MD
Chandra Roychoudhuri, Ph.D.
Ellyn Savard
Chinma Uche, Ph.D.
Presented By