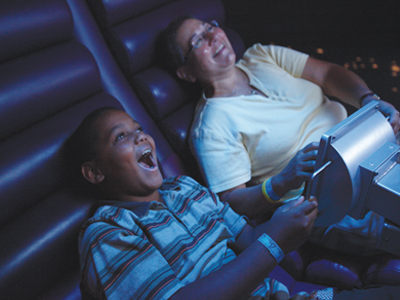 Inspire the next generation of scientists, engineers, healers, educators, inventors, mathematicians, and better-informed citizens of the world.
When you give to the Connecticut Science Center, you directly support the exhibits and programs that make up Connecticut's leading science learning destination. From creating new interactive experiences and programs, to providing transformative teacher training, to purchasing lab supplies, your gift makes it possible.
Your gift will support important and inspirational moments happening at the Science Center and in classrooms across Connecticut while improving awareness in STEM which is critical to workforce development. Since opening in 2009, the Connecticut Science Center has:
served more than 3.2 million families, students, and educators.
provided science education enhancements through field trips, traveling programs, and hands-on laboratory activities to 70,000 students per year.
delivered cutting-edge professional development through our flagship teacher training initiative, the Joyce D. and Andrew J. Mandell Academy for Teachers.
established intensive Teen Innovation STEM youth development programs, giving diverse teams of students opportunities to combine science learning with transferable workplace skills.
created exceptional original programming through our Women in Science initiative which inspires girls and young women to pursue STEM.
the STEM Career Connections Initiative connects children and families to opportunities in STEM fields in Connecticut. This ongoing initiative addresses everything from career information in the Science Center's exhibits, to bringing children through STEM-Career-oriented activities all the way through their teen years.
---
---
---
Thank you for your support of the Connecticut Science Center
Click here for a list of Our Supporters
SUPPORT OUR MISSION
To sustain our mission and deliver engaging and transformative exhibits, movies, programs, and events, we rely on the support of our community.
Learn more about how you can make a difference.
---
Contact:
April Paterno, Vice President of Development (860) 520-2129
apaterno@ctsciencecenter.org
Whitney Gray, Director of Institutional Giving
(860) 520-2124
wgray@ctsciencecenter.org