Donor Spotlight
Henry Link: Improving Life through Education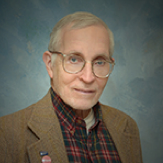 Henry Link is an environmental engineer, a longtime Connecticut Science Center supporter, and now a member of the Albert Einstein Society, a group of dedicated advocates who have included the Science Center in their estate plans. A believer in the power of education and one of the organization's first members, Henry is the embodiment of the Science Center's mission. Henry, himself, is dedicated to inspiring lifelong learning and developing the minds of the future generation to solve problems of the future. He hopes that the children who visit the Science Center will be encouraged to think bigger, and improve life for people all over the globe.
As Henry points out, STEM professionals create the innovations people use every day. He hopes that the Science Center will continue to make an impact on its visitors, as well as make STEM education accessible for many years to come.
Join the Albert Einstein Society by Making a Planned Gift to the Connecticut Science Center
You can help ensure the future of the Connecticut Science Center by making a planned gift through your will. Named for the Time Magazine's Person of the 20th Century and arguably the greatest scientist of our time, the Albert Einstein Society ensures the long-term sustainability of the Science Center. You can be a part of this important effort while also securing financial and tax benefits for yourself and your family. There are six ways you can make a difference through a planned gift.
Direct bequest
An unrestricted gift allows the Science Center to apply funds to our most pressing needs. Simply bequeath to us in your will a specific sum of money or other asset. Our Board of Trustees will determine how your gift can best help the Science Center and those it serves.
---
Percentage or residue
You may choose to leave the Science Center a percentage of your estate or the "rest, residue and remainder" of your estate after all other bequests, debts and taxes have been paid. A percentage will compensate for any changes in the value of your estate over time.
---
Charitable IRA Distributions
Donors ages 70 ½ and over can distribute any amount up to $100,000 per year from their Individual Retirement Accounts (IRAs) to the Science Center free from income tax.
---
Charitable Lead Trusts
Income from these trusts would flow to the Science Center for a designated period of time (typically 10—20 years or more). At the end of that time, the assets would be returned to you, your heirs, or any other persons designated. In this manner, you can direct a sizeable amount of annual income for the Science Center while guaranteeing that your heirs will ultimately benefit from the asset.
---
Charitable Remainder Trusts
Under this trust, you (or your beneficiary) receives the trust income during your lifetime, after which, the Science Center receives the residual of the trust assets.
---
Memorial fund
You can establish a permanent memorial fund in your name or that of another person, with the income to be used as you direct. The principal will be invested and will continue to provide support to the organization in perpetuity.
Like all financial decisions, you should first consult your attorney or financial adviser. The Science Center's Development Office would be pleased to discuss with you, as well as members of your family and your advisers, the various options for achieving your philanthropic goals. If you would like personal assistance in learning how planned gifts can meet your charitable and personal goals, and help the Science Center fulfill and perpetuate its educational mission, please contact us.
For questions or additional information:
SUPPORT OUR MISSION
To sustain our mission and deliver engaging and transformative exhibits, movies, programs, and events, we rely on the support of our community.
Learn more about how you can make a difference.
---
Contact:
April Paterno, Vice President of Development
(860) 520-2129
apaterno@ctsciencecenter.org
Whitney Gray, Director of Institutional Giving
(860) 520-2124
wgray@ctsciencecenter.org