The Connecticut Science Center is currently hosting the world-class, blockbuster traveling exhibition Maya: Hidden Worlds Revealed. The exhibition is the largest of its kind in the United States and invites you to uncover the rise and eventual decline of this majestic civilization — including its social, natural, and spiritual realms — through never-before-seen artifacts, hands-on activities, multimedia components, and re-created environments.
In this video, Tyler Green and Aoife Ryle discuss the facts behind Maya home life. Many people believe the Maya lived in the stone temples which are found all over the archeological sites, but that is not the case. Instead, they lived in huts, with walls made out of stone or mud and roofs made out of straw. Archeologists believe that this material degraded, which is why these homes are not present on Maya sites today. Inside these huts, one would find a single room, where families cooked and spent time together. 
In this room, a hearth – a piece of traditional art made out of ceramic – would be found. The hearth was used for storage as well as cooking. The Maya diet consisted of vegetables, fruits, nuts, and maize, all of which would be cooked within their hearths. While the Maya had a balanced diet, they left plenty of room for indulgences such as their traditional chocolate drink. The crop maize was their most stable food group, not only within the Maya civilization but Mesoamerica as well. It also represents their patron god and is the subject of many stories told throughout the generations. The Maya also used plants and homeopathic medicine to allow future generations to enjoy this bountiful life. 
These stories weren't the only thing passed down through generations, but textile practices as well. The Maya believed a good way to pass the time was to create woven cloth. No woven garment was like another. Each piece was individually made with symbolic patterns. These patterns represented status, tradition, and religion. Evidence shows that individuals spent a lot of time in their homes, and, as a result, they were able to pass down family traditions, remedies, and beautiful craftsmanship.
Stay connected! Be sure to subscribe to Down to a Science— The Official Blog of the Connecticut Science Center and follow us on social media.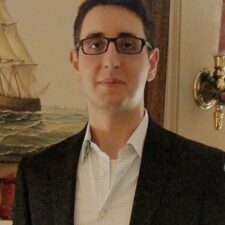 Tyler Green is the Visitor Experience Supervisor at the Connecticut Science Center where he works to develop content and staff engagement strategies to elevate the experience of our visitors. A historian by training, Tyler holds a bachelor's degree in History and a master's degree in American Studies and Museum Studies from Trinity College, Hartford. He has been working in museums in and around Hartford for over 10 years.