Hi everyone and welcome back to another Science At Play! We are so excited to bring you another science activity you can try at home with your friends and family. Today, we are talking all about balance. How well can you balance? Do you think you can pass our course of balance challenges? If you are up for the challenge, follow along with us below and see how many levels you can complete.
Materials to Collect
A clock, watch, or time

A partner to time you
Try it!
Start by making sure your surrounding area is clear of any obstacles. We are going to challenge your balance, so move away from any sharp table corners.
Time how long you can stay standing for each of the following challenges
Stand on one foot
Stand on one foot with your eyes closed
Stand on one foot and tilt your head from side to side or let your gaze wander to different points around the room
Stand on one foot and keep your eyes focused on a single object in the room, like the arm of a chair or a spot on a rug
Stand on one foot and close your eyes while tilting your head from side to side
What is the Science? 
Humans keep their balance by using information from 3 sensory systems: the somatosensory (somato = body, sensing) system, the vestibular system, and the visual system. The somatosensory, or body-sensing system is made up of tiny sensory cells within our muscles and joints that let our brain know where our muscles and joints are in space and what kinds of motions or pressures they are feeling. The vestibular system is made up of small, tube-like organs that are filled with fluid, located inside our inner ear. When we tip or turn our heads, or when we experience acceleration in a car or on a bike, the liquid is moved in the tube-like organ, much like a bubble moves in a level. The liquid's movement is sensed by special receptor cells in the inner ear which sends a signal to our brain that we have turned our head or experienced acceleration. Finally, our vision tells us whether we are upright or laying down, and what we can see happening around us. These three inputs combine to affect our balance, and they are the senses we are confusing with the balance challenges! By closing your eyes, you remove the visual part of your balance, tipping your head from side to side messes with the vestibular system in your inner ear, and closing your eyes while tipping your head takes out two parts of your balance at the same time!
When different parts of our balance are affected, this can result in motion sickness. Often people become car sick when they are in the back seat of the car because their eyes are seeing the unmoving car interior, but their vestibular system can sense the acceleration of the car.  The disagreement between what their eyes and inner ears are sensing can lead to nausea and discomfort because the sensory system can't figure out what is going on. Some people feel relief from car sickness by sitting where they can see out the front windshield, which puts their visual and vestibular senses back in agreement! Another example is in dance or ice skating. When a ballerina or an ice skater does a spin, you can see that they look at a certain spot and turn their heads around quickly to continue to look at that spot while their body rotates. This is called spotting, and it helps dancers or figure skaters keep their balance while their body rotates by keeping their vision on a stable point – this can also help reduce dizziness! You were spotting when you tried standing on one foot while staring at a specific spot in your room.
Ask Your Young Scientists
Which challenge made it easiest to balance? 

Which challenge made it more difficult?

What did your body do to try and help you keep your balance?

What other ways could you change your balance?

How can you use your arms to help yourself balance?
More to Explore
Try spotting, or staring at a specific place or object in the room, while you stand on one foot and tilt your head from side to side – does that make it easier or harder to stand on one foot?

SciShow:

3 Senses You Didn't Know You Had
If you try any of these experiments, we want to see them. Share your pictures and videos with us by using the #ScienceAtPlay and tagging @CTScienceCenter. 
This content was made possible in part by the Institute of Museum and Library Services.

Nick Villagra is a STEM Educator at the Connecticut Science Center, responsible for developing and delivering science experiences, including classroom lab programs, stage shows, and vacation camps. Nick holds a Bachelor of Science in Engineering from Swarthmore College. and has been a speaker at the New England Museum Association conference. Always looking to put a unique stamp on the Science Center's offerings, Nick enjoys incorporating custom-designed 3D printed materials for students to interact with.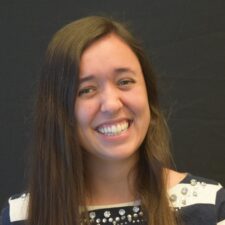 Jessie Scott is a STEM Educator who enjoys encouraging students' enthusiasm for science. She teaches classes to students visiting the Science Center and brings STEM lessons to schools across Connecticut. Jessie completed her Master of Science degree in Microbiology at Dartmouth College and worked as a science educator at the Montshire Museum of Science before coming to the Connecticut Science Center. Her scientific interests are biology – how living things have adapted different strategies to survive in their environments, insects, and plants. In her free time, Jessie likes to go rock climbing, hiking, and skiing.