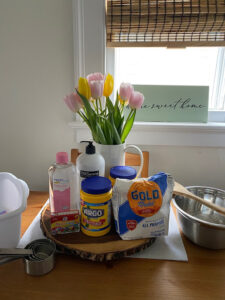 It is definitely fun to get messy and play with squishy, moldable sensory items like doughs and slime. The two we have to share with you today are some of the simplest to make and provide hours of enjoyment for all ages. Plus, they can be stored in airtight containers and reused again later!
Cloud Dough:
This is such a fun but messy recipe, so you may want to clear any items that you don't want to get a bit powdery out of the way and put down something on the floor to catch any bits that don't stay on the table. The great thing about this dough is that one minute it can be powdery and sand-like and then the next minute you can be molding it like dough. 
To get started you need to gather the ingredients: 8 cups of flour, 1 cup of oil, and food coloring (optional). For the oil I recommend Baby Oil, it works great for this recipe and makes everyone's hands feel soft and smooth after playing. Vegetable Oil also works and is a great option if your little ones still tend to put everything in their mouths. 
Here's the simple steps to mix Cloud Dough:
If you are using food coloring, add it to the oil until it is tinted to the color you want. Note: not all food coloring will blend with oil, so test yours out. 

Pour the flour into a large container (large mixing bowl or a plastic bin). 

Add the oil to the flour. 

Dive your hands in there and mix for at least 5 minutes, taking care thoroughly mix the ingredients. You will know when it is all set because the dough will hold its shape if you squeeze it in your hand and let go. 

Super Soft Play Dough
(not safe for consumption)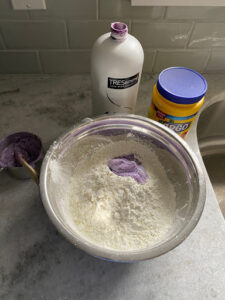 When you are tight on time or don't want to have to cook and make your own Play Dough at home, this is a great option because it requires only 2 ingredients, no cooking, and can be done in under 10 minutes. One of the great things about this sensory play item is that you can customize it anyway you want—add glitter, food coloring, or even lavender oil for a soothing play time. Not to mention that one of the main ingredients is conditioner, so the dough is soft, smells great, and leaves your hands feeling amazingly soft and silky smooth. 
Here's what you need to begin: 4 cups of cornstarch, 2 cups of hair conditioner, and any extras you want to add like food coloring or glitter. Then grab a big mixing bowl and a spatula or you can just get the messy fun started early and mix with your hands. 
Follow these steps to make your own Super Soft Play Dough: 
Add food coloring or glitter to the hair conditioner first. I have found it really easy to add directly to the bottle of hair conditioner and then shake it up really well! Kids are great helpers here as long as the top is screwed on tight.

Dump 4 cups of cornstarch into the bowl.

Add the conditioner in small batches and mix thoroughly before adding the next blob of conditioner. This helps prevent it from getting too globby. You may need to add a bit more or less hair conditioner than the recommended 2 cups based on how thick or thin the hair conditioner you use is. 

Once the mixture becomes more dough-like, I typically like to sprinkle some cornstarch on the counter and knead the conditioner into the dough until you have a super soft, play dough consistency.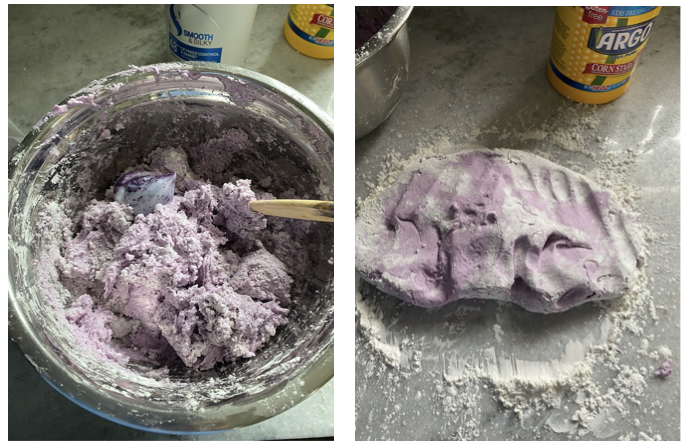 And now it's time to play!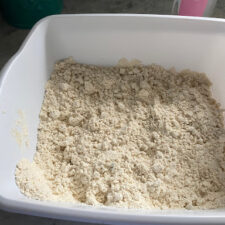 Once your dough is ready, it is time to explore and have fun! Sensory play is a great way to encourage our young ones to explore their sense of touch, smell, and sight through play. Invite your child to share with you what they feel or notice about how the dough moves or behaves while they are playing. Encourage them to try different things—rolling, squeezing, stretching, and more to see what happens. Moreover, if you grab some cookie cutter, cupcake molds, or rolling pins kids can work on building their motor skills while having a blast.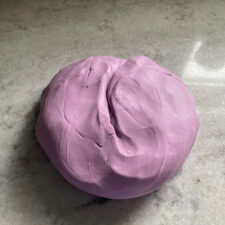 From start to finish, have fun with this messy play experience with your kids. Have them help you make the doughs and even clean up after. We hope that you all have fun playing together and exploring these soft, gooey, moldable sensory play recipes!
We want to see what you try at home. Share your creation with us on social media by using the #ScienceAtPlay and tagging @CTScienceCenter.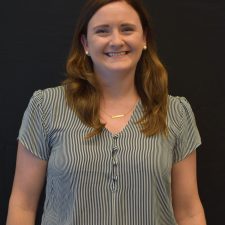 Megan Ramer is the Public Programs Manager at the Connecticut Science Center. She designs professional development programs and interactive & engaging public programming for the Science Center, such as the Live Gallery Science demonstrations.