We hope you enjoyed yesterday's lunch bunch with Stanley Black & Decker. Audrey Van de Castle and Elyse Korsyn demonstrated the use of a chainsaw and then deconstructed it right before our eyes. While we don't recommend taking apart a chainsaw at home, they were on to something, right? It's fun to take things apart, learn how they work, and figure out how to improve them and use what we've learned to build new things. Did you know that Benjamin Franklin was only eleven years old when he developed swim fins? While he likely wasn't the first to experiment with the concept of flippers or paddles for swimming, Benjamin Franklin's inquisitiveness led him to explore and develop new options for swimming more quickly. You, too, have the potential to explore your own curiosity, experiment, and create, and at the Connecticut Science Center, we're here to help you do that! Keep reading for tips and tricks on how to build your own makerspace at home and start creating! 
What do I need?
Work with the adults at home to collect items around your home you might typically use to craft or build. You don't need very much space or too many supplies, but just enough to get those creative juices flowing. If there isn't a workspace where you live, maybe you fill a reusable grocery bag with tools and supplies that help bring your makerspace with you wherever you go. To start, peruse some of our Science at Play blog posts to look at the materials we've used to make kites, stomp rockets, parachutes, sound toys, and more! You might find that there are some pretty frequently mentioned tools:
Soda Bottles 

Batteries

String

Cardboard 

Empty clear bottle (any size, but 1 liter works well)

Food coloring

Glue

Paper and Cardstock

Markers

Paint and paintbrushes

Paperclips

Plastic cups

Popsicle sticks

Ribbon

Rubber bands

Scissors

Stapler

String

Tape 

Toothpicks



By no means do you need to have all of these objects to start making, but if you take a look at the list, you'll find that a lot of them might already be lying around your house. If you're looking for "raw materials," or the materials from which objects are made, look no further than your own recyclables. Foam takeout containers, cardboard delivery boxes, and toilet paper and paper towel rolls are just some of the things you can use. Make sure you avoid using any power tools, heated elements, or sharp objects without an adult's permission, assistance, and supervision.
What can I make?
You want the short answer?  ANYTHING. Maybe there is a problem you'd like to solve to help you out around the house? Or perhaps you want to attempt to recreate a project you saw online or on television. Think about ways you can use your brain to create a solution or fun new object or trinket from recycled materials in your home using the tools you have on hand. You can get some practice following the instructions in our blog posts. 
Tinker
!
To get more comfortable with learning how things work, we encourage you to tinker. Is there an old plastic toy that's gathering dust that you can dismantle? Get permission from an adult who can help you make sure all batteries are removed, and that there are no sharp edges, dangerously small elements, or electrical components that might make it unsafe. Use a screwdriver to unscrew pieces and look at the object from the inside, and then see if you can put it back together. 
Once you get comfortable making at home…
The possibilities are endless! 
Local Resources: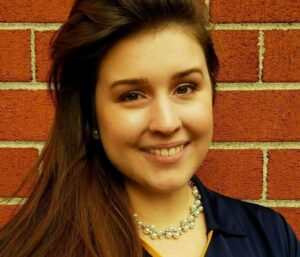 Kelsey Ballard the STEM Career Coordinator at the Connecticut Science Center. In her role, she helps build interactive learning experiences with STEM professionals and educators to inspire local youth to pursue STEM careers in their home state. She studied Biological Sciences and Psychology at the University of Connecticut and received her master's in Healthcare Administration at the University of New Haven. In her free time, she loves baking and crafting.