As we plan for the remainder of our school year and think about how things are going to look next fall, it's helpful to continue to look at ways that we can teach science from home. This list was developed to provide educators with a quick, easy location to look for suggestions on how to increase scientific literacy. We love this resource because it does not overwhelm with suggestions or links, rather provides three distinct categories (phenomena protocol, continuing science from home, and pass the science) with descriptions of each. From there you can access further documents that give more suggestions and resources.
____________________________________________________________
As schools close their doors as part of public health measures to limit the spread of COVID-19, educators have an opportunity to be innovative and re-prioritize what we value in science education. What are the ways we can innovate beyond classroom-based learning and think beyond to re-imagine existing resources for science learning opportunities? 
The tools promote scientific literacy in ways that support but do not recreate traditional classroom methodologies. These strategies are a student and family-led, provide on-line and off-line implementations strategies and are based in the Nature of Science. How can we support students as they ask questions and develop explanations about phenomena they observed?
The goal of building knowledge in science is to develop general ideas, based on evidence, that can explain and predict phenomena. The good news is that phenomena aren't just located in our classrooms, they can be found all around us. How can we ensure the continuation and inclusion of phenomena for home-based continued learning?
A scientific notebook has been used as a tool for centuries, to capture observations, develop questions and progress towards sense-making. How might students use notebooks at home to document their thinking, observations, data collection, claims based on evidence, and reflections?
For more information on Science Notebooking, check out our Take 10: Science Notebooking.
Science is a social discipline and as such, conversations about scientific phenomena can advance a learner's understanding of the content. Talk is transportable and its flexibility allows for implementation in many different venues. How can we promote sense-making through dialogue?
These tools aim to promote the supportive features of educational materials created by the Council of State Science Supervisors in response to COVID-19.  This effort represents the collective work of a group of individuals including, but not limited to science education leaders representing the Council of State Science Supervisors and NSELA. Resource Contributors (listed in alphabetical order): Lizette Burks, Linda Cook, Maya Garcia, Mike Heinz, Hillary Paul Metcalf, K.Renae Pullen, Kathy Renfrew, Meg Richard,and Tricia Shelton. 
Stay connected! Be sure to subscribe to Down to a Science— The Official Blog of the Connecticut Science Center and follow us on social media.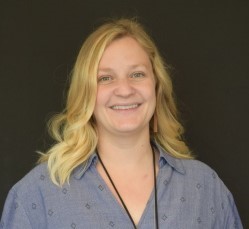 Lindsey Sullivan is a Professional Learning Specialist at the Connecticut Science Center's Mandell Academy for Teachers. Before joining the Mandell Academy, Lindsey was a high school science teacher. Currently, Lindsey supports educators as they make sense of NGSS through her facilitation of workshops offered by the Mandell Academy as well as providing coaching support in schools.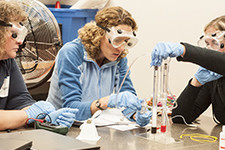 Becky Fahey is a Professional Development Specialist at the Connecticut Science Center's Mandell Academy for Teachers. Previously, she has worked as a preK-3 educator in various public school districts in Eastern Connecticut where she designed and implemented inquiry based lessons in the classroom. Becky brings with her expertise in collaboration and inquiry based teaching and will apply these skills to help educators to deepen their understanding of NGSS and apply best practices to support their learners in the classroom.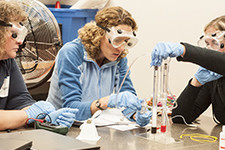 Rachel Shurick is a Professional Learning Specialist at the Connecticut Science Center's Mandell Academy for Teachers. Rachel supports educators to deepen their understanding of instructional shifts associated with NGSS to support their learners.  Rachel has also worked to develop NGSS workshops aim to help teachers bring the Next Generation Science Standards to life in their classrooms.