Renovators, makers, inventors, and anyone who desires the pure unbridled satisfaction of doing it yourself, this is the blog for you. Here we will be taking a closer look at some of the tools that help you create all those Pinterest projects you've been saving. Are these tools dangerous? Yes! Do they multiply your effort towards a custom home and satisfying life? Also yes! With a deeper understanding of how these tools work, we can hopefully replace the do's and don'ts with a philosophy of safety. We will use custom-filmed photography and slow-mo footage to understand what is happening after you measure twice.
For this blog series I was thinking we would start with driving screws. There are two power tools that excel at this job, but they are very different in their mode of operation as well as their capability and role in your project. Drill/Driver vs. Impact Driver. It comes down to control vs. speed and power.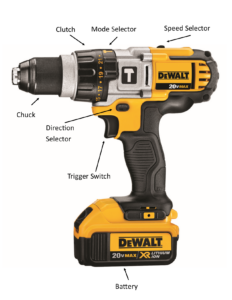 A drill/driver uses an electric motor and gearbox to apply a constant rotation to the bit that is held in the chuck (see diagram). The speed can be controlled using a selector on the top (similar to high and low gear in an SUV or truck) as well as by how far you depress the trigger switch. The ring with all the numbers is the clutch. This determines at what level of torque (or spinning oomph) is applied before slipping, and this makes a funny noise that actually saves you headaches. This is great if you want to drive a screw part way through a wall for a picture, or put a screw nice and flush with a wood surface. The drill/driver truly shines as the primary way to handily drill holes, using its adjustable chuck to fit many different sized drill bits that have straight round or hexagon shaped shafts.The impact driver is much more specific in that it can only use hexagon shaped shafted bits designed to lock into the impact driver collet, a quick release non-adjustable chuck.
An impact driver works very differently from a drill/driver. There is much less control because there is much more power. Rather than being a universal workhorse like the drill/driver, an impact driver is exceedingly good at one task: driving or un-driving screws. Inside the relatively small top t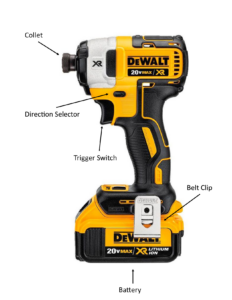 o the tool is a motor similar to the drill, but rather than having a gearbox, there is a mechanism that turns rotations into circular impacts. Imagine putting a wrench on a bolt and then hitting the handle with a hammer. Inside the tool, the hammers are relatively small, but they are hitting at a maximum of about 3,800 hits per minute, or about 60 hits per second. The slow-mo side-by-side makes it clear that the screw is only advancing with the impacts or hits. To the human on the control side of the tool, the impact driver seems faster, and definitely has more raw power. Now we all know, with great power comes great responsibility. It is incredibly easy to drive a screw so deep that you awaken the Balrog in the mines of Moria. To better control this tendency, I use quick light taps on the trigger switch to get fewer hits on the screw, and more chances to stop and check my progress to avoid destruction. I'm not too proud to admit that on numerous occasions I have snapped screws in half, destroyed or rounded out screw heads, stripped out the inside of wall anchors, or even drove screws clean through drywall with this tool. That being said, if you need to quickly drive a big screw into a solid chunk of wood, there is no equal.
To give you an example with one of my own "DIY" projects, I was able to replace all the fascia boards along the back roofline of my house in just six hours. Now, my back roofline is only around six feet off the ground, and I am a tall guy, but hanging 75 feet of 2 x 6 pressure-treated lumber all with one impact driver and three-inch screws is pretty great. I saved hundreds of dollars by doing it myself using a bit of understanding, good effort, and plenty of calorie-burning sweat. I hope you enjoyed the blog, and check back for my next post on saws.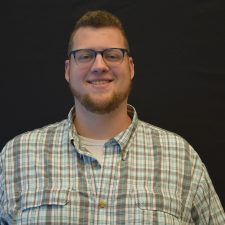 Bryan Avery has been working as a STEM Educator at the Connecticut Science Center for 3 years. He develops and facilitates student programming in our labs as well as traveling programs. He holds degrees in Geology and Parks and Natural Resource Management from Hartwick College and Slippery Rock University. Creating exciting new ways for students to interact and engage with STEM is his professional passion. He has a flare for delivering shows to crowds as well as working one-on-one where he pushes students to think deeper and make connections between STEM, their lives, and their community. On his time off, he enjoys playing disc golf, guitar, and being outdoors.