Exploring Space
Embark on a journey to an exhibit that's out of this world. Exploring Space will take you on a journey across the galaxy where you'll have the opportunity to view Earth from a spaceship, travel to a black hole, and examine objects that traveled to outer space and back. Here, you'll have the chance to make your very own moon crater, take the controls of the lunar lander (ages 7 and under), and buckle into a space pod to take a journey to the outer limits of space.
Supported by
Located in the
Raytheon Technologies
Exhibit Gallery
Exhibit Highlights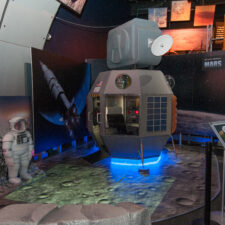 Lunar Lander
Find a model of the Apollo 11 lunar lander, scaled perfectly for our youngest visitors to climb inside, sit at the controls, and safely land on the surface of the Moon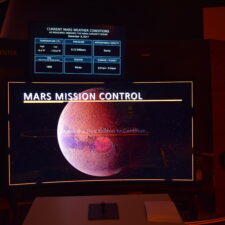 Mars Mission Control
Your mission is to navigate the curiosity rover around Mars and collect samples that can reveal details about water and the potential for life on the planet.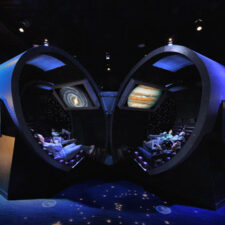 Space Pods
Lay back and tour the outer reaches of space.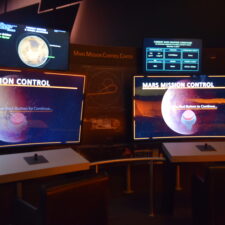 REAL Space Artifacts
See a NASA Spacesuit, get close to a REAL moon rock, explore the signatures on the piece of a rocket. On display is also a Connecticut state flag that was flown aboard the Space Shuttle Atlantis to the International Space Station in 2000.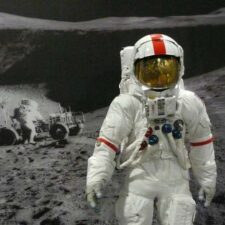 Solar Wavelength Viewers
Explore the same technology scientists use to see the sun in wavelengths beyond the visible light spectrum.