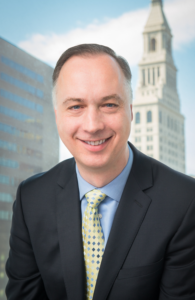 Matt Fleury
President & Chief Executive Officer
Connecticut Science Center
Matt Fleury has led the Connecticut Science Center since its opening in 2009, after serving as Executive Vice President and Chief Operating Officer during theCenter's development since 2003. As President & CEO, he has advanced an ambitious educational agenda in service to children, families, schools and educators; built and led an exceptionally high performing organization; driven major fundraising campaigns and effectively engaged individuals and business and government leaders.
A leading regional science learning destination for families and schools, the Connecticut Science Center provides thought-provoking interactive learning experiences to ignite a new generation of achievers in science, technology, engineering and math (STEM) to over 300,000 people annually.
Matt joined the Connecticut Science Center after helping to launch the institution in his prior capacity with an economic development office of the State of Connecticut. Previously, he served in management positions in communications and government affairs in the telecommunications industry after starting his career as a journalist.
Matt also serves as Chairman of the Connecticut Board of Regents for Higher Education, and he is a member of the Association of Science-Technology Centers board of directors and the MetroHartford Alliance board of directors. He earned his MBA from the University of Connecticut School of Business, his undergraduate degree at Charter Oak State College, and an Associates Degree at Berkshire Community College. He has also studied governance and nonprofit management through executive development programs at Harvard and Yale. He was born in Manhattan and he and his family reside in Hartford.