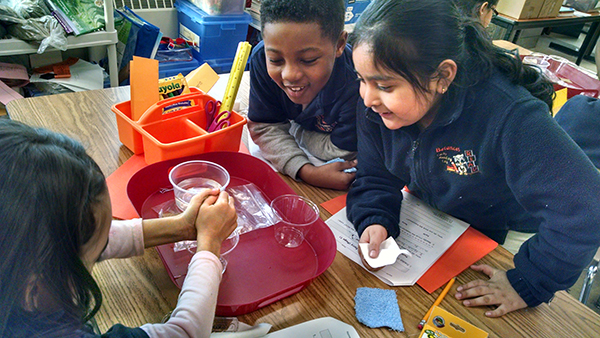 Our Science in Motion Traveling Programs bring our fun science demonstrations and hands-on activities directly to you. From NGSS-aligned Classroom Programs to Activity Stations or Assembly Shows, we aim to spark students' scientific curiosity and build meaningful STEM Habits to provide exciting and inspiring STEM Experiences for students.
Book a Traveling Program
PROGRAM PRICING
| | |
| --- | --- |
| Classroom Program | $315 |
| For two programs | $295 |
| For three or more programs | $275 |
| Assembly Show | $600 per show |
| Activity Stations * | $250 per station |
After-Hours Surcharge:
$100 flat fee for any programs booked outside of normal operation hours (outside of 7:30-5:00), on weekends, or on select holidays.
Please note:
Programs require tables and chairs, access to water and/or electricity, and 30 minutes for set up and clean up. Travel charges apply.
* Polymers Activity Station has a $50 materials fee.
NGSS-Aligned Programs
We bring inquiry-based, student-driven programs that are grounded in the NGSS standards to your classroom. These 45-minute experiences accommodate up to 25 students.
---
Pre-K (30min)
Weather Wonders

Need for Seed

Wiggly Worms

Bubble-ology
Grades K-2
Animal Appetites

NEW

Habitats and Homes

On a Roll

Tricky Traits

NEW

Sound Breakdown

Pollen-Nation

Shifting Sediments

Facts of the Matter
Grades 3-5
All Eyes on Evolution

Storm Trackers

Crash Lab

Choose Your Chompers

A Chem-Mystery

Powerhouse

NEW
Grades 6-8
Biodiversity Explorers

NEW

Horsin' Around with Evolution

NEW

Gene-ius of Taste

Proteins Unraveled

Coming Soon

Reason for the Seasons

Tectonic Travels

Refraction Action

Mighty Electromagnets
Grades 9-12
Gene-ius of Taste

Conserving the Cottontail

NEW
Exploration Programs
These 45 minute programs are hands-on and engaging in order to spark excitement in STEM. Exploration programs are perfect for youth groups, camps, libraries, and afterschool groups and accommodate up to 25 students.
---
Grades K-2
Playing with Polymers (Grades 1 & 2)
Picnic Capers
Grades 3-5
Alchemy Lab

Zip Lines

Playing with Polymers

Sail Cars

Balance Bonanza

Global Soundscapes

Mission: Space

Roller Coasters
Grades 6-8
Global Soundscapes

Roller Coasters

Toppling Towers
ASSEMBLY SHOWS
45-minute assembly-style shows are designed to get students excited about science in a fun and interactive way. Shows are available for groups of 100–250.
The Science of "Suds"


Get ready to think outside the bubble! Have some good clean fun exploring the captivating, colorful science of soap and water. Uncover the mysteries of bubbles' shape, see what happens when you make bubbles with different gases, and push the limits of what suds can do. Who knows what we'll put in a bubble next!

Grades Pre-K-5
Extreme Air


See the amazing power of air as we make objects hover in mid-air, break a board using only a ping pong ball, and explore the effects of the pressure that surrounds us. You'll be blown away by our extreme air finale!

Grades
4-8
Global Soundscapes


Embark on a mission to investigate the dramatic soundscapes of Costa Rica's rainforests, Hawaii's coral reefs, and Mongolia's vast grasslands. Learn how animals use sounds to survive and communicate in lush, but threatened environments. Funded by the National Science Foundation.
Requires a stage screen and sound system.

Grades
4-8
ACTIVITY STATIONS FOR GRADES K-9
Ideal for larger events, Activity Stations are tabletop demonstrations and hands on activities designed to engage groups of students or families in 5-10 minute walk up experiences. More than one station can be booked for an event. Please be sure to mention audience size when booking.
Electricity

Learn about static electricity using a Van de Graaff generator. It's a hair raising experience!

Polymers

Investigate the slimy, absorbent, surprising world of polymers and explore how we use them in our everyday lives.

Dry Ice

Investigate the states of matter using dry ice and participate in some "cool" experiments

Air Pressure

Can you score a basket using just the power of air? Use our Bernoulli blower to harness air pressure to control the path of a beach ball, and investigate other ways that air affects objects.

Bubbles

Explore the science behind the suds. Investigate what bubbles are made of, what shapes they take, why they float, and much more.
EXTREME AIR PROGRAM
Hosting a STEM event or Family Science Night? Contact us to ask about our NEW Extreme Air Package! Start your event off with our exciting Extreme Air Show, followed by engaging hands on activities for families and students. It'll blow you away!
SCIENCE IN MOTION
(860) 520-2165
Monday-Friday 9AM - 4PM