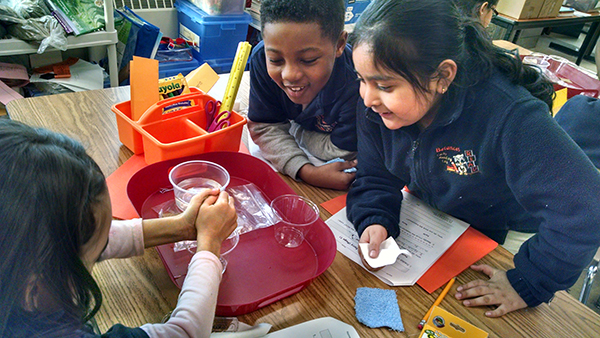 We bring science to you
Traveling Programs are a mix of science demonstrations and hands-on activities that spark students' scientific curiosity, and encourage students to explore how science is part of their own everyday experiences. Our Classroom Programs are aligned with the Next Generation Science Standards.
Book a Traveling Program
Traveling Program Pricing
Classroom Program
$250
Add an additional session of the same topic
$200
Pre-K Classroom Program (Max 16 students)
$175
Add an additional session of the same topic
$150
Assembly Show
$500 per show
Activity Stations *
$250 per station
Family Science
$250 for up to 50 participants
$300 for 51-85 participants
Please note: Programs require tables and chairs, access to water and/or electricity, and 30 minutes for set up and clean up. Travel charges apply.
* Polymers Activity Station has a $50 materials fee.
Traveling Classroom Programs
We bring fun, hands-on science activities to your classroom with these programs that accommodate up to 25 students and last 50 minutes.
- Programs for Youth Groups, Camps and After School Programs
Pre-K (30min)
Weather Wonders

Need for Seed

Wiggly Worms

Bubble-ology
Grades K-2
On a Roll

NEW

What's the Weather?

Sound Breakdown

NEW

Let it Grow

Mystery Detectives

Pollen-Nation

NEW

Bubble-ology

Playing with Polymers (Grades 1 & 2)
Grades 3-5
Crash Lab

NEW

What's The Attraction?

Choose Your Chompers

Where Does the Water Go?

A Chem-Mystery

Share the Air

NEW

Into the Shadows

NEW

Alchemy Lab

Roller Coasters

Toppling Towers

Zip Lines

Playing with Polymers

Living In Space (Grade 5)
Grades 6-8
What Makes Weather

Bouncing Around

Refraction Action

NEW

Pollution's Path

Lights, Color, Action!

NEW

Roller Coasters

Living In Space

Toppling Towers
Traveling Assembly Shows
45-minute assembly-style shows are designed to get students excited about science in a fun and interactive way. Shows are available for groups of 100–250.
The Science of "Suds"


Get ready to think outside the bubble! Have some good clean fun exploring the captivating, colorful science of soap and water. Uncover the mysteries of bubbles' shape, see what happens when you make bubbles with different gases, and push the limits of what suds can do. Who knows what we'll put in a bubble next!

Grades Pre-K-5
Rockin' Robots


Get up close and personal with some of the robots that work at the Science Center. Interact with our humanoid robot Quiz, meet some robots that help us in our everyday lives, and discover what makes this incredible technology tick! A projector and projection screen are required. One can be supplied if you do not have one.

Grades 2-12
Forces and Motion


We live in a physical world governed by physical laws. Although simple, these laws can be a bit deceiving. Investigate the laws of motion and discover a few surprise forces along the way. As a finale, see what power a pencil really has!

Grades 4-8
Traveling Activity Stations for Grades K-9
Ideal for larger events, Activity Stations are tabletop demonstrations and hands on activities designed to engage groups of students or families in 5-10 minute walk up experiences. More than one station can be booked for an event. Please be sure to mention audience size when booking.
Electricity

Learn about static electricity using a Van de Graaff generator. It's a hair raising experience!

Polymers

Investigate the slimy, absorbent, surprising world of polymers and explore how we use them in our everyday lives.

Magnets

NEW

Discover the sticky world of magnetic force! Test your knowledge of magnets by completing our challenges and uncover the secrets of an electromagnet's strength.

Dry Ice

Investigate the states of matter using dry ice and participate in some "cool" experiments

Robots

NEW

How do robots know what to do? Direct our Edison robots to complete tasks using different methods of communicating. Investigate the language of robots with coding activities!

Air Pressure

Can you score a basket using just the power of air? Use our Bernoulli blower to harness air pressure to control the path of a beach ball, and investigate other ways that air affects objects.
Family Science
Family Science is an informal science education program that gives children and their caregivers an opportunity to work and learn together. During Family Science events, children and caregivers work cooperatively in pairs and small groups to solve problems and "talk science" while engaged in 18 different activities.
Hands-on activities that use easy to find, inexpensive materials let families explore the ways in which science plays a role in everyday life. Families can discover how to lift a cereal box with just a single sheet of paper in "Breakfast Lift," create a musical instrument in "Strumming," and much more. With instructions available in both English and Spanish, these fun experiences build skills, confidence and excitement about science learning.