We have learned all about NGSS and how Three Dimensional Teaching supports best science practices and our students learning. But how do we teach like that online!?!?
We understand. You feel like you were just getting a hold on this whole NGSS thing and now life throws us this giant curveball. How can we possibly have our scientist circle online? What happens to our discussions? How do I teach students that don't have resources at home?
First of all, be kind to yourself. Everyone is in the same boat right now and there are no easy answers, so allow yourself some time to breath and then prioritize. Let's think first about the things that CAN be done online and then brainstorm ideas on how else to best support our students.
By thinking about the basic activities and routines that we engaged students in during our science classes we can be more thoughtful about selecting and vetting all of the resources that are being so graciously shared through social media. In this article you will find sources that are free that will allow you to fill in any spaces in those science routines that you may be missing by teaching online.
Before we begin let's think about the basics to get our students established in remote learning.
Understand the Content
The better you understand the content that you want your students to be learning the easier it will be to transition lessons and units into a new format. For a quick way to unpack the content you are covering check out our 10 minute Professional learning video Digging Deeper.
Re-establish Classroom Norms
We were more than halfway through the school year. We had established our classroom norms and routines. So what do we do now? Just because you won't be seeing your students face to face doesn't mean that the need for norms goes out the window. Have your students take control of re-establishing what their new norms look like for online learning by asking them for input. Realizing that each district has its own rules for what the expectations are, what are small ways that you can empower your students to set goals for themselves? This will allow them to think through how this experience may be different from how they were learning before. It also never hurts to have some back pocket ideas or suggestions to help get the ball rolling. Perhaps they can choose which day of the week their assignments are due on or what form they complete them in.
Next, let's get down to some NGSS specifics. 
"Five Routines to Enhance Distance Science Learning"
The more we can help ourselves and our students find routines in their new learning situation the more successful we will be. For example OpenSciEd has Five Routines that they derived from the NextGen Science Storylines Project. The Routines are: Anchoring Phenomena Routine; Navigation Routine; Investigation Routine; Putting Pieces Together Routine; Problematizing Routine.
These routines aren't linear nor are they the only one way of approaching a science unit, but it might be a good place to start. Be creative and consider any changes you might make as you read through this blog. For today's purposes we are going to take a brief look at each of these routines and available resources that might help us translate this routine into working with students online.
Anchoring Phenomena
The goal of this routine is to develop curiosity to drive learning ( we often call this the phenomenon launch). It is done at the beginning of a unit and is used as an anchor to revisit as new learning takes place.
Chances are the phenomenon you have been using in your classrooms have largely been video and photographs already. Almost any platform that you use to work remotely with your students should support sharing videos or photos.  Other options for presenting phenomenon could include recording a demo for your students to watch. Or having them explore some common household items that might be related to content.
Remember one of the keys to utilizing phenomenon is in how you frame your launch. Think about companion videos or stories that you could provide to peak student interest and encourage questioning. NGSS Phenomena has some ideas that are accessible to students. Our goal is to give our students the opportunity to ask questions and make those questions and their thinking visible.
Navigation Routine
The navigation routine is where students work to build connections between new and prior learning, and make predictions about future learning. Think of it as the transition routine. In remote learning students have more responsibility than ever to take control of their learning. How can we best support them to do this online? By making student thinking visible. You are probably given a platform to use for remote teaching by your district. But no matter what that platform might be, find ways to allow your students to share their thinking with each other and with you. You can display the Driving Question Board for students on platforms like Google Classroom or Padlet. There are also ways for students to use breakout and discussion groups, check out Parlay for some ideas.
Investigation
During this routine students use scientific practices to investigate and make sense of phenomenon. This is probably the aspect of science learning that is most intimidating to translate to a remote learning setting. How can students engage in investigations at home with limited resources? Through simulations and teacher led interactive investigations? There are plenty of platforms out there that can help take a bit of the guesswork out of it. Mystery Science also has a whole list of activities students can easily do at home. Do any of these fit with the content that you are using? Citizen Science is another great way to engage students in understanding the practice of carrying out investigations, and it may even help them with ideas on how to plan their own investigations.  OpenSciEd also provides online simulations for Middle School content. PhET interactive simulations from the University of Colorado Boulder can act as investigations for students and they have instructions for how to load simulations into google classroom and other online learning tips here. Labexchange from Harvard University has curated content and ideas for remote learning.
Putting the Pieces Together
As a part of this routine students take the sometimes disparate pieces of learning that they have acquired through a unit to connect and apply them in order to understand the anchoring phenomenon. This routine provides students the opportunity to work towards a class consensus, starting first by synthesizing their evidence and formulating their ideas. Science notebooking can support students in this practice as well as provide an opportunity for both peer and teacher feedback. Here are just a few examples of templates from scientificteacher.com. Students then revise those ideas in small groups and finally work towards a consensus building discussion. Summary tables are a great way to keep track of student thinking throughout a unit and can easily be shared for students to work on collaboratively online.
Problematizing
The problematizing routine is intended to inspire students to revisit and revise their thinking throughout a unit by identifying aspects of their models that don't fit with new learning and applying those to the anchoring phenomenon. How do we create opportunities for this ongoing revision online? Make sure students save new copies of their models if they are revising online, that way they can see how their thinking has changed. Have students photograph their models at strategic places in the unit and share with their peers to encourage discussion and disagreement.
Final Thoughts
As we talked about in the beginning when establishing classroom norms; approaching these routines, in manageable ways through some of the resources shared in this blog, is going to be key to helping students take control of their learning. 
You may still be asking yourself but what about the 3 dimensions of NGSS? Baby steps. We can't do everything all at once without burning out and becoming overwhelmed. Choose one new thing. Try it out. Even think about assigning small projects where kids are encouraged to take a critical lense at the world around them or engage in an engineering task on their favorite gaming console. As long as we are using the best practices we can, we are on track to helping our students embrace this new normal. For more resources including information about equity check out STEM Teaching Tools response to Covid-19.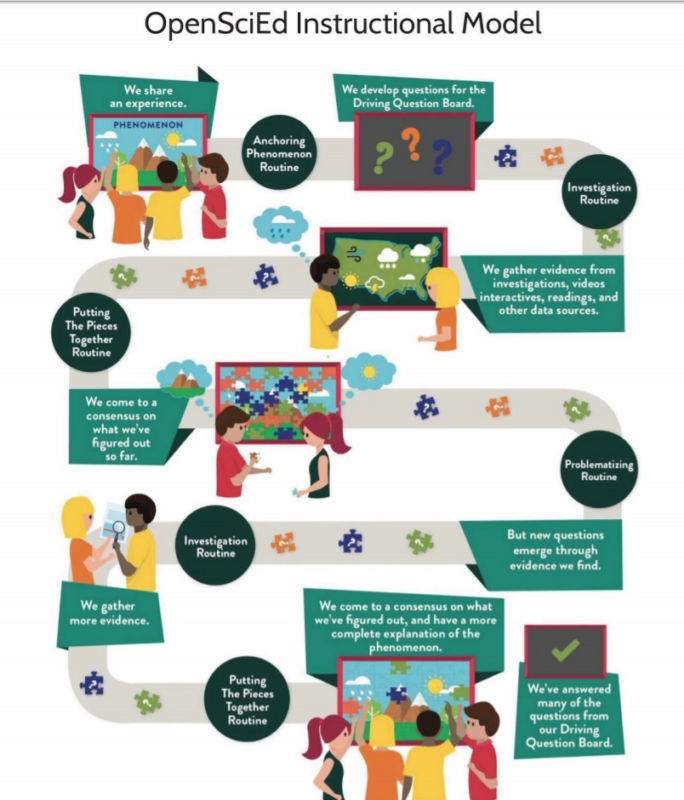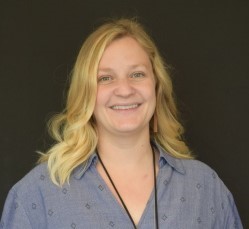 Lindsey Sullivan is a Professional Learning Specialist at the Connecticut Science Center's Mandell Academy for Teachers. Before joining the Mandell Academy, Lindsey was a high school science teacher. Currently, Lindsey supports educators as they make sense of NGSS through her facilitation of workshops offered by the Mandell Academy as well as providing coaching support in schools.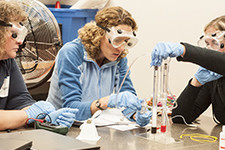 Becky Fahey is a Professional Development Specialist at the Connecticut Science Center's Mandell Academy for Teachers. Previously, she has worked as a preK-3 educator in various public school districts in Eastern Connecticut where she designed and implemented inquiry based lessons in the classroom. Becky brings with her expertise in collaboration and inquiry based teaching and will apply these skills to help educators to deepen their understanding of NGSS and apply best practices to support their learners in the classroom.