A special big-screen viewing of the film, Coded Bias, took place recently at the Connecticut Science Center, followed by an intimate discussion with the film's director, Shalini Kantayya. Now streaming on Netflix, the documentary explores the intersection of innovation and ethics, presenting the fallout of MIT Media Lab researcher Joy Buolamwini's discovery that facial recognition technologies do not see dark-skinned faces accurately, and her journey to push for the first-ever legislation in the US to govern against bias in the algorithms that impact us all.
Dubbed "the most important film about AI you can watch today," Coded Bias disrupts the default behind that artificial intelligence, science, and technology are inherently impartial. Instead, it illuminates key questions about racial bias in tech that we've never thought to ask before. Questions such as: What happens to human rights when we let machines encroach on our social systems? and Is our technology truly designed to be neutral?
During the discussion, Kantayya, who is originally from Hartford, shares with Endera Allen of Northend Agent's Newspaper, that she started Coded Bias without having any prior knowledge of algorithms or artificial intelligence. She notes that her street credibility comes from being a science fiction fanatic and reading books on the subject. Here's when she began to understand the "ways in which algorithms, machinery, AI is increasingly becoming this gatekeeper of opportunity, deciding really important things, like who gets hired and who gets healthcare and how long a prison sentence someone may  even serve." Upon seeing a Ted Talk that Joy Buolamwini gave, and hearing how we're putting our blind faith in systems that haven't been vetted for racial or gender bias, Kantayya decided to make the film.
So what can we do?
With an issue like algorithmic justice, Kantayya says, "Personal responsibility is only part of it. We also need some collective action to have some governance around how these technologies are used."  She suggests people go to https://www.codedbias.com/ where they'll find a myriad of ways to help in making an impact.
Coded Bias was part of the Science Center's adult programming to encourage life-long learning. For upcoming programs, click here.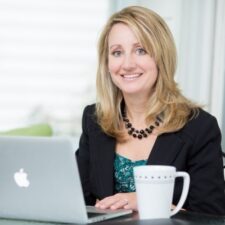 Jennifer Carmichael is a Contributing Writer at the Connecticut Science Center with a degree in Journalism from the University of Rhode Island. She's written on lifestyle topics for magazines and newspapers throughout the state.  A mom of two teenagers, she can't promise that parenting is a breeze, but she can offer easy tips, tricks, and advice on all things about the Science Center.