When the expecting parents hear that they are going to have a child they become excited with all of the possibilities of what to name their newborn pride and joy, including parents of the Maya civilization. Like many parents, Maya parents are very deliberate with every intention they set for their children so there will be significant meaning to the child's life from the moment they are born.
One of the first steps in building significant meaning for their child is picking a name. The Maya parents want to do what is right within their cultural standards when it comes to choosing the name of the child. When the child is born the parents bring the newborn to the community elder for naming. The Maya elder would consult the Mayan Calendar for the energy of the year as well as the energy of the day the child was born. For boys the number of the day he was born goes before his name. An example of a Maya boy's name would be "Babajide" which means, "Father is Coming Home."  For Maya girls, she must have the number 9 before her name as it is a symbol of feminine power. An example of a Maya girl's name would be, "Akna" naming the little girl after the Mayan Goddess of childbirth and fertility. It's quite interesting how much consideration goes into naming a child whereas and how they add the date.
Dates, times of year, and other significant people and moments do tend to become parts of a culture, for instance, look at how May, April, and August have become relatively popular names in today's society. In my opinion, the Maya method of naming the child would be a bit shocking for many parents that comb through baby name books and search for just the right name for their child. Many parents may ask for the blessing from their family members when choosing to honor a relative, current or former, by naming their newborn after them. It is a big decision to pick the name of your child. The infant's name is a symbol that they will have for their entire life that stands as a testament to the strength of the Maya culture, therefore, they choose to seek guidance from elders in the community and their calendar to help choose.
 How was your name chosen or how did you choose the name for your child or children? What influenced you? Would you choose an unique name or spelling for your child, like my name is spelled Sarena instead of the common spelling of Serena to show respect for my Italian heritage?
When we look at the meaning of the Maya baby names we can see a clear distinction in how deliberate the names are geared towards masculine and powerful for boys and sweet and femine for girls. Let's take a closer look at these distinctions in meaning between the Maya baby names for girls and boys.
Maya Boy Names 
Aapo-  Meaning "father of many nations", this name has been growing in popularity within the Maya culture. At first the name was thought to be a unisex name but after looking into the meaning the name was categorized under popular boy names.

Cadmael- Is a powerful name meaning "war chief", an occupational name within Maya culture, giving a child this strong name is sure to help him achieve high standing within the community.

Eadrich- This is a popular and long-enduring Maya boy's name meaning, "Wealthy Monarch " another name that is sure to hold a high status within the Maya culture.

Fabio- While the name may make us think this was only popular in Italy, it is actually a common Maya boy's name that means "Bean farmer".

Ian- We see this name even in many cultures, including American society, however this name has been popular for centuries within the Maya civilization and is the name of several emperors, saints, and princes. For the Maya people, it is a very popular name and their variant of the name John. 
Maya Girl Names
Itzel- This means "Rainbow Goddess," in Mayan culture Itzel refers to the Goddess of Medicine.

Sacniete- Meaning "White Flower," is an elegant name that is seeing a come back in popularity in Mayan culture.

Xoc- She was the principal wife of the Shield Jaguar, who was a warrior king who ruled from 681 to 742. This is an attractive, evergreen Maya girl name that is not only used as a given name but as a surname as well. When it is used as a surname, it changes when the Maya woman takes the name of her husband when she marries. 

Ixazaluoh- For those mothers who want an unique spin on the name Zahara this is a perfect Maya variation for the name. This name in either spelling style means, "Dawn."

Xpiayoc- The spelling of the name is unusual but very popular in Maya culture. This girls name comes from the Goddess of Matchmaking in Maya Mythology.
As we look at the list of names, we can appreciate the amount of thought that goes into the meaning of the infant's name. Even though the Maya parents don't have complete control over  what the name of their baby will be, they place a great deal of respect and trust into an individual outside of their immediate family to find the perfect name to suit their bundle of joy. I believe that this is another way of trying to do what's best for their child, as this name will stay with the child for the rest of their life. Any parent would want to make sure that it's an honorable choice. We should be proud of the name our parents have given us, as this isn't something that any parent takes lightly.
Stay connected! Be sure to subscribe to Down to a Science— The Official Blog of the Connecticut Science Center and follow us on social media.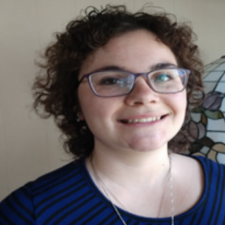 Sarena Salmeri is an intern for the Maya: Hidden Worlds Revealed exhibit. In her role she helps to educate visitors about various aspects of the Maya Culture, as well as research different Maya ways of life as they live today and have in the past. She is working towards her bachelor's degree in Cultural Anthropology at Southern Connecticut State University, aspiring to work as an ethnographer and in museum curation. In her free time, she enjoys taking her dog for long walks across town, collecting artwork from the places she has traveled, and reading different ethnography books about a variety of cultures.