With seemingly non-stop fires raging, it's hard to remember when people's homes, the rainforest, kangaroos, or California's wine country weren't being threatened. Lately, the conversation has turned to fire management, namely, how we should look to the indigenous communities for advice on how to work with, instead of against, fire.
On the surface this seems wise, but can these fire control methods work in 2020?
A few recent news articles and opinion pieces suggest that an aboriginal tradition of intentionally lighting small, low-intensity fires could reduce fuel loads, preventing massive, difficult-to-suppress wildfires. If any studies are cited, they are of northern Australia — usually Queensland, specifically, Cape York.
New South Wales and Victoria, the areas of Australia hardest hit by 2019/2020 bushfires, are in the southeastern portion of the continent. The northernmost fire is around 1655 miles from one of those areas studied. It would be like going from Hartford, Connecticut to Custer City, Oklahoma and expecting to find the same terrain, weather conditions, and sociological developments in both.
As David Bowman, professor of Environmental Change Biology at the University of Tasmania explains, "Such broad-brush accounts give the impression that the specific details of [historical] Aboriginal fire usage are well-known and can be generalised across the entire continent. Sadly this is not the case."
Bowman says, "[s]o rapid was the socio-ecological disruption of southern Australia that researchers have had to rely on historical sources, such as colonial texts and images, and tree rings, pollen and charcoal in lake sediments, to piece together how Aboriginal people burned the land."
Despite the fuzzy details, what is known could be replicated. Firesticks — an indigenous-led network that promotes cultural burning — provides resources and workshops to guide in the creation of fire management plans. Developing a deep understanding of any area's fire history and vegetation types is central to this practice, but will it be widely adopted? It seems that the conversation has moved toward not replacing firefighters, but supplementing what they are doing by adding land managers, or fire practitioners.
This year is not the first time that some have suggested looking to Aboriginal practices. In 2009, The Guardian quoted a bushfire researcher who insisted that the forests in south-eastern Australia have been the victim of "mismanagement [. . .] over the last 30 or 40 years by excluding prescribed burning," which has "lead to the highest fuel concentrations we have ever had in human occupation." Another question is if the devastation to life, land, and homes has been enough to convince people of the need to shift practices.
How to manage fire is a debate that spans multiple continents. Last summer, as fires raged in the Amazon, Jayalaxshmi Mistry, Professor of Environmental Geography at Royal Holloway (University of London), illustrated how indigenous groups wield fire, sometimes to fight fire. She distinguishes between various groups' practices. While the Mebêngokrê clear grass to hunt tortoise, the Wapishana and Makushi use fire for everything from honey collection to home protection.
Why hasn't this received more attention? Mistry asserts that there has been a backlash against indigenous controlled fires. There are disputes over who has rights to the land. Stuck in the middle of the controversy is the rainforest.
Likewise in the United States, there is no one-size-fits-all solution. Conventional wisdom says that the indigenous people of New England used controlled burns to shape the landscape, but a recent study (published January 2020) shows that this assumption may be false. Paleo-ecologists and archaeologists took core samples in areas of southern New England, looking closely at pollen grains and charcoal fragments. What they found "contradicts the theory that people had significant ecological impacts in southern New England before European arrival. Instead, it reveals that old forests, shaped by climate change and natural processes, prevailed across the region for thousands of years."
A different study investigated changes over 415 years of tree-ring data. What came out of this research was knowledge about shifts in fire activity. The study explains that "Native American fire management [in the Sierra Nevada] prevailed until establishment and expansion of agrarian-based Spanish missions starting in 1769, after which the Native American population declined." The tree-ring study revealed other cultural changes, like the boost in population during the Gold Rush and the creation of a federal fire suppression policy regarding forest lands.
Much like the indigenous fire management methods used in Australia and the Amazon, the Karuk of northern California historically set small, controlled fires in "mosaic patterns," managed from the ground. In July 2018, the Some Bar Project was signed into effect by the Forest Service, resuming use of controlled, cultural fires in Karuk Aboriginal Territory in California. The US Forest Service has also collaborated with other indigenous communities in that region.
NASA reports that "over the past six decades, there has been a steady increase in the number of fires in the western" part of our nation. As wildfires increase in size and frequency — thousands of acres burned in northern California in 2019 — will we more widely revisit our relationship with fire?
Connecticut, historically, has not been a state with the highest wildfire risk — 40 acres of wildlands burned here in 2018 — but using caution can help prevent forest fires. CT DEEP's Forest Fire Control Office suggests careful disposal of hot charcoal. See their page for more fire prevention tips. 
At the Connecticut Science Center, learn about residential fire prevention and fire forensics. You can find this in our Invention Dimension exhibit.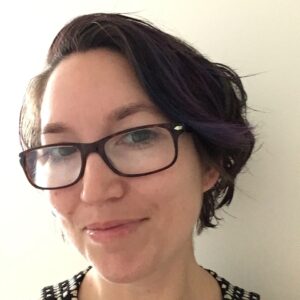 Kerri Provost is a Communications Research Associate at the Connecticut Science Center who is outdoors whenever possible and is currently attempting to walk every block of Hartford. She is the co-producer of Going/Steady, a podcast about exploring in the Land of Steady Habits and beyond.