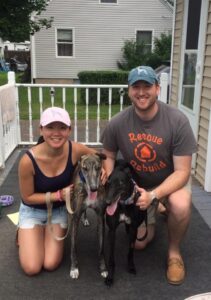 When Gracie, a nimble black greyhound, first walked around Kelly and Chris Orts's small apartment, her ears perked up with curiosity and Kelly and Chris's hearts melted. 
To continue our "Dog Days of Summer" celebration, we have teamed up with Connecticut Greyhound Adoption to explore the superpowers of greyhounds and share the stories of Gracie and Wynn, two greyhounds who found a home after a career in racing. 
Connecticut Greyhound Adoption (CGA) is a volunteer, non-profit organization dedicated to the mission of finding homes for retired racing greyhounds. They work cooperatively with the greyhound racing industry to help greyhounds find their forever homes. 
Says Kelly Orts about adopting her first hound, Gracie: "When deciding on what kind of dog to adopt, we did some research on breeds that would fit our lifestyle. With their low maintenance lifestyle and gentle nature, greyhounds seemed like the perfect fit. After attending a meet and greet and submitting an application, we had a home visit from Connecticut Greyhound Adoption. Earlier that day, a greyhound was returned to the organization by a family who no longer wanted her. She walked around our small apartment while we spoke to CGA about what kind of home we could provide a greyhound. Five minutes after the meeting was over, we got a call that they were still outside and we could keep this dog if we wanted. We immediately said yes, named her Gracie, and welcomed her to our little family." 
In preparation for our greyhound adoption event, we asked Connecticut Greyhound Adoption about what makes greyhounds so special and the adoption process for these superhero dogs.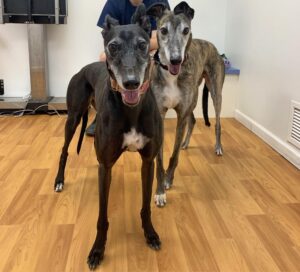 What are some traits unique to greyhounds? 
With Ancient Egyptian origins, greyhounds throughout history have traditionally been bred for racing and coursing—an English sport of rabbit hunting. They can even reach speeds of 45 miles per hour (mph)! Additionally, because of their thin, long heads, the placement of their eyes gives greyhounds a 270-degree field of vision. This excellent eyesight allows greyhounds to hunt by sight instead of smell. CGA lovingly describes greyhounds as 40-mph couch potatoes. 
How do you help transition greyhounds from the racetrack to the home? 
We have a program that guides our fosters to ease the transition to home life. The first two weeks include a lot of time in their crates that they are comfortable in and familiar with to help ease the transition. Foster families establish house rules, familiarizing each greyhound with what it is like to live in a house. Greyhounds are not usually familiar with doors, sliding glass doors, hardwood and tile floors, stairs, and even going on walks. We spend a good deal of time teaching them to walk on a lead and in the process get their energy out so they can sleep the day away. 
The foster family introduces the greyhound to other animals, like cats and smaller dogs—even rabbits. The greyhound is also introduced to small people—children of various ages. We assess a dog's likelihood to be comfortable eventually around small pets and little people before placing him/her with their forever family.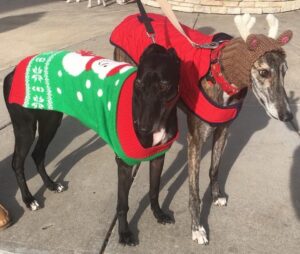 What special care do greyhounds need?
Greyhounds must always be leashed or in an enclosed area, such as a fenced in yard. When it is cold out, greyhounds need to wear winter coats. Some greyhounds get cold even in the house, and need to wear specially fitted PJs.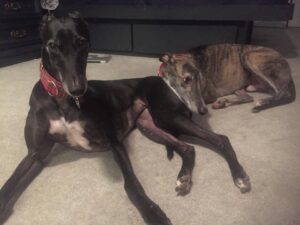 Why is a greyhound a good dog to adopt? 
Greyhounds are generally calm, quiet dogs.  They love people and make excellent family pets. Because they are not usually energetic dogs that require a lot of exercise, they make good apartment/condo pets. Most greyhounds do not even bark! Greyhounds do not need much grooming since their fur is short and thin. This means far less fur to clean from furniture (if you let them on your couch) or floors. Greyhounds also make great therapy dogs; they are easily trained and their calm demeanor makes them a hit in nursing homes, hospitals, and libraries.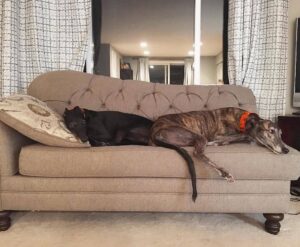 What types of homes are best for greyhounds? 
All types of homes work for greyhounds. If there is a fenced area for them to occasionally run around, that is a bonus, but not required. Greyhounds are adopted out to families with single family homes, multi-family homes, apartments, and condos.  
As it turns out, Kelly and Chris's greyhound story wasn't over: "After being involved with CGA for a year, we received a call asking for a favor. A greyhound who graduated the prison program and was adopted by a family was being returned. CGA needed someone to foster him for a week. We had never fostered a dog before, but we owed CGA for bringing Gracie into our lives. It was also a good opportunity to see if Gracie was interested in a sibling. Wynn arrived and stole all of our hearts. He was a big cuddler who would follow you to the bathroom and copied anything Gracie did. We secretly hoped the other families on the waitlist would pass him up so we could keep him in our family. With our luck and Gracie's blessing, we turned Wynn into a foster failure and adopted him. Ever since then, we have been even more involved with CGA and dedicate our time to advocating for retired racers so they can find their forever homes."
Now that you know more about greyhounds, come meet some of these adorable pups at the Connecticut Science Center's greyhound adoption event on Saturday, August 3 from 11AM to 3PM.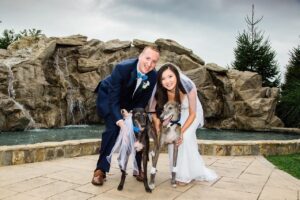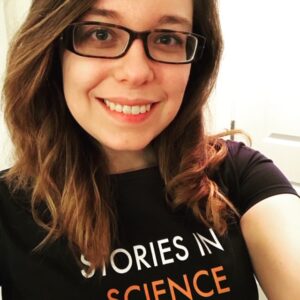 Amanda Coletti a Communications Research Assistant at the Connecticut Science Center and a Ph.D. student in the Department of Communication at the University of Connecticut, where she studies the science behind science communication.