How often do you find yourself asking where you can find a certain activity, lesson, scientific phenomenon or engineering problem? Searching online for ideas is not uncommon, but it can be overwhelming. In less than one second, an internet search engine can return millions of responses to almost any question! But how do you know what is "good"? How do you know what you can rely on? For this week's blog, our Professional Learning Specialists at the Mandell Academy for Teachers have rounded up some of our favorite FREE resources to share. These are resources we use with teachers and with students, or resources that have come very highly recommended by the talented teachers we work alongside. A quick disclaimer: anything you find online (even if it comes highly recommended!) will likely need to be altered to fit your needs in your classroom. Always consider your particular standards, learning goals, and students when bringing materials into your classroom. 
In operation for 30 years, DiscoverE works to spread knowledge about Engineers and Technicians across the world. This organization is the backbone behind World Engineering Day (December 11th), along with many other important movements in the field of engineering and technology awareness and education. They work hard to provide many great resources, and have an entire page dedicated to engineering challenges for students that can be done at home – something we need now more than ever! On this site you can also find a variety of engineering activities that can be done in the classroom (and possibly adapted for home use). All that and so much more can be found by browsing this page – Happy engineering! 
If you are searching for an NGSS-aligned curriculum, look no further! The team at Next Gen Science Storylines is composed of a talented group of educators and scientists who are working hard to develop three-dimensional, coherent storylines for elementary, middle, and high school. These units are designed to be inquiry-based and put students in the center of the learning. With students in the driver seat, it is their job to figure out puzzling phenomena and solve complex problems (through use of the science and engineering practices), all while learning a lot along the way. There are multiple units available for each grade band, as well as tools to support you (the teacher) with implementation. 
The National Science Teachers Association is my personal "go to" to find all of the resources I rely on for my own learning, as well my work supporting educators. I recently came across the "Daily Dos" which, if you haven't seen them by now, you should! They provide many FREE activities, all of which are centered around a real-world phenomena or problems that are engaging and relevant for students. You can look at them by grade band, or select the "for families" tab to see activities specifically designed for home use. Each activity comes with a full lesson write-up that includes time for students to make observations, ask questions, investigate, discuss, and more! This is a fantastic resource that can be used on its own, or as part of a longer science unit in your classroom. 
OpenSciEd
(grades 6-8 *more grades coming soon!)
Like NextGenStorylines, OpenSciEd is designed by educators for educators with the goal of increasing the supply of quality, NGSS-aligned, instructional materials. Currently, there are nine units available mostly for Middle School (but don't worry – many more are on the way!), with the exception of new COVID-19 science units for each grade band. These materials are available for free, but you have to create an account to access them. Each unit is not only cohesive in and of itself but is designed with the other units in mind, allowing students to build understanding over the course of the school year. Each unit is field-tested and designed to be used with simple, easy to access, lab equipment. Most recently, they've added Remote Learning Adaptations that include full units adapted for remote learning, resources, and a free webinar! This is valuable information for any teacher out there!
Don't worry preschool teachers – we didn't forget about you! If you haven't discovered PEEP, now is the time to check it out! Early childhood education holds a special place in my heart. Not only do I have a preschooler myself, but if I could bottle up the amount of wonder, awe, excitement, and joy science brings to young learners and share it with the world, I would! The resources provided by PEEP are funny, engaging, and inquiry-based all at the same time. Not only do they provide games, apps, and shows, but on this website you can find three-week curriculum units designed around topics such as light, shadows, and water (and more!). These units are available in English or Spanish and include stand-alone activities as well as teaching strategies. They are clearly designed with the preschool classroom in mind, and even include adaptations for home visiting organizations. If you are an early childhood educator and haven't checked this out – do it now!
As educators, it's important to take time to fill up your own cup as a learner. We are so often focused on helping students, that we don't take the time needed to learn more about the practice of education. We need to develop new strategies, deepen our understanding of learning, and hear from others who can offer new insights. The Cult of Pedagogy blog post collection is expansive, covering almost every education topic out there. If you are someone who enjoys visuals and/or listening, they also have a podcast and a video collection! Especially helpful in this day and age of COVID-19 is the collection of blog posts on remote learning. If you are struggling with adapting to this new way of teaching, check them out! Remember – you need to take time to help yourself be the best educator you can be!
One of the silver linings of staying safe at home these days is the opportunity to participate in programs that would normally be inaccessible to many. The Teen Astronomy Cafe is one of those programs! This is a FREE, extra-curricular virtual experience designed specifically for teens. Normally held at NSF's NOIRLab, these Astronomy programs are now made virtual and occur every month (except January) for the rest of the school year. Every Saturday teens can enjoy this interactive program with actual scientists. Program topics include the birth and death of stars, extrasolar planets, colliding galaxies, and much more! Be sure to let ALL of your students know about this awesome opportunity – pre-registration is required!
Last – but certainly not least – is one of our most treasured resources: Ambitious Science Teaching. This website (and book) is one of our most-referenced resources and is a go-to place for quality science teaching examples and tools. Here you can browse the video collection to see some of the most impressive science teaching strategies in action, read about modeling and argumentation in their in-depth blog posts, or reference tons of helpful tools for teachers. If you are looking for strategies to help your students make sense of science in an authentic, engaging way, look no further. The AST Core Practices described on this site align well with NGSS, and are foundational to science teaching and learning. Get help with everything from planning to implementing science units here – for free!
Thank you for taking the time to read about these free resources! The team at the Mandell Academy is here to support your needs, and are always happy to share what we find with you. For more resources, join our
Educator Hub
on Facebook and search our Professional Learning opportunities on our
website
.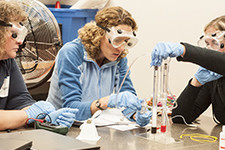 Rachel Shurick is a Professional Learning Specialist at the Connecticut Science Center's Mandell Academy for Teachers. Rachel's background is in Marine Science and informal education. Rachel supports educators to deepen their understanding of instructional shifts associated with NGSS and inquiry-based teaching and learning. Rachel has also worked to develop workshops aimed to help teachers bring the Next Generation Science Standards to life in their classrooms.