Welcome to Down to a Science, the Connecticut Science Center's brand-new blog. As we kick off our tenth anniversary, we are excited to launch this blog to bring together experts, beginners, partners, educators, and the community with one topic we are all passionate about: science.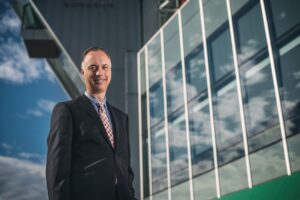 We all know that knowledge can carry us forward, and technology will advance in ways that continue to change life as we know it. The Connecticut Science Center, like technology and our community, continues to evolve. Our work has progressed and our surroundings have changed over the last ten years, but our purpose remains the same: to cultivate a science-aware society and inspire generations of science, technology, engineering, and math (STEM) talent to carry forward our culture of innovation. You do not have to be a scientist to enjoy the Connecticut Science Center. If our audience consisted only of scientists, we would be significantly smaller, and the experiences we offer would be drastically different. We are here to open the doors of science to every visitor in an approachable, accessible, and welcoming way. Expanding your role in scientific and technological discovery through increased knowledge, and even a future career, is at the very core of our mission.
One of the very special things about science centers is the in-person sharing of joyful learning experiences with friends, family members, and even people we haven't met before. In a digital world, these moments easily fall to the wayside as people gravitate to the isolation of individualized social media. While we offer our fair share of digitally-enabled experiences, tangible, hands-on interactions are important elements of our strategy to provide fun, interesting, and educational experiences. At the same time, we understand that our patrons can't be with us every day. That's why we're offering this blog as a vehicle for sharing our discoveries, observations, insights, and ideas—and those of others—as widely as possible. We are excited to bring you an insider's view of our talented STEM Educators, our exhibit design staff, our colleagues who help teachers bring science to life in classrooms, and much more that you'll only find at the Connecticut Science Center.
With more than 165 hands-on exhibits, a 3D theater, a year-round tropical butterfly habitat, five educational labs, and daily programming and events, the Connecticut Science Center represents the best of the past and the future of our wonderful state. A hub of innovation for our country, Connecticut has given the world incredible inventions based in the world of STEM—from the helicopter to the wiffle ball, from cutting-edge aerospace technology to the latest pharmaceutical advancements. Our community is filled with fascinating individuals, groups, organizations, and news, and Down to a Science will highlight them all through the unique lens of the Connecticut Science Center.

Matt Fleury is the President and Chief Executive Officer of the Connecticut Science Center. He is a member of the Association of Science Technology Centers' board and the Connecticut Board of Regents for Higher Education, and has driven major fundraising campaigns to effectively engage education, business, and government leaders.