The urban heat island effect (UHI) may not be at the forefront of your mind in November. This year-round phenomena is more noticeable in the summer, when cities are anywhere between 1.8 to 5.4°F warmer than surrounding rural areas, on an average day. A 2014 study found Hartford to be, on average, 2.5°F warmer than surrounding rural areas in the summer, and up to 19°F hotter.
How does this happen? Connecticut Science Center's horticulturalist and manager of the Butterfly Encounter exhibit, Kim Kelly, explains it this way: "Cities are concrete jungles with massive areas of impervious surfaces that absorb heat, or what is referred to as thermal pollution. Those surfaces include roads, sidewalks, buildings, parking lots, and of course, roofs. On a hot sunny summer day, roof and pavement temperatures can be 50-90 degrees hotter than the air." Shade trees can provide a 20-45°F heat reduction, yet the places that could most benefit from having trees are those without enough of them.
How do trees and other types of vegetation mitigate the heat island effect? "Plants, through a process called transpiration, cool the air by evaporative cooling," Kim said. At the Connecticut Science Center, "we actually replicate this process in the Butterfly Encounter exhibit with our misting system."
"Of all the water that plants take up in their roots, less than 5% stays in the plant. The remainder is released via transpiration. Plants also shade the soil or substrate keeping the surface cool," Kim explained.
The heat island effect does more than make us sweat more. Air conditioners produce waste heat while increasing energy use. This is tied to an increase in air pollution and greenhouse gas emissions, contributing to smog and fine particulate matter, both of which have negative health impacts, such as worsening asthma and emphysema. Carbon emissions contribute to global climate change.
Fortunately, there are ways to reduce the UHI, including by installing cool roofs and planting more trees. The LEED Gold certified Connecticut Science Center has taken a few of these steps by using light-colored, highly-reflective materials on building surfaces and by having not one, but multiple, roof gardens.
It's easy to forget that the plaza garden is actually a roof garden. It covers a parking garage.
Moving up, you can access Riverview Terrace — a small area of vegetation with views of the Connecticut River — from the Sight and Sound exhibit on the fourth floor. The sixth floor Rooftop Garden, though, is the indisputable star of the Science Center's outdoor gardens. A dwarf eastern redbud that reaches twelve feet at mature height is one of our rooftop trees. Into winter, the Winterberry adds color with its bright red berries. Other plantings include hyssop, yarrow, and yucca. The list goes on!
Even if the heat of summer, bathing suits, and barbecues feel like a distant memory, rooftop gardens offer us a perk right now: they reduce heat loss in winter. This means reducing energy consumption when it's frigid. How? Through thoughtful design, a vegetated roof system adds insulation.
The Connecticut Science Center is not alone in trying to reduce the heat island effect in Hartford.
KNOX, a local nonprofit focused on horticulture, expects to plant a total of 600 trees by the end of 2019. KNOX's Executive Director, Patrick Doyle, says they are doing this to address "health equity issues," and this is meaningful now with the prevalence of "tree disease" and "losing trees through development."
With assistance from 100 Travelers employees, KNOX planted 36 maple trees and an apple orchard in Colt Park in October. The community organization has also been focused on planting trees around the newly renovated Swift Factory in Hartford. Doyle says KNOX looks at "locations where they will do the most good" to restore the "urban tree canopy"
Mitigating the heat island effect through planting trees and green roofs takes a village, but there are other benefits to consider, such as the increase in ecological biodiversity and the improvement of stormwater management. It doesn't hurt that greenery is easy on the eyes.
Missing the greens of summer? Visit the Connecticut Science Center's Butterfly Winter Wonderland. Warm up inside this tropical paradise and enjoy the spirit of the season. We're introducing new species of magnificent butterflies and beautiful plants.The chrysalises will arrive at the end of November and begin emerging into butterflies early in December. Butterfly Winter Wonderland is here from November 29 through December 31, 2019. See our Upcoming Events page for details.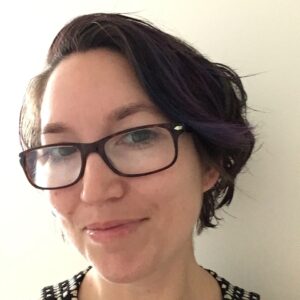 Kerri Provost is a Communications Research Associate at the Connecticut Science Center who is outdoors whenever possible and is currently attempting to walk every block of Hartford. She co-produces Going/Steady, a podcast about exploring places in the Land of Steady Habits, and beyond.