Materials to Collect

Heavy Cream

 A container with a tightly sealed lid (like a mason jar)



Try it Out
Step 1: Open your container and pour in some heavy cream. 
You can choose the amount, just make sure the container is not filled all the way to the top. 
Step 2: Close the lid tightly.
Step 3: Shake! Shake! Shake!
At first, it will sound like there is a lot of liquid in the container. After a few minutes of vigorous shaking, it will start to feel and sound like there is only air in your container. 
Step 4: Check on your progress.
At this point feel free to open up your container and check out what's inside. It should look like another dairy treat, but it's not butter quite yet. Close the lid back up and…
Step 5: Shake, Shake, Shake, some more! 
Throughout this process you may want to pause to check out what's inside. If it's not done, keep shaking!You know you're done when you hear liquid sloshing around in the container again and you see what looks like a ball of butter sitting in a pool of liquid.
Step 6: Find something in your kitchen that is delicious with butter and taste test your creation! 
Step 7: Share your culinary creation with us on social media using #ScienceAtPlay 
What is the Science? 
As you shake heavy cream in a container, the fat molecules begin to separate from the liquid and clump together. Before the heavy cream becomes butter, there is a "whipped cream" stage. At this point, the fat molecules in the cream are starting to clump together, but air is also trapped, making the cream light and fluffy. Continuing to shake your container clumps those fat molecules even closer together. When the fat and the liquid are totally separated, the process is complete. 
 Ask Your Young Scientists
Along your butter making journey ask your scientists:
What are some of the properties you notice about the stuff in our container?

Scientists might notice the consistency of the cream changes as it becomes whipped cream and then butter. This is a great opportunity to think about properties because you can use ALL 5 of your senses to experience each phase of this process!

What are some things you notice happening when we shake our container? 

What you do think might be happening inside our container that might make it sound different when we shake it?
More to Explore
If you're really enjoying making butter at home, try playing with different flavors and spices. Make some cinnamon & sugar butter for your waffles, or garlic butter for homemade garlic bread. Get creative with the flavors you love! Make sure any flavors you plan to add get added to your heavy cream before you start shaking.
You can also stop the butter making process at the whipped cream stage and top your next ice cream sundae with freshly whipped cream. Try comparing the shaking method to using a whisk to make whipped cream from scratch.  
We want to see what you try at home. Share your creation with us on social media by using the #ScienceAtPlay and tagging @CTScienceCenter.

Nick Villagra is a STEM Educator at the Connecticut Science Center, responsible for developing and delivering science experiences, including classroom lab programs, stage shows, and vacation camps. Nick holds a Bachelor's of Science in Engineering from Swarthmore College. and has been a speaker at the New England Museum Association conference. Always looking to put a unique stamp on the Science Center's offerings, Nick enjoys incorporating custom-designed 3D printed materials for students to interact with.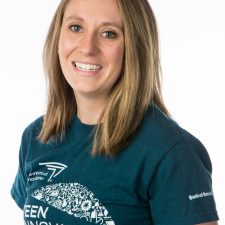 Kate Saulsbery-DeFelice graduated from Russell Sage College with a dual degree in Childhood Education and Life Sciences. She has been a STEM Educator at the Connecticut Science Center since 2014, and especially loves sparking scientific curiosity in early elementary aged students. Kate is also a FIRST Robotics Competition mentor who is passionate about technology and working alongside students to solve problems, generate new ideas, and prototype solutions. Her goal is to help everyone discover and grow their appreciation and excitement for STEM.