Materials to Collect
Tall cups

 Coffee filters

 Tape

  Different black markers

  Pencil

  Water or rubbing alcohol



Try it Out
Cut your coffee filters into long strips about 2 inches wide.

Take your markers and color a black dot about 1 inch from the bottom of the coffee filter strip. Use a different coffee filter strip for each marker. Make sure to keep track of which pen was used on each coffee filter strip!

Balance your pencil across the mouth of a cup and then tape the coffee filter strip so the bottom of the coffee filter hangs just above the bottom of your cup. Make sure the side of the coffee filter with the black dot is the one down in the cup.

Carefully pour some water or rubbing alcohol into the cup while keeping the coffee filter dry. You want your liquid level to touch the bottom of the coffee filter, but still be below the black dot you drew.

Repeat sets 3 and 4 for each coffee filter pen sample and then watch carefully!

After the liquid climbs about halfway up the coffee filters, pull them out of the cups and take a look! Can you see any differences?
What is the Science? 
The ink in black markers is made up of multiple pigments. When all these pigments are together, we see the color black, but we can separate those pigments out and see what colors our markers are really made of. 
In order to split out the colors, we rely on capillary action. Water or rubbing alcohol can 'climb' up the coffee filter by squeezing into the small holes and gaps in the filter. When the liquid moves up the filter, it brings the pigment with it. Because different color pigments can have different sizes, they move up the filter differently. This difference in movement is what splits the pigments apart from each other. Different marker companies use different recipes for their inks, and chromatography is a fun way to see these differences.
You may have noticed that some inks don't split in alcohol but do in water, and vice versa. Some marker inks are soluble, or dissolvable, in alcohol and some are soluble in water, so play around and try some different liquids!
Ask Your Young Scientists
What is the same or different about our chromatography strips? What colors do you see? 

What marker chromatography strips look similar? Which ones look the most different?

What kinds of markers would you like to try next?

Can you think of any other liquids to try this with?
More to Explore
Create a fun mystery to solve with your scientists! Write a secret note with a black marker and then challenge your scientists to figure out which of the black markers in your home wrote the note. They will have to cut up the note itself in order to test it and then create chromatography strips to test all of the 'suspect' markers. Good luck!
Try this experiment with colored markers too! There are some very surprising pigment combinations to discover.
We want to see what you try at home. Share your creation with us on social media by using the #ScienceAtPlay and tagging @CTScienceCenter.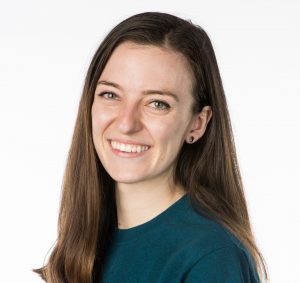 Aoife Ryle is a STEM Educator at the Connecticut Science Center. In addition to working with school groups, she works with our Teen Program, Overnights department, and shoots weekly science segments for WFSB. She has a degree in Bioengineering from the University of Maine and has a personal interest in the life sciences and engineering which makes bioengineering a perfect crossover.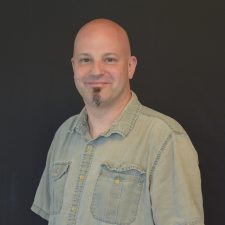 Andrew Fotta is a STEM educator at the Connecticut Science Center. He has currently holds a CT teaching certification for grades K-6, and has spent time in the classroom in nearly all grades, and taught middle school science. In addition to teaching classes for the Science Center, Andrew is also part of a team of educators currently creating new programs aligned with the new Next Generation Science Standards for grades PreK-9. Andrew is an avid photographer, who enjoys blending science and art in his work.