When archaeologists doing fieldwork discover a large artifact that is important to decoding a culture's way of life, they often take images of carvings or other elaborate details to study until the object can be excavated and transported to research labs. However, instead of taking a picture with a camera, they often create a rubbing to capture the image. For researchers studying the Maya, this is often used to collect images of stelae, or stone monuments with elaborate carvings of Maya glyphs and imagery. 
Rubbings effectively record images without damaging artifacts, and future archaeologists can replicate this simple process at home. Follow these steps to practice! 
MATERIALS TO COLLECT:
An object with a solid surface and raised or engraved image (a coin, lego, the sole of your shoes, a mint tin, etc.)

Wax or construction paper (the image will appear on this material during the rubbing process, so you'll want to pick a lighter color)

One crayon (choose your favorite dark color because you'll only be able to use one. Multiple colors will make the image too difficult to see and study)
How to Create Your Rubbing:
Place the object with the raised or engraved surface you'd like to capture flat on a table, and place a piece of paper on top, making sure the entire image is covered.

Remove the paper from your crayon. Then, lay it down on its side across the paper and on top of the object–you won't want to use the pointy end of the crayon for this project because it could sink into any engraved features and ruin the image. 

Holding the paper steady on the table, quickly rub the crayon on its side over the paper, applying slight pressure. Make sure you rub the crayon over the entire image so it will appear completely on the paper.
Congratulations, future archaeologists! It's really that easy! Make sure you write your name on the rubbing so your friends and family can see your first time practicing your archaeology skills at home.
What's the Science?
As mentioned above, rubbings are a technique used when an artifact is too large to be excavated and transported to the museum right away. The rubbings technique has been used since the start of archaeological research, which was well before the camera and camera phones were created. Rubbings ensure the image is captured and recorded for data without damaging the artifact itself, especially if the artifact has been eroded due to the climate conditions until it was discovered.
Ask Your Young Scientists?
How easy was it to capture the image by using the rubbings technique? 

What other materials could you copy images from? 

What other tools could you use to perform your rubbings technique?
More to Explore:
Try using a variety of smaller materials such as coins, paper clips, buttons, and even leaves to create different patterns on the paper. You can also try to use a pencil to do your rubbings to create a less waxy surface. Try applying different amounts of pressure when doing your rubbings to see how the image appears based on the amount of pressure you used.
Immerse yourself in the world of the ancient Maya and explore one of the world's most complex and advanced civilizations in Maya: Hidden Worlds Revealed. Reserve your timed ticket in advance of your visit on CTScienceCenter.org.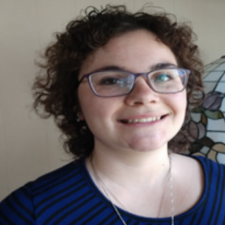 Sarena Salmeri is an intern for the Maya: Hidden Worlds Revealed exhibit. In her role she helps to educate visitors about various aspects of the Maya Culture, as well as research different Maya ways of life as they live today and have in the past. She is working towards her bachelor's degree in Cultural Anthropology at Southern Connecticut State University, aspiring to work as an ethnographer and in museum curation. In her free time, she enjoys taking her dog for long walks across town, collecting artwork from the places she has traveled, and reading different ethnography books about a variety of cultures.