The weather is finally starting to warm up and it is the perfect time to get outdoors and watch the landscape change from winter to spring! Here are some interesting things to keep an eye out for next time you go for a walk!
Flowers: The flowers are starting to come up! Look for some bright yellow daffodils, purple crocuses, and white flowers on magnolia trees!
New Leaves: I love seeing the tiny green sprouts appearing on all of the plants in my neighborhood! Take a look and see if you can find any tiny leaves appearing on plants.
Birds Singing: See if you can hear the dawn chorus as the sun rises each morning! The birds are all singing their hearts out to attract a mate as they get ready to build nests and lay eggs this spring.
Frog calls: If you live near water, you may have heard that the peepers have already started singing this spring. To learn which frogs make which calls, I highly recommend checking out this website and a community science opportunity with FrogWatch USA. 
Earthy Smell: As the earth warms up, and we get rain instead of snow, you might notice that beautiful, fresh, earthy smell. This smell comes from compounds given off by bacteria in the soil! See if you can smell the fresh earth smell next time you're outside!
Bird Nests: If you're very lucky, you might notice birds building nests in your neighborhood, or close to your home. When you see a nest, you have an opportunity to participate in NestWatch, a community science project that tracks nests from construction to watching baby birds leave the nest! 
Enjoy exploring the beautiful weather this spring!
This content was made possible in part by the Institute of Museum and Library Services.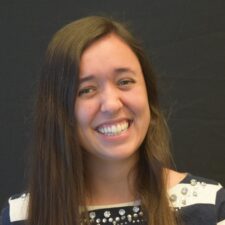 Jessie Scott is a STEM Educator who enjoys encouraging students' enthusiasm for science. She teaches classes to students visiting the Science Center and brings STEM lessons to schools across Connecticut. Jessie completed her Master of Science degree in Microbiology at Dartmouth College and worked as a science educator at the Montshire Museum of Science before coming to the Connecticut Science Center. Her scientific interests are: biology – how living things have adapted different strategies to survive in their environments, insects, and plants. In her free time, Jessie likes to go rock climbing, hiking, and skiing.