The Connecticut Science Center celebrates the achievements of professionals, groups, advocates, businesses, and leaders who share our mission to inspire lifelong learning through interactive and innovative experiences that explore our changing world through science. We honor these individuals and organizations in the STEM (science, technology, engineering, and math) fields at our annual Awards Breakfast presented by Stanley Black & Decker, each spring.
This year, we are pleased to highlight some of the nominees for the 2020 STEM Achievement Awards in a series of personal and inspiring recorded conversations. We hope that you enjoy getting to know the 2020 class of nominees who embody the spirit of the Connecticut Science Center and our passion to inspire the next generation of STEM professionals.
We are honored to be speaking with Clare Neseralla, a passionate educator who is thinking outside the box to introduce students to STEM career professionals. All the while, she helps teams of teachers implement the Next Generation Science Standards in fun ways that ignite student interest and engagement. She has had an interesting journey working as a classroom teacher for more than 16 years as well as in media and the private sector. 
CLARE NESERALLA

Everything that Clare does opens the doors of STEM to the young and diverse student body at CREC Discovery Academy. In her role as a STEM Coach, she makes STEM activities and inquiry-based learning fun and inviting for students on many levels. She helps teachers incorporate lessons that are engaging and aligned with the Next Generation Science Standards (NGSS). She also teaches STEM classes that change focus from year to year and grade to grade. She hosts a yearly STEM Night that is open to the community and invites UCONN students as well as students from other CREC schools to showcase their learning in a fascinating way. Last year she invited female engineers from the I-84 project to be interviewed by Discovery Academy fifth-graders, opening up the world of STEM jobs to them first hand.
Interview with Clare Neseralla
Amy Sailor: As an educator, how is being a STEM Coach different from being a classroom teacher?
Clare Neseralla: As a STEM Coach, I am a teacher to all the students and support each grade level. I wear multiple hats and can be gardening, troubleshooting technology, building lamps with kids, and supporting struggling math students all in one day. As an elementary teacher, I taught all subjects. As a STEM Coach, I get to focus on my two favorite subjects Science and Math. We launched a special Design Lab in our school that combines engineering, coding, and robotics. I helped write the curriculum for PreK 3 to 5th grade and support the implementation of this weekly class. I also work to market the school and promote the STEM theme through social media and press relations.
Amy Sailor: What do you think is the most important aspect when working as a team?
Clare Neseralla: I think it is important to understand and respect the unique talents and abilities of all members and allocate and share as much as possible. I am a member of seven grade-level teams in my school, and I need to listen and see how best I can support their success. Teachers carry a lot of weight on their shoulders. As a coach, I assist in both little and big ways so they know I am a teammate they can count on.
Amy Sailor: Tell me a little about other projects you are working on? 
Clare Neseralla: I am the Treasurer of the CECA Board (Connecticut Educators Computer Association). I am leading the implementation of GSA Clubs in our school and am on the Advisory Council of the CREC LGBTQI+Affairs. I just won the 2019-2020 CEA Human and Civil Rights Award for this work.  I am a Parent Leadership Training Alumni and work on special education advocacy and diversity events in my town. Last spring, I won a grant from the Connecticut Ornithological Society and put in a school butterfly garden that was certified by the National Wildlife Federation as a natural wildlife habitat. 
Amy Sailor: How has the COVID-19 pandemic impacted your work? 
Clare Neseralla: Before the pandemic, I was very active in my school. I visited classes daily as well as ran events and multiple gardens. Being home/computer-based has been a struggle, but I am finding ways to keep the school's STEM theme alive. I just mailed 1,500 seed packets to 380 families and will try to get everyone to plant for Earth Day. Our theme is "Loving the Earth One Seed at a Time." In the first weeks, I worked on making sure students and staff had the technology they needed, and now my focus is supporting teachers in science curriculum and learning new software. I will also be managing a virtual garden club, GSA club, and offering enrichment projects to students. The biggest struggle is working full time and meeting the needs of my daughter who has special needs, multiple services, and a one-on-one para in school. I am taking it one day at a time, and I'm glad I have technical skills and a creative mind to think outside the box and be there for my students and teachers.  
Click here to learn more about Clare's work and the CREC Discovery Academy in Wethersfield, CT.
Stay connected! Be sure to subscribe to Down to a Science— The Official Blog of the Connecticut Science Center and follow us on social media.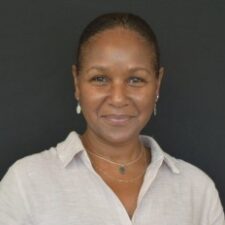 Amy Sailor serves as the Advancement Program Manager for the Connecticut Science Center. In this role, she stewards the 14 members Steering Committee of the Women in Science Initiative. Amy also implements a suite of programs and events that bring attention to the accomplishments of women in the sciences and introduces girls and young women to STEM fields of study and career paths.