When my co-worker first suggested to me that I should listen to science podcasts, I was initially a bit skeptical. As a neuroscience graduate student, I used to read and talk with people about science all day long, why would I want to listen to more people talk about science in my free time? Eventually, I took the plunge and plugged into an episode of Ologies about volcanoes. Within one episode I was hooked. Originally, I had only a mild curiosity about volcanoes, but soon I became entranced by these exploding giants. I discovered how scientists conduct field research to examine active volcanoes, learned the mysteries of haunted lava tubes, and was inspired by scientist Jess Phoenix's excitement for her research.I began listening to podcasts on my way to work, while I was working at the lab bench, and even when I spent hours working on a microscope in a dark room. Listening to the experiences of other scientists was inspiring. When one of my experiments sometimes failed, I was reassured by other scientists' stories of failure and regained success. Listening to science podcasts reinvigorated my interest in my own research and sparked a new passion for science communication.
Blasting my prior assumptions, science podcasts became a way to catch up on the recent science breaking news, find new creative resources, and learn about new science fields that I otherwise wouldn't have been exposed to.
Check out these 10 science podcasts on the drive to work or on your daily walk and share them with your friends and family to spark intriguing conversations about science anywhere you go.
If you listen to any of these science podcasts and love them, let us know! Head over to our social media accounts (Twitter: @CTScienceCenter, Facebook: Connecticut Science Center, Instagram: ctsciencecenter) and leave a comment to tell us what you love about your favorite science podcast or suggest some that we've missed.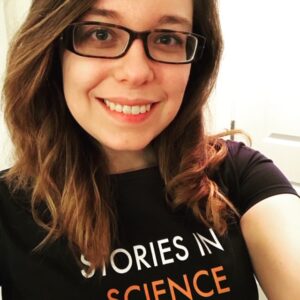 Amanda Coletti is a Communications Research Assistant at the Connecticut Science Center and a Ph.D. student in the Department of Communication at the University of Connecticut, where she studies the science behind science communication.