I've never really understood why the word 'dinosaur' is used to describe something unintelligent, slow, or out-of-date. Dinosaurs hosted an incredible range of adaptations including tremendous size, huge teeth and claws, defensive plates and spines, incredible speed and teamwork, and innovative ways of flying, swimming, or moving. Their almost 165 million year domination of our Earth only ended because of a meteor. 
Studying dinosaurs is important for so many reasons. Our mammalian ancestors lived on this planet surrounded by dinosaurs, which influenced their evolution, and ultimately, our own. The study of dinosaurs helps us understand our own history. Studying extinct species, like dinosaurs, also helps us to understand the processes of evolution and extinction – processes that are still going on to this day. They are like evolutionary experiments that we can study to help us understand how our world works today and could work in the future.
Dinosaurs help us understand climate change. Studying fossils has helped scientists understand what a natural change in the climate is, which shows us how much humans are affecting the climate today. Finally, like 9 year old Aoife could tell you, studying dinosaurs is important because they're just plain cool. 
Ready to take your imagination for a ride? Check out these museum walk-throughs to get up close and personal with incredible creatures from the comfort of your couch.
Smithsonian National Museum of History
Click here to take a walk-through of the entire museum! The Smithsonian allows you to explore either in a web browser or in VR. Make sure to check out the 31,000 square foot David H. Koch Hall of Fossils to explore ancient ecosystems and visit over 700 fossil specimens including a Tyrannosaurus rex, Diplodocus, and woolly mammoth. 
I spent a lot of time zooming in to read all the signage in this exhibit and was especially impressed with the size of the teeth on the saber-toothed cat! You can check out their other exhibits on the deep ocean, mammals, human origins, insects, and so on, once you're done exploring the dinosaur fossils.
Melbourne Museum
Take a quick trip to Australia's Melbourne Museum to visit their 17 prehistoric fossils including a Mamenchisaurus as long as a house! You can check out fossilized skeletons of one of the largest marsupials and one of the largest lizards to ever roam the Earth. In addition to fossils, this museum has reconstructions of dinosaurs to help us understand how these creatures lived, fought, reproduced, and died. 
Scroll down the link a little further and you will find information on the 17 skeletons in their collection. This information includes videos of staff explaining things like the link between birds and dinosaurs, how paleontologists read fossils, and what we can learn from fossilized eggs. Side note: definitely check out the information on the Genyornis. It's a giant, ancient bird (bigger than an ostrich) that looks a lot like a goose with really muscular legs.
American Natural History Museum
After you've virtually stood in awe of these past creatures, if you are still hungry for dinosaur content, check out the American Natural History Museum. Here you can find lots of games including ones where you can reconstruct and identify fossils, create dinosaur roars, or quiz yourself on your knowledge of the Tyrannosaurus rex. There are also fun stories, videos of paleontologists explaining their work, and hands-on activities to try at home. 
Now take everything you've explored and learned, and get out there and try to find some fossils! This handy guide will help you get started. Happy hunting!
Stay connected! Be sure to subscribe to Down to a Science— The Official Blog of the Connecticut Science Center and follow us on social media.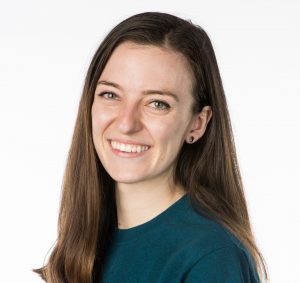 Aoife Ryle is a STEM Educator at the Connecticut Science Center. In addition to working with school groups, she works with our Teen Program, Overnights department, and shoots weekly science segments for WFSB. She has a degree in Bioengineering from the University of Maine and has a personal interest in the life sciences and engineering which makes bioengineering a perfect crossover.