I've watched a lot of science fiction in my life, and ever since I was little, I noticed that many of these visions of the future have one thing in common: self driving vehicles (ok, and flying cars too). Now, you, like me, may be wondering, where are these autonomous vehicles we were all promised? Well, this week you can take a virtual field trip to see just what goes into creating these machines, as well as how close we are to having them. 
Here you'll learn just what goes into creating and programming the AI to create these cars, see a demonstration of the cars in action, see some of the challenges being overcome, and get a look at some of the people behind these amazing machines.
Let's Get Started:

In this Virtual Field Trip, you'll get a behind-the-scenes look at the Toyota Motor North America R&D Headquarters in Ann Arbor, Michigan. You will explore what goes into making these autonomous vehicles safe- how electromagnetic waves from other sources affect the cars, to crash testing (yeah!), to integrating radar into the vehicles to make them safer. You'll even learn how psychologists can help create safer vehicles.
Download the Virtual Field Trip Educator Guide Here
Continue the Virtual Field Trip at the Toyota Motor Manufacturing Facility in Princeton, Indiana. In these videos, you'll get a behind-the-scenes look at how vehicles are put together, and the technology that goes into them to make them safer. This isn't a dingy, dark workshop! This is a state-of-the-art manufacturing center that looks like it came from a science fiction movie! In addition, you'll learn about the STEM (and other) skills needed to work in this field, as well as the constant training that is needed to keep up with ever-improving technology.
Download the Virtual Field Trip Educator Guide Here
If you need some background information, here is a good explanation of some of the newer safety features and what they do.
https://www.caranddriver.com/features/g27612164/car-safety-features/
Learn more about some of the calculations that go into figuring out how stopping distance is calculated. Then, take a quiz to test your knowledge!
https://www.bbc.co.uk/bitesize/guides/ztjpcj6/revision/1 
The auto industry has come a long way in it's short history. Even 20 years ago, who would have ever imagined that we would have access to some of the standard features we have today (remember those old crank handles to roll down the windows?). Car manufacturers are producing high-tech computerized machines that keep us safer than ever as we drive on the over 4 million miles of roads in the US, and maybe someday we can look forward to owning cars that can take us anywhere we want to go without operating them at all. 
 Stay connected! Be sure to subscribe to Down to a Science— The Official Blog of the Connecticut Science Center and follow us on social media.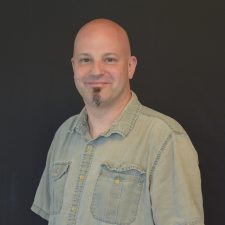 Andrew Fotta is a STEM educator at the Connecticut Science Center. He has currently holds a CT teaching certification for grades K-6, and has spent time in the classroom in nearly all grades, and taught middle school science. In addition to teaching classes for the Science Center, Andrew is also part of a team of educators currently creating new programs aligned with the new Next Generation Science Standards for grades PreK-9. Andrew is an avid photographer, who enjoys blending science and art in his work.