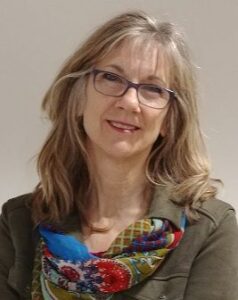 Patricia Faulds
Director of Visitor Services
What is your favorite exhibit (past or current) at the Connecticut Science Center?
Mind Ball. The game measures each player's brain activity via a band of electrodes worn around the forehead. These pick up the electrical signals that emanate from our brains and move the ball. It is a competition, but to win, you have to be the most relaxed and calm opponent. I usually lose.
What you do here at the Connecticut Science Center?
I am the Director of Visitor Services. My department is responsible for the visitor experience on the gallery floors, at the ticketing counter, during a birthday party, on a group visit, and when contacting the reservation center. I am also involved with our evening program planning for both Science Straight Up and Liquid Lounge. My job is a lot of fun – every day is different and brings unexpected challenges and wonderful successes. I always have a "to-do list" and inevitably, it changes as the day goes on.
What are some changes you've noticed at the Connecticut Science Center over the past ten years?
We are constantly challenging ourselves to be the best we can be and adjusting to fit the needs of all our audiences and the changing culture around us. We are ready to try new things – this includes new floor programming, evening events, enhancing our current exhibits and bringing in new exhibitions.
Most importantly, we are always looking to improve the visitor experience by delivering the best customer service, streamlining the sales process, and offering personalized experiences to our guests while they are onsite.
There have been changes to the physical building as well – we have a beautiful new Butterfly Encounter, wonderful outdoor spaces, and the Rooftop Garden that is lovely and unexpected.
What is your favorite memory at the Connecticut Science Center?
Too many to mention here – some that were not funny at all when they were happening, but with time and distance, are very funny now that they are in the past. Because I work with the public – we have a lot of interesting stories to tell and there is never a dull moment.
How has your role at the Connecticut Science Center evolved over the past ten years?
I was very fortunate to be part of the inaugural team. When we opened our doors, the operating assumptions were put to the test. We had experience. We thought it would all work…and then, by golly, things worked. We have made significant improvements to our systems and we now have new and enhanced technologies that have streamlined many of our front-line processes.
 What are you most looking forward to seeing happen at the Connecticut Science Center in the next ten years?
We have several excellent traveling exhibitions planned and the new programming we are launching will be exciting. I think we have positioned ourselves to be an institution that opens its doors to the larger community.  As we continue to expand our offerings, we will grow as a place for adults to have meaningful science conversations and a place where children will continue to be inspired to learn and be amazed by the wonders of the world around them.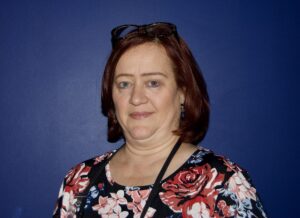 Eva Cintron
Visitor Services and Theater Manager
Can you describe your role at the Connecticut Science Center? 
I oversee and work with the Visitor Services team who deal directly with our visitors such as the general public and school groups.  I am involved from the very beginning, from initial interview, hiring, on-board scheduling and training, and I am always coaching the team to not only provide the best in customer service but also to make it the best personalized visitor experience. I pride myself on setting the example in every aspect of the job. I also oversee theater operations such as film screenings, contract negotiations, private/internal event staffing coordination, and any theater needs.
What is your favorite memory of the Connecticut Science Center?
[I enjoy] every milestone we reach such as our 1,000,000th visitor, the changes and/or additions to our offerings such as the re-creation of Science Alley, the addition of Butterfly Encounter, the reincarnation of our Rooftop Garden as well as our plaza, and of course, working on the committee and hosting the 2018 ASTC Conference (which people are still talking about).  Last but not least, being here from the very beginning and celebrating the Connecticut Science Center's 10th Anniversary.
What is your favorite exhibit (past or current) at the Connecticut Science Center?
There are so many but the ones that stand out are: Mindbender Mansion (brought back a second time due to popular demand). Every age group from young children to seniors were caught up in solving math problems, riddles, etc. so much so that many of the memberships we sold were based on the fact that people wanted to come back and solve something they couldn't on their first visit. Real Bodies – which just ended — was also a favorite, not only because I have worked in the medical field and it was of interest to me, but because it was the introduction of the human body to my grandchildren. When my grandchildren visit, the first book they go to is the Real Bodies book.   Even the 3-year-old loves to go through the pages, points at the pictures, and asks lots of questions which is how it all starts.
What are some changes you've noticed at the Connecticut Science Center over the past 10 years?
In a nutshell – it just keeps getting better and better. Of course, all the changes and additions of exhibits and galleries are just way too many to name. We've also had a lot of staff changes… some come and go but many stay as evidenced by the 10th anniversary photos. Many started out in Visitor Services and have moved on within the organization. It's a great feeling to have been a part of their mentoring, many starting when they were just 18-years-old and here we are, ten years later. Diversity has also increased – what started as a staff of many just starting college now includes a range of ages from college students to retirees who wanted to return to work part time.
How has your role at the Connecticut Science Center evolved over the past ten years?
In early 2014, I was promoted to Visitor Services & Theater Manager. I saw this as quite a compliment coming from my senior management team. They had the confidence in my capabilities to oversee both areas. But honestly, it was also a bit nerve-wracking as I had no theater management experience. My husband is also a musician and has a thirteen-piece Latin orchestra as well as a jazz ensemble. Working in the music business gave me experience in contract negotiations so that part of the job would come easy, but with hard work and a great team by my side, everything fell into place.
What are you most looking forward to seeing happen at the Connecticut Science Center in the next ten years? 
Nothing short of continued success and growth!   I'll also have to agree with our CFO Lisa Mottola and admit – looking forward to retirement.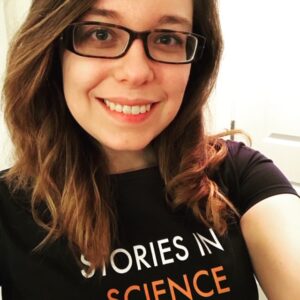 Amanda Coletti a Communications Research Assistant at the Connecticut Science Center and a Ph.D. student in the Department of Communication at the University of Connecticut, where she studies the science behind science communication.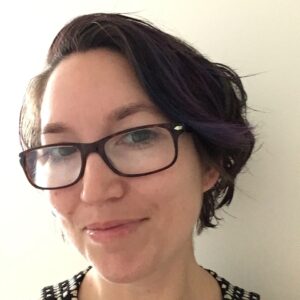 Kerri Provost is a Communications Research Associate at the Connecticut Science Center who is outdoors whenever possible. She is currently attempting to walk every block of Hartford because why not? She is the co-producer of the Going/Steady podcast.