The Connecticut Science Center celebrates the achievements of professionals, groups, advocates, businesses, and leaders who share our mission to inspire lifelong learning through interactive and innovative experiences that explore our changing world through science. We honor these individuals and organizations in the STEM (science, technology, engineering, and math) fields at our annual STEM Awards Breakfast, presented by Stanley Black & Decker, each spring.
This year, we're pleased to highlight some of the nominees for the 2020 STEM Achievement Awards and Petit Family Foundation Women in Science Award in a series of personal and inspiring recorded conversations. We hope that you enjoy getting to know the 2020 class of nominees who embody the spirit of the Connecticut Science Center and our passion to inspire the next generation of STEM professionals.
Today, we'll hear from Dr. Jacquelynn Garofano, Margaret Ingels Engineering Development Program Manager, Raytheon Technologies.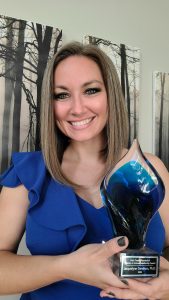 Jacquelynn Garofano, Ph.D
Jackie Garofano knows firsthand the power of mentorship, networking and is a true STEMinist. She feels incredibly fortunate to have had mentors who encouraged and supported her career and works to give back by creating opportunities for a diverse workforce. As a first-generation college student, she knows the challenges that one must overcome. She is an active member of the Society of Women Engineers and was a 2018 Future is NOW awardee by the CT Women's Education and Legal Fund for her work to advance women and girls in the STEM field. Her passion is being the catalyst that will help set others on a STEM path, igniting their love of STEM and education. 
With strong alumni connections to SCSU and UCONN, she seeks out opportunities to share her journey and encourage women because "see her, be her" is real and women in engineering need to be both seen and heard. She has participated in panel sessions, science fairs, and outreach events and even serves as a community leader for United Way & Women United. To Garofano these are platforms to advocate for women and girls in STEM.  She strives to be someone young students, especially those in under-served communities, can look to and encourage with "you can do anything you set your mind to!"
Interview with Jacquelynn Garofano, Ph.D
Who and/or what led you to pursue a STEM Career?
Mentorship has been a strong foundational support for me. I've been incredibly fortunate to have mentors who encouraged and supported me throughout my collegian academic career because it wasn't until late in high school that I decided to pursue higher education as a first-generation college student.
The catalyst that really set me on my path was meeting and working with Prof. Christine Broadbridge as an undergraduate at Southern CT State University. She was instrumental in igniting my love of materials research and guiding me in the pursuit of a doctoral degree.
[During the interview, I talked about] I was a late bloomer. I didn't consider STEM until high school, when I took physics and astronomy. There was only the core curriculum, STEM wasn't a concept back then. I wanted to study physics in college because I wanted to work for NASA; Apollo 13 was my favorite movie growing up. Having the opportunity to have a research experience in the lab under Christine's guidance, I became immersed in a world on the complete opposite size spectrum with micro and nanomaterials vs the cosmos.
I speak about my journey in the SCSU Alumni Magazine feature.
It's been said of you that you are "true STEMinist".  How has your career trajectory shaped your outlook with regard to supporting girls and women in STEM?
I am a self-proclaimed STEMinist who fiercely advocates for increasing the presence of women in STEM because representation matters and "see her, be her" is more than just a hashtag (though it is my favorite one to use).
After nearly a decade in higher education and as I soon approach a decade in the workforce, I reflect on where I began and what I have accomplished. Over all this time, a simple but powerful mantra has stuck with me: "I want to be for someone what Christine was for me" and it has materialized in a profound way coming full-circle thru mentorship of younger women. Namely, Kerisha and Edwina, two women of color. [Unfortunately, I didn't mention this during our convo].
As a woman in tech, working in a large corporation, there are still not many executives who look like me, let alone, are of color. That needs to change and I have become a catalyst for that change by lifting others as I rise.
Tell me about your current role as the Margaret Ingels Engineering Development Program Manager.
In this role I am cultivating and leading the next generation of engineers at Raytheon Technologies who will redefine the future of aerospace and defense.
I began my career at the United Technologies Research Center after graduating from UCONN with a PhD in materials science and engineering. For 7 years I had the opportunity to be a research scientist, working to solve technical challenges, provide failure investigation and develop innovative technologies for our businesses.
I love my job! Gone are the days of me being a technical contributor. I was fortunate enough to spend what feels like half my life doing research and being technical. Now, I get to live vicariously through these young, incredibly talented engineers in our program. I jokingly say that I'm a (technical) PhD in HR. It's unusual but I feel like I'm walking in my purpose. In this role, I have an opportunity to develop myself as a leader and foster the development of future leaders for our company. I'm so grateful.
Are there any other projects that you are working on?
I will be joining the UCONN Alumni Elevate webinar series on Leveraging Your Network for Career Success. As a social media enthusiastic, I'm excited to have the opportunity to share my advice on this topic, especially as we are now in a virtual everything reality.  Prior to this I've been filmed a Forward Obsessed episode with Pete Sena to speak to the future of the workforce and next-gen leaders and I recorded a InnovateCT podcast with Nick Wagner Sr.
My board service has included: the United Way of Central and Northeastern CT in my role as Chair of Women United. I have just began my service as a board director for the Girl Scouts of Connecticut and I am also on the board of the Southern CT State University Foundation, my alma mater.
Do you have anything else you would like the audience to know?
I'm thrilled to share that I've been named a 2020 Women of Innovation® Finalist in the Large Business Innovation & Leadership category. This recognition means a lot to me as it's the second time I have the privilege of being honored by Women of Innovation. Months prior to joining UTC in 2011, I was honored to be the recipient of the collegian innovation and leadership award. As a CT native, it's been on my bucket list to be named a WOI finalist in my professional career so I'm thrilled!
A selection of WOI finalists are being featured on the weekly Connecticut Manufacturers Web Series throughout the month of June. I will be joining the webinar on June 25 for a brief interview to before the featured presentation by Dr. Mark Maybury, CTO of Stanley Black & Decker on AI and Advanced Manufacturing.
I love connecting with like-minded people on social media so this is an open invitation for anyone in the audience to connect on LinkedIn or other platforms (@jkmgarofano).
Stay connected! Be sure to subscribe to Down to a Science— The Official Blog of the Connecticut Science Center and follow us on social media.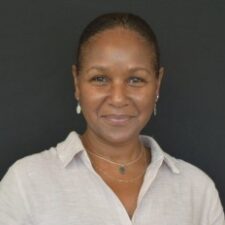 Amy Sailor serves as the Advancement Program Manager for the Connecticut Science Center. In this role, she stewards the 14 members Steering Committee of the Women in Science Initiative. Amy also implements a suite of programs and events that bring attention to the accomplishments of women in the sciences and introduces girls and young women to STEM fields of study and career paths.